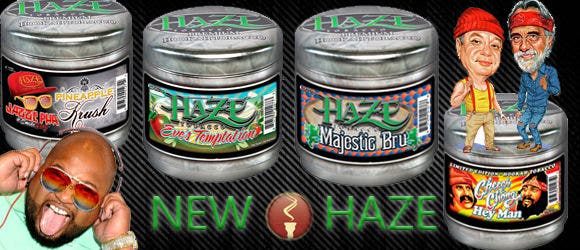 Reviewing The Latest Haze Tobacco Flavors
By
SmokeOrPass
/ December 10, 2015
As the year comes to an end, we get to see the last bit of flavors to be released for this smoke filled year of 2015. Recently we've been trying to keep up with so many new blends hitting the market, and now we get a chance to try out some new Haze Tobacco flavors. They've recently added 4 new blends to their lineup, 2 of which are limited edition flavors for the Cheech & Chong collection, and Jazzie Pha flavors. There is only one flavor name that gives any inclination towards the flavors profile, and the rest of them you'll have to guess on, unless you read further.
Haze Jazzie Pha - Pineapple Krush Flavor Review
Coming in just in time for the holidays Haze and rapper/producer Jazze Pha present Pineapple Krush shisha tobacco. A sweet pineapple-mint flavor with a mild cooling exhale. The cooling aspect is a bit low, but it helps to prevent the pineapple from ever getting harsh. This means it's actually beneficial to turn the heat up a bit with this shisha, and taste the rewards of a sweet & smooth pineapple. This Pineapple Krush is one of the best pineapple flavors around, pick some up and see for yourself.
You can pick this flavor up in either 100g, or 250g sizes today!
Haze Cheech & Chong - Hey Man Flavor Review
Hey man….this "Hey Man" stuff is pretty dope. The "Hey Man" flavor comes in as a amazing chili-mango flavor that carries hints of tamarind fruit and other mysteries to be unlocked. We passed the can around the office and we didn't picked up any hot spices, just an interesting Mango aroma. Once we starting smoking the flavor, we noticed that the spice is subtle and not one that heats up your mouth, but it provides an excellent exhale of flavor. The mango both tones down the spice notes and brings a slight sweetness to the session. It's the perfect flavor to spice up your night.
You can pick this flavor up in either 100g, or 250g sizes today!
Haze Tobacco - Majestic Bru Flavor Review
Known as the "other national drink of Scotland," (after whiskey) Irn brew is one of the most popular soft drinks around the world. Irn Brew is wildly popular, and competes with the world power cola brands. With so much love around the world this must be an awesome flavor, and the Haze team is helping bring the craze to America in shisha form. Their Majestic Bru shisha tobacco is a deliciously creamy orange flavor that slides in some floral hints of rose. Think a creamy orangesicle kind of orange, and not a tangy fresh orange fruit. As popular as this drink is worldwide, Haze has done a magnificent job honoring the drink and adding some tastes that will keep you guessing.
You can pick this flavor up in either 100g, or 250g sizes today!
Haze Tobacco - Eve's Temptation Flavor Review
Adam and Eve were forbidden to harvest. It smelled of apples and sweet spices, and they were very tempted. After the serpent convinced Eve to eat the forbidden fruit, she and Adam just said "screw it" and used the special tobacco plant to make a very special shisha. Yeah, they secretly smoked shisha in the Old Testament. The folks at Haze found the secret ancient recipe to recreate this shisha tobacco and graced the hookah world with Eve's Temptation. Packed with the flavor of both green and red apples, with a little spices and what we believe are hints of mango, this shisha tobacco is perfect for any occasion. Feel the temptation, and try to figure out the complex tastes. You may want to go ahead and pick up a 250 of this knockout flavor.
You can pick this flavor up in either 100g, or 250g sizes today!
Categories
Recent Post
Month Lists