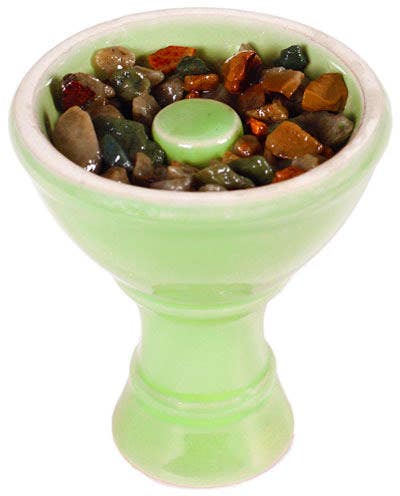 Organic Shiazo Steam Stones: New Line of Tobacco-Free Shiazo Steam Stones
By
Katie
/ January 3, 2013
Would you like a free sample with your next purchase? Just use the code
FREEORGANIC

at check out, and we'll send you a packet of Organic Shiazo Steam Stones to try! **limited supply**
| | |
| --- | --- |
| Shiazo has been revolutionizing the tobacco-less smoke market since 2010, and they aren't slowing down! Known for their Steam Stones, which are small, porous, 100% natural rocks that have been injected with glycerin and flavoring, the Shiazo products make hookah smoking possible for the tobacco-free smoker. When the fluid inside the stones reaches boiling point temperatures (with the help of hookah charcoal), water vapor is produced, resulting is aromatic, flavorful steam. | |
The only slight draw back is that, unlike traditional shisha, these steam stones do not create the 'buzz' or relaxation sensation that many hookah smokers enjoy. Never fear, because the new line of Organic Shiazo Steam Stones do just that!
The new "Organic" Shiazo Shisha Steam Stones are much like the original Shiazo Shisha Steam Stones but contain natural botanical ingredients that provide a soothing, minty vapor or a mood-enhancing hookah session without the nicotine. The Relaxation line comes in two flavors: Cherry Tart and Berry Blossom. The Respiratory line also comes in two flavors: Lavender Sage and Eucalyptus Mint.
The Hookah-Shisha.com team has sampled all of them, and we are happy to report that they are all quite tasty! I can personally attest to the fact that the Relaxation stones definitely deliver on their promise. In fact, I learned that smoking them at work was not the best idea since a nap was necessary before I could write this blog post! The Respiratory stones leave you with a very clean tasting smoke, and a crisp aftertaste. Give these new products a try if you're looking for a tobacco-free shisha substitute that has a kick!
Here's an excellent review from our friend at HookahNuckuh on Youtube (The Steam Stone review begins at about 7 minutes 30 seconds into it):
Categories
Recent Post
Month Lists