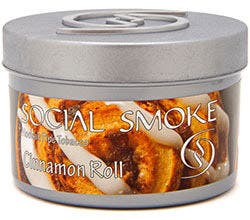 New Social Smoke Flavors!
By
SmokeOrPass
/ May 20, 2015
Social Smoke is starting the summer off right, with a slew of new flavors. Recently we saw the rise of Cali Peach, Artic Lemon, and Delicious Apple, and the fun doesn't stop there. With this new batch of flavors we get a chance to taste an exotic fruit, a popular ice cream flavor, and many more blends that will keep your taste buds wanting more. If this is your first time seeing Social Smoke, take a minute to check out their full selection of flavors, you may find a couple of new favorites for you stash.
Social Smoke Cinnamon Roll
This dessert flavor brings some decadence to your smoke session, with the sweet aroma of a Cinnamon Roll. This flavor out of the can makes you want to take a bite out of it, but it is highly suggested that you leave it in a hookah bowl, and not a cereal bowl. The smell of the cinnamon flavor is very natural and it has a little spice to it, but the sweetness of the icing flavor calms down the spice slightly. The flavor of the smoke bring out a warm blend of a sweetened cinnamon spice, that could be enjoyed at any point of the day. If you enjoy a cooling sensation with your desert, throw in a little cinnamint around your spire for a nice surprise.
Social Smoke Ginger Tea
Do you ever crave a nice mellow smoke, without the sweet candy frills? Then it's time for you too load up some Ginger Tea, and kick back for some relaxing clouds. Once we opened this up the prominent flavor was ginger, no surprise there but it was the choice of ginger flavoring that made us want to throw it in a bowl ASAP. The smell of the ginger offers a mix of sweet and spice, both components don't go overboard with the flavor strength leaving you with a classic ginger taste. The tea flavor is hard to find in the aroma, but once you throw some coals on and start smoking, the tea begins to grow throughout the session. This is the perfect after work bowl or a bowl to enjoy during a movie.
Social Smoke Japanese Yuzu
What in the world is a Yuzu? It's a fruit and not just any fruit, this is a hybrid citrus fruit that originated in East Asia and happens to be very pricey amongst other fruits. We all scratched our heads after opening this can, it smells amazing, offering sweet tones of lemon and grapefruit but we knew there was more to this flavor. When we fired it up in the hookah it became apparent that there was more to this delicious flavor, and we believe that there is a little bit of honey involved with this mix. Honey is commonly used in combination with the Yuzu fruit when it is used in food, and we couldn't think of a better companion for this fruit in shisha form. We know you guys will enjoy making some custom mixes with these flavors.
Social Smoke Lemon Drop
You know that sour lemon candy from your childhood, that you may still be enjoying at this very moment. Have you ever wanted to smoke it? Now you can, with this citrus burst of flavor from Lemon Drop. If you were to slice a lemon in half and let it sit in a tub of sugar water for about a week and then smelled it, you maybe close to the smell of this shisha. If you enjoy citrus flavors or lemon in general, then this flavor may have magically been added to your cart while you were reading. When you begin smoking this flavor you will get a couple of tart inhales, but it evolves into a sugar sweet candy cloud session.
Social Smoke Horchata Cajeta
We haven't had a new Horchata flavor on the market in a very long time, and we are excited that Social Smoke took this leap on a very unique flavor. If you've never had Horchata in it's original form (a spanish dessert drink consisting of rice milk/cinnamon), it's pretty good and if you like the milk after cinnamon toast crunch, than you should give it a try. This flavor smells exactly like a creamy cinnamon mix, while the typical spice is hidden behind a rich cream aroma. Your first couple of pulls reward you with a toasted cinnamon flavor, and slowly evolves to a rich cinnamon cream taste that will leave you wanting more.
Social Smoke Pistachio Breeze
Pistachio Breeze ladies and gentlemen, this can features a scoop of pistachio ice cream and a few pistachios laying around it. What does that mean for you? Pistachio ice cream of course, this isn't like the normal pistachio flavor that you've tasted in the past. With the new mix we get to enjoy pistachio with a light cooling effect, and a mellow cream base. The shisha itself has a bold pistachio aroma, and if you leave the can open too long, this glorious scent will fill the room. This isn't the typical flavor that you would find a lounge, or in your buddys cabinet, but it's so different that you have try it at least once.
Thank you Social Smoke for the 6 new amazing flavors, we are going to continue smoking these funky blends and get back to work.
Categories
Recent Post
Month Lists