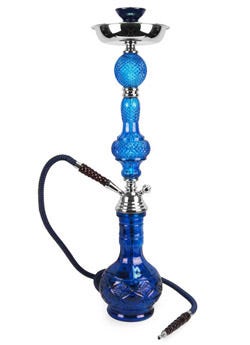 New Specialty Hookahs Available!
By
Grabertrain
/ November 12, 2009
Howdy Hookah Friends! We've got some unique Specialty Hookahs available with some neat-o features, including a new base-to-stem locking system - no more base grommets to fiddle with! The tallest of the bunch is the "India" (1 hose) Hookah, standing at 40 inches tall with a black-and-white striped hose. The "Totem" (1 hose) Hookah features a glass stem - a first of its kind here at Hookah-Shisha.com!
Too tall for your tastes? We've got some smaller, travel-sized specialty hookahs starting with the 15 inch
"Casanova" (1 hose) Hookah
, a mini Mod style hookah that fits snugly in the included hard carrying case when not in use. In the slightly larger category, the
"Starfire" (1 hose) Hookah
has a unique matching glass base and stem combination.
These are quality-built Chinese-made hookahs, similar to our
Mod
and
Mini Mod Hookahs
, so they are machine made, have universal parts, and most disassemble to fit in its hard carrying case. Stay tuned for more new products, and Happy Smoking!
Categories
Recent Post
Month Lists