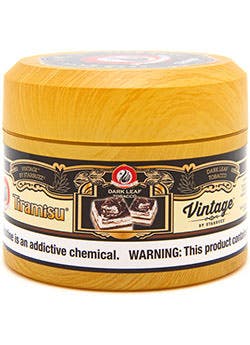 New Starbuzz Vintage Flavors
By
SmokeOrPass
/ May 6, 2016
The time has arrived and the new Starbuzz Vintage Tobacco is here in our grasps. The vintage dark leaf blends will provide a buzz that can't be found in the classic line or bold collection of Starbuzz. They've utilized bold spice notes and classic fruit profiles, in combination with a delicious and robust tobacco blend giving you a game changing flavor experience.
Starbuzz Vintage Tobacco can be used with several different packing methods, which can lead to an increase or decrease of the flavor and buzz strength. Below you can find some helpful insight on each of the Starbuzz Vintage flavors, and please let us know which blends become new favorites.
You can find all these flavors right here in the Starbuzz Vintage flavor category!
Starbuzz Vintage Morning Breeze Review
Starbuzz Vintage Honey Dew Me Review
Starbuzz Vintage Tokyo Spice Review
Starbuzz Vintage Delhi Tea Review
Starbuzz Vintage Dark Carribean Review
Starbuzz Vintage Colombian Spice Review
Starbuzz Vintage Shanghai Passion Review
Starbuzz Vintage Gincko Youtube Review
Starbuzz Vintage White Mist Flavor Review
Inside of this almost wooden jar, you'll be met face to face with a bright white peach aroma. This aroma is blended perfectly with a creamy undertone, as well as the rich tobacco notes that we've come to enjoy from the vintage collection. The cream aspect has a slightly sweet tone with a very clean finish, and we've enjoyed tossing a little Peach Spice in every once in awhile. Despite having a flower on the front label, there isn't a single floral tone in this blend and that's perfectly fine with us. We enjoy this flavor every time it's in our bowl.
Starbuzz Vintage Tiramisu Flavor Review
If you're looking for a solid Tiramisu shisha flavor, go ahead and stop right here because Starbuzz Vintage Tiramisu is the bee's knees. Not only will the aroma make you smile in anticipation of smoking, but this tasty blend of coffee and chocolate will provide you will a great range of flavor profiles. The robust tobacco & chocolate tones have a marriage on your taste buds, while the decadent dessert tones watch from the outside. If you like coffee or chocolate flavors, just stop reading and pick it up. It's the perfect call.
Starbuzz Vintage Sweet Cigar Flavor Review
This flavor sounds crazy right? Who in their right mind would want to smoke a cigar from a hookah? Valid questions, but have you smoked it? Sweet cigar kind of took the office by surprise, and that's why we always keep some around in the mixing stash. Right from the container you'll know that you won't be searching to hard for the flavor, the front note aroma is sweet pipe tobacco with a mellow touch. This might be the flavor you bust out for your Dad, when he wants to smoke with you but does not fancy the candy flavor. Welcome to your gentlemen's smoke.
Starbuzz Vintage Spice Me Red Flavor Review
Looking for a new red berry experience with a little spice? Dig on this blend of strawberries, red berries, and sweet fruits. On top of this tasty marriage of fruits, you'll experience a pleasant sweet spice with a smooth smoky finish. Our first session with this flavor was amazing, but we wanted a little more spice flavoring with the delicious berry taste. We were rewarded with the spice that we craved on the following session, by adding a little more tobacco than the previous session. So we encourage everyone to give this flavor a try, and paint the town red.
Starbuzz Vintage Peach Spice Flavor Review
This flavor is so SSMMMOOOOOTTTHH, easily an instant classic for us. Inside the clouds of Starbuzz Peach Spice you'll enjoy a naturally sweet peach with a mellow tobacco backnote. The warm spice flavoring blends perfectly with the bold peach, and it creates a distinct flavor profile that can't be imitated. We played around with several mixing options, and this flavor is a beast by itself but plays well with others. Peach fanatic will keep this flavor at the front of their shelves.
Starbuzz Vintage Orange Chocolate Flavor Review
Smooth chocolate with a ripe tangy orange exterior, these two flavor profiles aren't usually in the same container but Starbuzz crack the code on this one. The robust tobacco profiles blend smoothly with the silky chocolate taste, and gently push the bright orange taste to the front of your inhale. Once we started smoking the first bowl this flavor instantly became a special occasion smoke, with it's rewarding taste of success that should be enjoyed after accomplishing a task like eating or having a good day at work. Of course you smoke this flavor at any point of the day, but it's so good that it may not last too long on your shelf.
Starbuzz Vintage Indian Spiced Apple Flavor Review
Holy Masala! Say hello to your new favorite double apple flavor. The Vintage Indian Spiced Apple blend is flavor that we assumed would be a typical double apple, with a smooth smoky back note. We were wrong. Once this flavor warms up you'll receive a delicious spice called Masala, which is widely used in India. This delicious spice hugs both apples with love, and allows fan of double apple shisha to experience a roller coaster of flavor. This mix may sound a little odd, but toss a little sweet cigar in the next bowl with this flavor and kick back for the enjoyment.
Starbuzz Vintage Fresh Lime Flavor Review
SOLID. Starbuzz hit this flavor on the head, and you should always have a jar of this blend if you're a fan of sweet citrus. Fresh Lime is the name and it speaks perfectly to what you'll expect inside your session. The sweetness of Fresh Lime comes through as a natural tone without a nasty chemical aftertaste, and we can't forget about that mellow tobacco undertone. Once this bowl gets going you may not want to put the hose down, and during our testing session the flavor longevity exceeded our expectations. The Fresh Lime mixes very well with other Vintage flavors, and we've even thrown it in with mints & tropical fruits from other brands with great success. If you like Lime, then we think you'll give this blend 7 thumbs up......if you have 7 thumbs.
Starbuzz Vintage Dark Vanilla Flavor Review
Welcome to the dark side of a flavor that many of us have come to enjoy mixing and smoking, VANILLA. Starbuzz created this flavor with enough power to give you a creamy Vanilla inhale, and make you want more with a robust exhale. Straight from the jar this vanilla aroma is hidden beneath a sweet blend of tobacco tones, until you apply heat and wake up this delicious beast. We really enjoyed this take on Vanilla because it contains new "smokey" elements that improve the overall flavor, and the mixability keeps this flavor at the top of our minds.
Starbuzz Vintage Dark Mist Flavor Review
Nope, it's not the dark leaf version of Blue Mist. The Vintage Dark Mist blend contains a sweetened blackberry flavor that still provides some tart notes, in combination with tobacco tones and a slight cooling effect. In our smoke session with this flavor, Dark Mist came through as one of the more powerful flavors from the vintage collection. Of course you can control the strength of flavor for each smoke session by increasing or decreasing the amount used, but we think a little goes a long way with this blend. If you're a fan of dark berries or flavors similar to grape/blueberries, we think you'll enjoy the mist from the dark side.
Categories
Recent Post
Month Lists