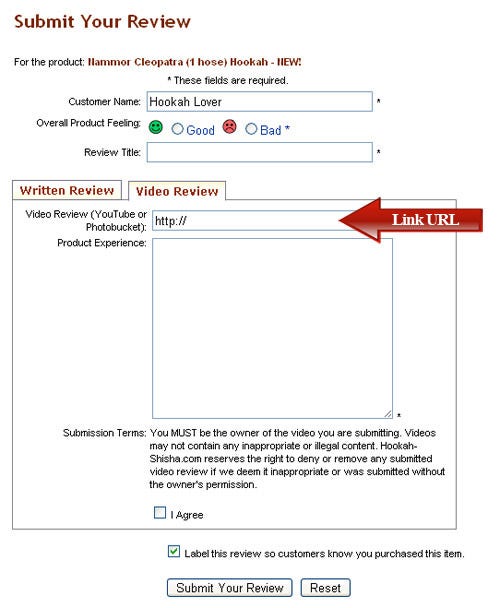 New Website Feature: Submit Your Hookah and Shisha Video Reviews!
By
Grabertrain
/ May 27, 2010
Howdy Hookah friends! We've just added a new feature to our website to make the shopping experience with us more informative and interactive. In addition to written reviews of the products we carry, you can now submit video reviews! Let your voice be heard AND seen to hookah fans around the globe! Here's how: 1. Make a short video of yourself giving a review of a particular product or shisha flavor that we carry. If you're unsure of what to say or how to critique, a quick YouTube search of anything hookah related will yield hundreds of review videos for you to watch and garner ideas from. Many of you have already made review videos for other hookah-related forums, so feel free to submit those! 2. If you haven't already, upload your video to YouTube (or any other video hosting site that allows embedding). 3. Submit your video under the "video review" tab after you have clicked the "rate it" button for the particular product are you reviewing. Simply copy and paste the URL into the appropriate box (as seen in the screenshot below). Remember to only submit videos that YOU YOURSELF have made!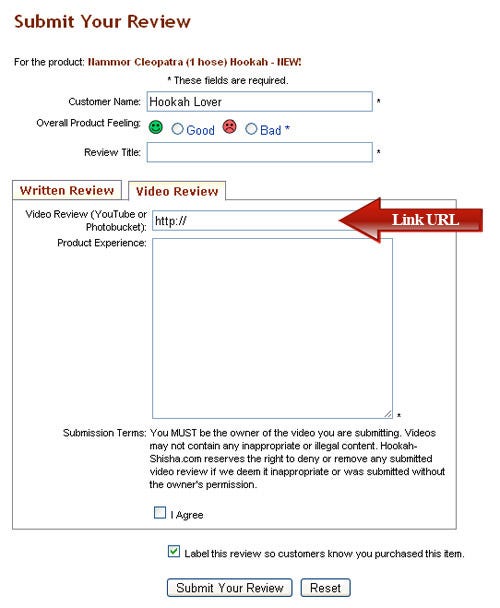 Once you've submitted it, we'll review the video for appropriate content and post it in the product category.
Remember:
Keep it clean!
Be concise yet informative!
Have fun!
And most importantly, Happy Smoking!
Categories
Recent Post
Month Lists