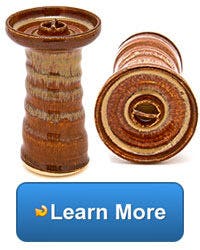 OG Hookah Bowls - Symphony, Rook, Square, and Apache
The quality of hookah bowls has increased consistently over the past few years and we are happy to announce that we are now carrying one of the best hookah bowl brands in the world - OG hookah bowls. OG bowls are handmade from high quality clay right here in the USA. We've got four awesome models for you to choose from and you can compare and contrast them all below. OG bowls are durable, heat your shisha consistently and evenly, and have unique features that you won't find with most other hookah bowls.
OG Symphony Bowl
The OG Symphony hookah bowl is a traditional phunnel style bowl with a few twists. First off, this is what some would call a conservation bowl. What that means is that the bowl is shallower than normal, and thus holds less shisha (about 13 grams). This is perfect for a solo smoke session, or a shorter session with friends.

The second twist on the traditional phunnel bowl is a built in bridge over the central hole in the bowl. This hole acts as a built in Scalli mod and makes for an excellent smoking session when you use hookah foil (which we recommend using with this bowl) as it keeps the airways clear and allows for excellent airflow and smoke production.
OG Rook Bowl
The OG Rook bowl takes it's name from the unique design of it's central spire. The spire has notches cut out around the edge (which makes it look like a Rook chess piece) that allow for great airflow when using this bowl. You don't need to worry about your foil falling down in the center and blocking the air flow through your bowl.

The OG Rook has a larger capacity than the Symphony bowl (approximately 25 grams of shisha vs the Symphony's 13 gram capacity) but should smoke just as well. This is the bowl to go for when you are wanting a longer smoking session or when you are smoking shisha with a group of friends.
OG Square Bowl
The OG Square bowl is likely the most unique offering from this line of hookah bowls due to it being the first non-circular hookah bowl that we remember seeing. The Square bowl, like the Symphony bowl, would be considered a conservation bowl due to it being more shallow than normal and thus having a smaller capacity (about 13 grams) than most bowls.

The square shape allows for all sorts of unique heat management techniques that traditional round bowls do not allow. We encourage you to experiment with your set up to find the perfect smoke for you. This is one of the most intriguing bowl designs on the market and it will definitely turn some heads.
OG Apache Bowl
The final new OG bowl to grace our shelves is the OG Apache bowl. This bowl is designed similarly to the briefly produced Tangiers Super Chief Bowl. It is a cross between a traditional Egyptian hookah bowl (holes on the bottom of the bowl) and a Phunnel style bowl. It features a short central spire which has 7 individual holes on top of the spire.

To get the best smoke from an OG Apache bowl we recommend a fluff pack over the central spire and a slightly more dense pack around the edge of the bowl. As with the Square bowl, the Apache is for the shisha experimenter who wants to play around with new setups and smoking techniques.
Categories
Recent Post
Month Lists