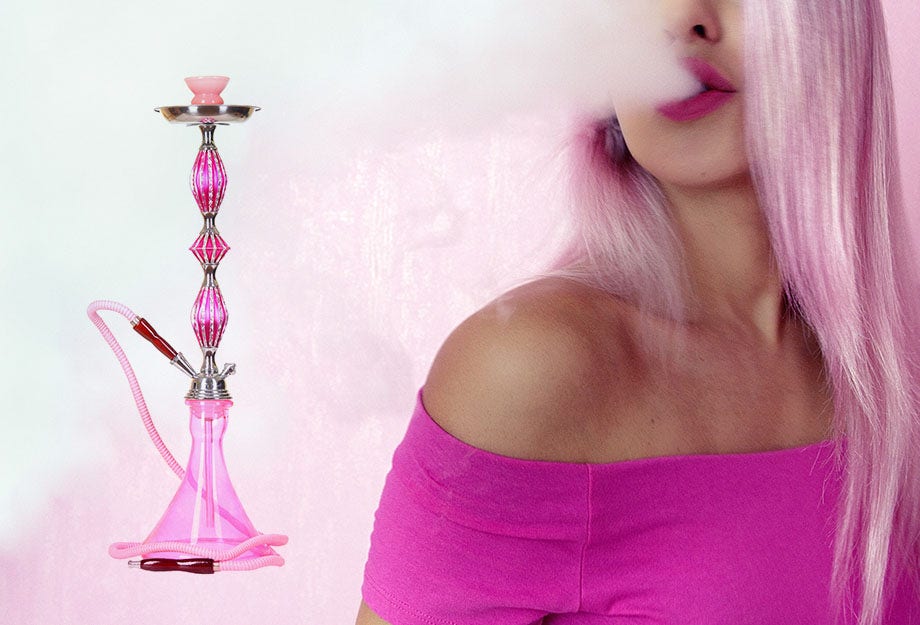 Pink Hookahs and Pink Hookah Accessories
By
Katie
/ October 29, 2014
A Pink Hookah For Everyone!
We get daily requests for pink hookahs, and we're happy to tell you that we've got quite a selection! Here is a list of our favorite pink hookahs, as well as some sweet upgrades you can add to your hookah to pink it out!

| | |
| --- | --- |
| | Pink Econo Mya QT Hookah – The Econo Mya QT is a rock solid hookah, made with "economy" parts to provide a more affordable option. Little do people know, there is a pink version of the Econo Mya QT. This adorable, affordable little hookah looks terrific all dressed up in pink. |
| | |
| --- | --- |
| | Pink Pharaoh's Mirage Hookah – Pharaoh's is a great up-and-coming brand of hookah. The Pharaoh's Mirage hookah is one of the most popular Pharaoh's brand hookahs. It has a threaded base to ensure an airtight seal without the need for grommets. And would you look at that? It comes in pink! |
| | |
| --- | --- |
| | Pink Khanjar Surrender Hookah – For a pink hookah setup, the Khanjar Surrender is a great option. It's small and compact, easy to clean and is currently only available in pink. It comes with a Vortex style mod bowl and a totally matching, totally washable pink hose. |
| | |
| --- | --- |
| | Pink Mya Razo – The Mya Razo, readily available in pink, is an amazing little 12 inch hookah. This perfect setup comes with everything you need to get smoking right out of the case – which is unique because this one of the rare hookahs that comes with its own carrying case! |
| | |
| --- | --- |
| | Pink Regal Melech – This is the pink hookah to end all pink hookahs. The Pink Regal Melech is king (or queen) of all the pink hookahs, which is convenient because 'Melech' actually means 'King'. Made with the ultimate craftsmanship, the hand-lathed Beetle Kill Pine shaft is one of a kind. It comes with a pink base and a matching pink Nammor hose. |
Pink Accessories
(Pinkcessories? Hey-yoooo) Looking to pink out your current hookah without having to buy an entirely new hookah setup? Let us help!
| | |
| --- | --- |
| | Pink Apple on Top Bowl – The Apple on Top Bowl is one of the most unique hookah devices we carry on our website. It essentially eliminates the need for foil, and holds a ton of shisha. If you want a bright pink bowl that will absolutely stand out in the room, you should definitely give the pink Apple on Top bowl a look. |
| | |
| --- | --- |
| | Nammor Hose – In terms of hoses, the Nammor reigns supreme above all. So if you're going for a sick pink hookah setup, Nammor is going to be your best bet for your pink hose. Some super sweet upgrades to the already super sweet Nammor hose are the Wrapped Nammor Hoses and the Fretted Nammor Hoses. Check them out! |
| | |
| --- | --- |
| | Mya Jumbo Ceramic Hookah Bowl – Here's a bowl we carry in pink. The Mya Jumbo Ceramic bowl is a solid hookah bowl. It should fit on any standard hookah with the right hookah grommets. If you are looking for a pink bowl that can hold up to 45g of shisha tobacco, look no further! |
Categories
Recent Post
Month Lists