Regal Hookahs at Hookah-Shisha.com - Exquisite Hookahs with Hand-Lathed Wood Stems
By
Grabertrain
/ March 14, 2012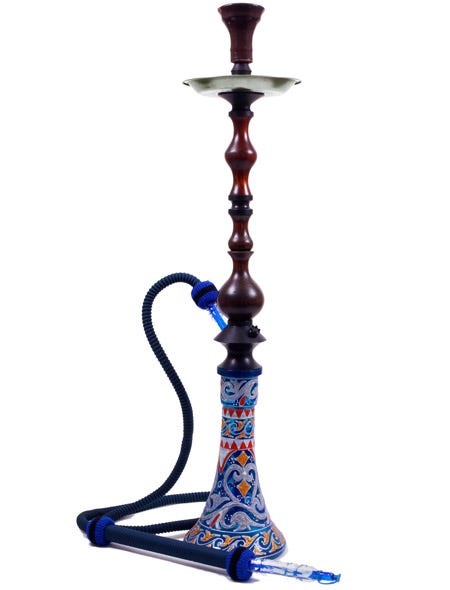 Hookah-Shisha.com is proud to introduce new Regal Hookahs, a line of American-made Eco-friendly hookah pipes composed of exquisite hand-lathed wooden stems and ornate glass bases. Founded in Boulder, Colorado by three hookah enthusiasts who envisioned the reinvention of a century's old device, Regal Hookah is revolutionizing hookah design! The stems of the Regal Hookahs come in 3 varieties:
Melech
- Borrowing its name for the title "king" in ancient Semitic culture, the stem of the Melech is composed of reclaimed Colorado beetle-kill pine and walnut. This stem is paired with either a
blue
,
green
,
red
, or
black
glass base and matching Nammor hose and stands at
34 inches
tall including the Egyptian clay hookah bowl.
Queen
- Standing 4 inches shorter than the Melech, the Regal Queen is the perfect companion for a kingly hookah. With a stem composed of the same reclaimed beetle-kill pine as the Melech, this awesome hookah is 4 inches shorter and is available in the same
blue
,
green
,
red
, or
black
glass base and matching hose.
Redwood Queen
- This style of stem has the same measurements of the Queen but made with polished redwood for a brighter, colorful appearance. The wood for this hookah has actually been standing as a bridge in California for over a century, and was likely hundreds of years old when it was first used! Like the Queen, this hookah stands at
30 inches
tall and is available in
blue
,
green
,
red
, or
black
as well. Besides the wood stems, the most unique feature of Regal Hookahs is the way that the hookah hose attaches. You'll notice a lack of an external
hookah hose adapter
because the hose inserts directly into the center hub. This feature has several advantages: It makes the airflow path extremely wide, allowing for a smooth and easy-hitting smoke. Additionally, accidental hose adapter snap-off's are avoided. Regal Hookahs all come with a matching
Nammor Hookah Hose
, which makes these one of the best-hitting, most carefully crafted, and most astoundingly awesome hookahs the industry has ever seen! Happy Smoking!
Categories
Recent Post
Month Lists