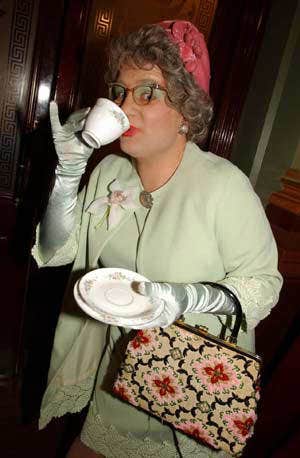 Romancing the Smoke: Etiquette, ladies and gentlemen, etiquette
If you're just tuning in to Romancing The Smoke, this is a blog following my journey to becoming a hookah know-it-all. If you're also a beginner, or a pro who wants to offer some advice, then I hope you'll follow along!
| | |
| --- | --- |
| Sit up straight and stick those pinkies out because we've got some serious rules and regulations to discuss. Smoking hookah is a fun, relaxing pasttime, but hookah's historical roots are derived from centuries of culture and tradition which have established expectations. Many of these rules have eased up a bit, and some depend on the location/environment of your hookah session, but it's better to be overly cautious. It's kind of like meeting the queen of England - there are too many protocols to keep track of, but you better know the basic curtsy so you don't show your knickers to Mum. | |

Whoever is hosting is making the rules. Whether you're at a lounge or a friend's house, if it's their hookah then kindly defer to them regarding expectations. When smoking at someone's home, offering to reimburse them is considered rude; sharing a hookah is a community activity, and the host would not offer it unless they wanted to. By the same token, a host should consult their guests in choosing a shisha flavor - if everyone is sharing, then everyone should enjoy it!

Generally one person sets up the hookah, and one person is in charge of coal management throughout the session (this may or may not be the same person). The theory is akin to "too many cooks in the kitchen spoils the soup". Traditionally, whoever sets up the hookah will smoke first, then the person who is in charge of the coals.

The hookah hose has its own set of expectations. Hogging the hose is a huge faux pas. Three to four pulls from the hose is a standard duration per turn. If it is still your turn, and you must set the hose down, then lay it in your lap. Always pass the hose clockwise and with your right hand. Sounds strange, but in many cultures passing with your left hand is considered unclean, because the left hand is supposedly reserved for...butt wiping. Do not point the hose tip at someone. As Stephanie Tanner would say, "How rude!". When handing someone the hose, bend it in half with the tip facing you. If using a multi-hose hookah, do not smoke from multiple hoses at the same time as this will negatively affect the pull. Plug your hose while the other person smokes and wait until it is your turn. Don't ever pull the hookah by the hose. When the session is over, wrap the hose around the hookah so that it does not touch the ground.

When I first smoked a hookah in college, we just passed around the hose and paid no mind to the fact that we were continually sticking the same wooden apparatus into our mouths that was just slobbered on. Luckily, these days it's very easy to acquire your own, personal mouth tip. Boom! Slobber free! The next thing is less hygiene related, but is still bodily function-centric. It can be considered rude to cough during a hookah session. Be mindful of taking pulls that are too deep, keep the coal heat managed, and just take it easy if you're still learning your limits. Side note to cigarette smokers - whether or not you're partaking in the hookah session with your pals, do NOT light your cigarette with the hookah coals, nor should you ash in the coal tray. Bad. Form.
These are the general guidelines that I've picked up in my short time as a hookah-pro. Oh! I almost forgot the most important one - don't tip the damn thing over! If you can think of anymore, or of something specific that personally irks you, then tell us about it!
Until next time, happy smoking!
Categories
Recent Post
Month Lists