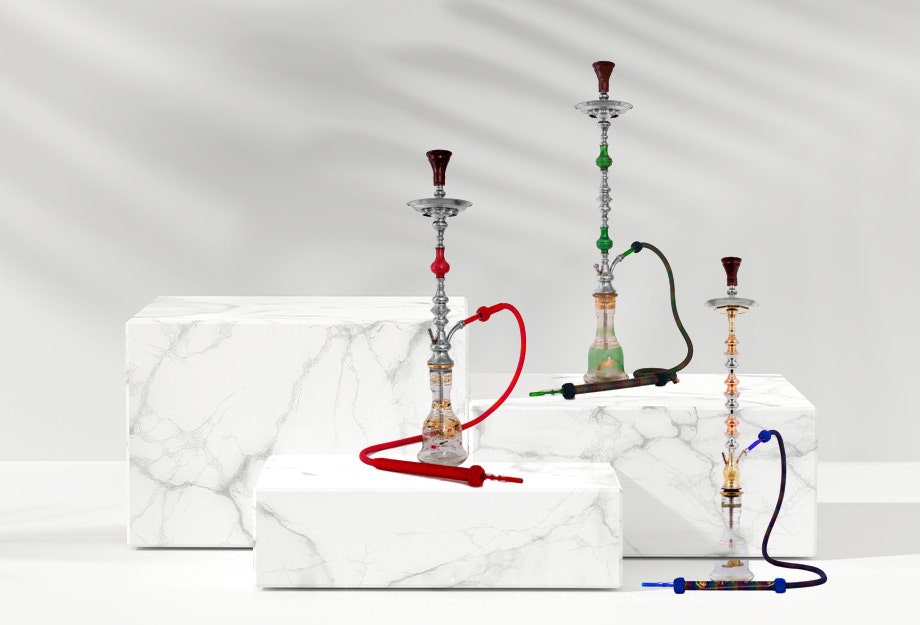 Romancing the Smoke: What's so special about a Khalil Mamoon?
By
Katie
/ August 10, 2012
If you're just tuning in to Romancing The Smoke, this is a blog following my journey to becoming a hookah know-it-all. If you're also a beginner, or a pro who wants to offer some advice, then I hope you'll follow along!
I know. It's blasphemous. I've never smoked out of a Khalil Mamoon hookah. To be honest, when I first started my hookah journey, I was intimidated by anything bigger than a Mya Bambino. However, it's impossible to scroll through the hookah sub-Reddit, look at any shisha forum, or even talk to my co-workers without hearing endless praise for the KM brand. So, what's the deal with these particular water pipes? Wait, let me put on my professor's cap - because I did some serious researchin'.
The name Khalil Mamoon comes from the creator of these distinct hookahs - originally a specialist antiques restorer, he turned his interest in hookah into a family business. Now in its third generation, and going strong, these models are still made in Cairo and shipped over to the USA.
Some of the trademark features of a KM hookah include the wide-gauge tubing, high-functioning purge valve, and the bell-shape design on the tip of the down stem. I've heard the most praise regarding the extra wide hose port. By enlarging this part of the hookah, it allows for more smoke to be pulled at each inhale - allowing for some wicked hookah smoke clouds.

The strange thing about these hookahs is that the spelling may be different depending on where you get them from. Sometimes it's Khalil Mamoon, Khalil Maamoon or Khalil Mamoun. These aren't knock offs trying to trick you (usually), this is simply a symptom of Western society trying to commercialize an item that does not have a definitive translation from Arabic to English. When dealing in international markets, different distributors, importers, and vendors will often come up with slightly different latinate representations of Arabic words. Just as we refer to the juice in your shisha tobacco as molasses, the spellings can range from ma'assel, moassel to mo'assel. As the old American idiom goes- "If you're not sure...make it up!"
While we're on the subject - how CAN you tell if it's a knockoff? Look for the original stamp of KM initials. This stamp is located on the top of the stem(where the tray sits) and also on the tray. Another good indicator: if it says

Made in China

...then it's not a Khalil Mamoon hookah. Since the Khalil Mamoun hookah pipes are handmade, they usually have slight variations from model to model. Weld marks, minor scuffs, scratches on the stem, or other marks are normal. Some hookahs contain visible weld lines or unpolished metal at the welds; bases are hand-painted and may have slight variations from glass to glass.
That is not to say that Chinese-made water pipes are inferior, there are some really decent MYA hookahs on the market (take my Bambino for instance!). These types of hookahs are generally easy to clean, have a wide variety of modification options, are small enough to travel with, and usually come with a carrying case. If you're looking for a portable party hookah that you won't be heartbroken over when a drunk friend breaks it while attempting to dub step , then maybe a KM isn't for you. However, if you're looking for a long-lasting hookah, then a Khalil Maamoon is an extremely reliable choice.
So now that we can all consider ourselves informed - it's time to try out one of these bad boys out - won't you join me?! If you're looking to order one I'd suggest that you do it this weekend, all Khalil Mamoon hookahs are 15% off until Monday, August 13th! Woot, woot!
Until next time, happy smoking! -Katie
Categories
Recent Post
Month Lists