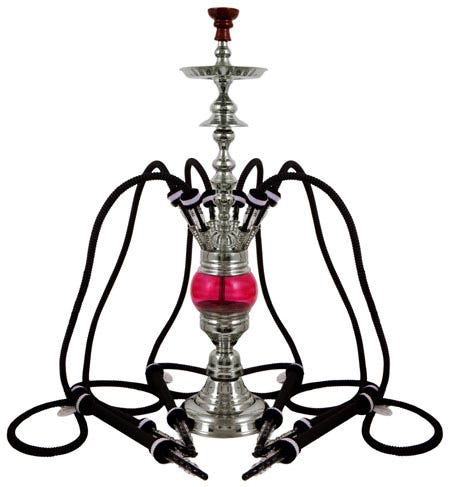 Rotating Hookahs - Pass Your Hookah Hose of Choice With Ease!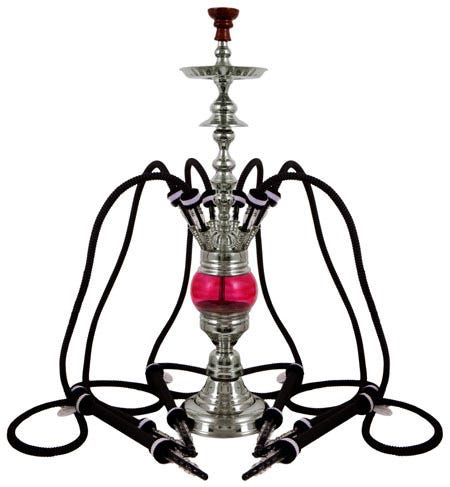 Howdy Friends, we're featuring the famous Rotating Hookahs this week, and we've also added the option to choose your hookah hose! All the way from Egypt, these cloud machines spin a full 360 degrees for the ultimate ease in hose passing. Having a party? There's a reason that rotating hookahs are popular in hookah lounges, mainly because they're less likely to tip over. A rotating hookah in the middle of a circle of people is ideal, both because of the ease of passing the hose but also because it's less likely for a newcomer that's not aware of hookah etiquette to cause an unfortunate tip-over. Our rotating hookahs are available select colors of glass bases and have the option of 1 to 4 hoses (6 in the case of the Super Nova Hookah).
| | | | |
| --- | --- | --- | --- |
| Comet | Lunar | Super Nova | Old School |
Select from the following hookah hoses, from the simple yet extraordinarily functional washable hookah hose to the awesome Nammor Hookah Hose!
| | | | | |
| --- | --- | --- | --- | --- |
| Washable Hose | Sheik Hose | Cobra Hose | | Nammor Hose |
Because of the hand-made nature of rotating hookahs, it can sometimes be a little tricky to set up and smoking for the first time. If you experience any difficulty in any way with your rotating hookah, please visit the below pages for set up instructions or troubleshooting guides:
Rotating Hookah Set-Up Instructions
How do I clean my Rotating Hookah?
How do I test for and fix an air leak on my Rotating Hookah?
How do I get the Heba Diffuser to fit on my Rotating Hookah?
The bowl does not fit snugly on the bowl stem, how do I fix it?
Check out a review of the Comet 1 Hose Rotating Hookah that one of our customers made as part of our 60 second video review contest!
Happy Smoking!
Categories
Recent Post
Month Lists