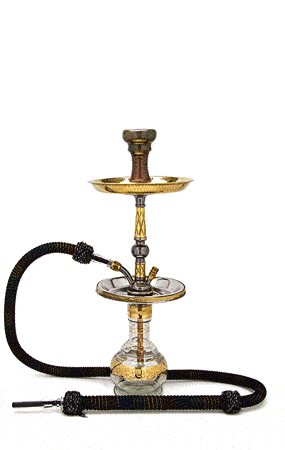 The Ultimate Guide To Shika Hookahs
By
SmokeOrPass
/ July 29, 2015
Here at Hookah-Shisha we love new hookah products just like you, it keeps the wheels turning for forward innovation. The Shika collection of accessories is something that we have recently added to our selection of hookahs, and they have proved to be a serious contender in the Egyptian hookah market. You may have seen the words "Shika Hookahs" in the past, because they have had a decent amount of time in the industry. Their past lineup from 3 years ago featured solid hookahs with a great amount of Syrian inspiration, models like the "Zoba" contained rose gold and silver with a narrow Syrian style body. In their collections they always had models that satisfied anyone looking for an Egyptian hookah, made from quality materials. These past models made a name for Shika hookahs, as a soon to be contender against the popular Khalil Mamoon hookahs. Shika was offering about 10 hookahs during this time and after a while we stopped seeing them for a small amount of time. Rising from the ashes like a phoenix, Shika has come back with a vengeance and serious collection of hookah that brought a smile to every hookah enthusiasts face. This time time around we get to see a balanced blend of Turkish, Syrian, and Egyptian inspired hookahs, so let's jump in!
New Changes to the V3 Collection
The current lineup of Shika hookahs (Version 3) contains about 15 unique hookahs, with some minor tweaks and upgrades from their previous collection. All of the Shika hookahs are handcrafted in Cairo, Egypt, with a great amount of attention to detail resulting in high quality Egyptian hookahs. The majority of the Shika v3 collection is created with the use of heavy brass metals for a solid weight, and they do not cast or plate their shafts, giving you a long lasting hookah. Brass materials are commonly used over other metals because of their anti-corrosive qualities, and they allow for more flexibility when it comes to crafting pieces. This materials is also more hygienic and it can survive the harshest weather conditions, making it the perfect type of metal to be use as an exterior of a hookah. When Shika decided to use these high quality brass metals, it opened a door of possibilities to utilize hand etched engravings throughout their hookah shafts.
Hand Carved Details
The beautiful hand etched detail was a feature that we did not see too much of in the previous models, and it is now one of the main reason these hookahs have jumped up in the popularity polls. It takes roughly 3 weeks or more to complete a full Shika hookah, there are no rush jobs or partially finished products allowed to leave the warehouse. We haven't seen a collection of hookahs arrive at our warehouse with this much handworked detail in quite some time, starting from the tray all the way do to the central hub. Models like the Shika Genie feature an array of hand carved detail wrapped around the entire shaft, each indention is deep enough to display a great amount character in any light. One thing that should be noted about their carved designs is the uniformity that is present within each hookah, they do an outstanding job of keeping everything symmetrical. The solid brass trays on models like the
Genie
,
Hilal
, and many more, display carved designs so exquisite that you could hang them on your wall. If you were to do this make sure you have some sturdy nails, because each tray weighs about the same as some of the hookahs (true fact), let it be known that Shika isn't playing around this time.
Creating Thunder Clouds With Shika
When it comes down to the important aspect of these hookahs like smoking, they don't let anyone down. Their original lineup contained a few hookahs with copper downstems, but they have since moved on to all copper downstem for every model instead of a stainless steel material. Copper is more expensive than stainless steel, but in the long run it's worth the cost to create a long lasting hookah shaft. The biostatic traits of copper prevent any buildup of bacteria, also it is extremely durable and will never falter to the effects of corrosion or high heat. These precision made copper downstems contain a wide open gauge, resulting in a smooth inhale with minimal restriction. Most of the downstem utilize a bell end cap making it a little difficult to use a diffuser (if you're crafty this won't be hard) , but the solid weight of the hookah allows it to be sturdy no matter how hard you are ripping on it. Whether you use the equipped hose or a favorite from your collection, you'll receive a smoke that doesn't require too much effort for large clouds and still have the classic rumble.
Shika Accessories
Shika had a focus on hookahs initially, and equipped every hookah with a standard egyptian bowl and basic hookah hose. It wasn't too long after this before they took matters into their own hands, and came up with a full collection of accessories. Most of the industry has their eyes focused on phunnel style bowls, and that's exactly where Shika started with a bowl simply titled,
Oblivion
. This large phunnel style bowl comes in a variety of colors, ranging from brown to green with splashes of red and yellow in between. The Oblivion bowl has won the hearts of many hookah lovers with a wide open single air channel, and solid weight from high quality clay materials. You can even find this bowl in a unglazed finish (
Sandstorm Bowl
) for that authentic feel, and they can be used with just about any style of hookah.
Oxidize Crown wind cover
. This eye catching windcover features the same oxidized color from the
Sorya Beast
, with a bold display of brilliant gold that looks like a million bucks on any of the larger Shika stems. We are excited to see what the future has in store for the Shika Team, and as more models roll out, you know where to find them ......
right here.
Categories
Recent Post
Month Lists