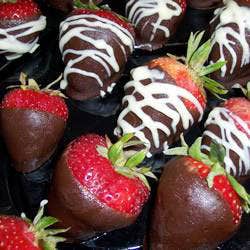 Shisha for dessert: Make your hookah part of your meal!
By
Christophanes
/ February 10, 2009
Partakers of tobacco (cigarette, cigar, and regular pipe smokers know this well) often acknowledge that a smoke perfectly punctuates a large, scrumptious meal. What better way to savor the flavor of good company and the epicurian enjoyment of food than to let it linger beneath gentle clouds of smoke? For a dinner gathering, the satisfaction of the postprandial coffee and cordials (or bullblasters, depending on the sort of company gathered) - brandy and tobacco isn't just for gentlemen anymore! Here are a couple of great suggestions for after dinner mixes, with an emphasis on 'dessert' themes, or flavors refreshing after a heavy smorgasbord. While some shisha flavors are loud and entertaining, these combinations feature some of the more inobtrusive flavors.
| | |
| --- | --- |
| | Chocolate Strawberry - Chocolate covered strawberries need no introduction, being the centerpiece of confectioners (ever notice some candy shops display huge banners when they have chocolate covered strawberries?). A focus of fondue, chocolate covered strawberries are the perfect dessert when you don't have enough room left for a wedge of cake or piece of pie. Too full, even, for a couple of strawberries? Enjoy the taste of chocolate covered strawberries without overtaxing your happy tummy by loading your hookah with Chocolate Strawberry shisha (now available in 50g boxes in the premium Romman brand of shisha!) |
| | Turkish Coffee and Vanilla - Nearly all coffee-drinking cultures appreciate the place of coffee after a meal. The warmth of the drink is relaxing, and the caffeine helps you digest your food. The flavor of coffee is a pleasent denoument to the stimulating interactions of flavors leftover from dinner. With this mix, Turkish Coffee is smoothed with Vanilla for extra after-dinner sweetness. For an additional coffee kick, use room temperature coffee instead of water in the hookah's base, or sip on a cup of joe while partaking of this mix. |
| | Starbuzz Winterfresh and Al Fakher Jasmine shishas - Light and refreshing, this mix is great for spring and summer evenings. This combination goes remarkably well with some dessert wines, or a nicely chilled riesling. |
| | Mint - The fact that many restaraunts serve mints with the check (especially after a dinner laden with garlic or spices) indicates the recognition of mint's powers to refresh the senses and cleanse the palate. While my personal favorite is Romman's mint (super strong!), Mint shisha can be found in just about every brand in existence. For a slittle sweetness with your mint, try Fumari's Mint Chocolate Chill shisha! |
| | Starbuzz Marlett and Coconut - We discovered this combination when one of our employees, drinking a cup of coffee with coconut creamer in it, noticed the harmony of the coconut flavor with the hard-to-define sapidity of Starbuzz's Marlett tobacco. While we're still not entirely sure the root of Marlett's name, we're positive that it plays very well with Coconut. |
| | Golden Layalina Honey Berry - Honey has long been one of the most simple, traditional ingredients of any dessert, often paired simply with fresh fruit, perhaps a dollop of cream or yogurt. The rich, sweet flavor of honey drenches the burst of berry flavor in this shisha, and will be of particular delight to those with a sweet tooth. Golden Layalina hookah tobacco the newest addition to our selection |
| | Orange and Vanilla - Popularized by orange popsicles with a creamy vanilla center, this is one classic combination. Bright and citrussy, our favorite utilizes Starbuzz or Romman Orange (or Fantasia's Orange Sherbert) with Romman's Vanilla, although some brands such as Al Waha offer an Orange Cream pre-packaged. |
| | Al Fakher's Golden Bahraini Apple - One customer told us that "once you go Bahraini, you never go back". Al Fakher's Golden Bahraini Apple nearly convinced us of that! Each brand's Bahraini Apple is different, and I especially like Al Fakher's 'sugar and spice' notes to the flavor. The aftertaste of this one can taste like an apple pastry! |
| | Tonic's Mixed Berry Chiboust shisha - Chiboust is a French cream, custard, and gelletine dessert, and the inspiration for this flavor. This juicy mixed berry taste incorporates a creamy custard sweetness, with a hint of vanilla. This one is great with a tawny port! |
| | Fantasia's Bananas Fosters shisha flavor - Just like bananas flambéed in rum, Fantasias's Banana's Foster yields a warm, carmalized banana flavor. This hugely popular flavor was much anticipated by our fellow smokers out there, and was included in the lineup by popular demand. |
| | |
Think of these as flavors that won't dominate the conversation of your palette, that don't demand your undivided attention; flavors that will kick back beside you and go with the flow. These flavors also compliment after dinner beverages quite nicely!
Categories
Recent Post
Month Lists