Shisha Review - Al Tawareg Shisha Tobacco - Cinnamon Roll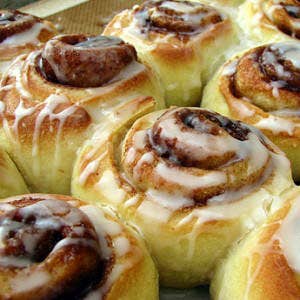 How many times have you walked past those savory sweet buttery cinnamon rolls at the store and thought, "man, I wish they made a shisha tobacco that tasted like cinnamon rolls"?
Al Tawareg Shisha Tobacco
brings you your favorite morning pastry straight to your hookah! Usually shisha flavors with cinnamon are almost unbearable because of the amount of cinnamon. Al Tawareg Cinnamon Roll shisha has somehow bypassed this problem altogether. The amount of cinnamon flavor is enough to give it that bite but not too much to create that "whoa, that cinnamon is intense" feeling. There's a vanilla creaminess that adds a real buttery flavor when you get the heat just right. I recommend three
Coco-Nara coals
to really bring out that authentic cinnamon roll flavor! Mmm. Gotta love that warm buttery cinnamon taste! If you love Al Tawareg Cinnamon Roll shisha tobacco, may I also recommend
Starbuzz Apple Cinnamon
, or my new ultimate favorite hookah blend, mixing Al Tawareg Triple Apple with Al Tawareg Cinnamon Roll shisha tobacco. Let us know what you think by leaving comments below or by posting on our
Facebook
page. We love hearing from our readers! HAPPY SMOKING!
Categories
Recent Post
Month Lists