Shisha Review: Social Smoke Shisha Tobacco - Arabian Nights
By
Jono
/ January 13, 2011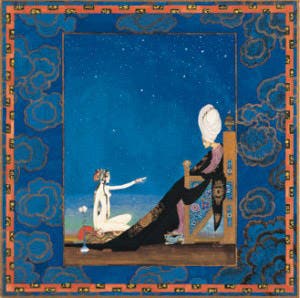 Every time I hear the words "Arabian Nights" I'm mentally transported to the first time I ever saw the movie
Aladdin
. Robin Williams' genie performance was outrageously hilarious! I also can't help but think about doumbeks and zills. And of course, how could you possibly think about Arabian nights without envisioning a hookah! You're right, it's impossible.
Social Smoke Shisha Tobacco
recently released a new shisha flavor called Arabian Nights and I couldn't be more excited about it! Social Smoke Arabian Nights shisha tobacco has a nice buttery toffee coffee smell with a hint of sweet spicy cardamom. In other words, it's smells wonderful! Now it could be my imagination, but it almost has a chocolaty smell too. Maybe that's just the creaminess of the coffee smell. Who knows? Naturally, when you smoke Arabian Nights, the flavor of the shisha matches perfectly with how it smells - a warm, rich, creamy coffee flavor with cardamom blended nicely underneath that lingers in the exhale and aftertaste. As most people know, I'm a huge fan of Romman Turkish Coffee. However, in 15 minutes, Social Smoke Arabian Nights shisha tobacco is now neck and neck, tied for the lead. It would be very difficult to pick one over the other. And that's saying something! I think you'll find Arabian Nights to be a good choice to stock up on during this cold winter season. Now go ahead and google doumbeks and zills. I know you've been dying to do that for the last 3 minutes. While you're surfing the web, head over to our
Facebook page
and tell us what you think about Social Smoke Arabian Nights shisha tobacco flavor. Happy Smoking!
(Image at top: The Sultan and Scheherazade, Arabian Nights - Kay Nielsen)
Categories
Recent Post
Month Lists