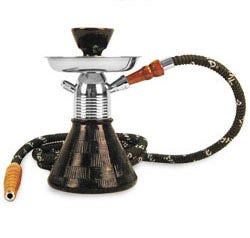 Small Mya Saray Hookahs - Featured Hookah Pipes
By
Grabertrain
/ June 10, 2010
Smoke hookah at your work desk? Don't mind if I do! While most may not have the pleasure (or the permission) to smoke their hookah at work, those with home offices (or those that work at a hookah company, haha) can enjoy a bowl of mint, mango, or margarita shisha while clacking away fervently on their computer keyboards. Much like the smoking method talked about in our post on hookahs and gaming, a lightweight, plastic washable hookah hose is perfect for "hands free" hookah smoking. Standing no more than 16 inches tall and costing no more than a couple rounds of beers, Small Mya Saray Hookahs make the perfect desktop hookahs. The footprint is only about 5 inches wide, so they don't take up any more space on your desk than a pencil holder, a Thermos of hot soup, or one of those metal clacky ball thingies. Their low center of gravity ensures stability, and since it's made by Mya Saray, you know that it's quality. In fact, all employees here at hookah-shisha.com are issued a Mya QT for their desks on their first day! Of course, always remember to safely extinguish all of the hookah charcoal before you dispose of the ashes, or else you may set your trashcan on fire. Here are our top 3 small Mya Hookahs that (as of the date of this posting) all have unanimously positive reviews:
| | |
| --- | --- |
| | Mya Petite Hookah: Borrowing its name from the French word for "small," the Petite is proof that pint-sized pipes can produce powerful plumes (phew!). Living up to its name, this wee water pipe is as small as you can go – any smaller and you'd see a drastic reduction in stability and smoke quality. |
| | |
| --- | --- |
| | Mya QT Hookah: It's not called the 'QT' because the base holds a quart of water, nor does it have anything to do with quantification theory (ha!). It's actually just a homophone of the word "cutie." We call them "crown" hookahs here in the office because of the coronal shape of the base (it's also a personal favorite of many of our customers!). |
| | |
| --- | --- |
| | Mya Bambino Hookah: The "great" Bambino is the Italian half brother of the Petite (Bambino = Italian for "little boy"). Fans of this hookah often comment on its sturdy grenade-shaped base and colorful enameled ornamentation on the stem. |
The Petite, QT, and Bambino hookahs come with a carrying box, cage, and case, respectively.
Tip: the black bases on these hookahs are quite opaque, so hold it up to a light to see where the water level is.
Happy Smoking!
Categories
Recent Post
Month Lists