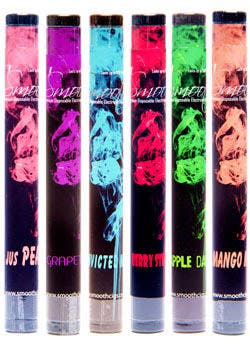 Smooth E-Hookah E-Liquid
Smooth eHookahs were one of the first disposable models of electronic hookah that we sold in our store, and we're pleased that they are expanding their line! Smooth now makes eLiquids and eJuice for use in your refillable, rechargeable eCig and eHookah.
Smooth Hookah Pens

The Smooth Hookah Pens are a great way to try all of the 12 Smooth flavors that are tobacco-free and nicotine-free. Good for approximately 500 puffs, these vape pens are disposable and do not have an activation button - they're ready to smoke when you are!
NEW Smooth eJuice for eHookahs and eCigarettes

Once you know your favorite Smooth eHookah flavors, you can get those flavors in bottles of Smooth eJuice that are available in quantities of 10ml and 30ml. Tobacco free and nicotine free, these E-Liquid flavors from Smooth include 12 rich ejuice flavors that produce huge vapor clouds! Smooth e-hookah liquids are 80% vegetable glycerin (VG)/20% propylene glycol (PG). This mix makes the e-juice, incredibly smooth (worthy of its name), with just a very light throat hit and bigger vapor clouds.

Buy 10ml bottle of Smooth E Liquid
Apple Dapplez
Berry Strawberry
Citrus Bombshell (blend of grapefruit, orange and lime)
Convicted Melon
Cool Bliss (Icy Menthol Mint)
Grapetastic
Jus Peach Em
Lemonade Melon Rage
Mango Mayhem
Rockin Blueberry
Tigurrz Blood (Strawberry, Watermelon and Coconut)
Watermelon Punch
Categories
Recent Post
Month Lists