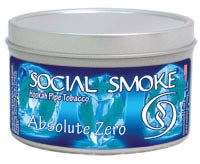 Social Smoke Tobacco - Our Newest Premium Hookah Tobacco
By
Grabertrain
/ April 13, 2010
Howdy Hookah Friends! Many of you have noticed a recent addition to our line of premium hookah tobaccos: Social Smoke Hookah Tobacco. This being the newest brand to hit the market, initial skepticism is understandable. With the buzz building and with positive reviews starting to trickle in, we're starting to field more and more questions regarding some of the flavor names. In this post we'll explain the "mystery flavors" so you know exactly what to expect. Happy Smoking!
| | |
| --- | --- |
| | Absolute Zero - While scientists have yet to reach the lowest temperature possible in any lab, Social Smoke has somehow harnessed the theoretical minus 273.15°C temperature in a little metal can! Absolute Zero is a mixture of mint flavors for an arctic blast of wintry good smoke – and you don't need to bend the laws of thermodynamics to experience it! |
| | |
| --- | --- |
| Baja Blue - Smoking this flavor is sipping a cocktail on the beach while Pacific waves crash the coastline. Metaphorically of course. Baja Blue is a strong Blueberry taste mixed with subtle raspberry and grape flavors. A hint of chocolate is added as well for that extra sweetness! | |
| | |
| --- | --- |
| | Blush - Don't be shy! This rosy refreshment won't leave you red faced. Blush is a blend of sweet tasting fruits (with a prominent raspberry taste) mixed with a citrus tinge, topped off with a subtle sweet rose flavor. |
Mobster - Here's an offer you can't refuse – Mobster has a nice citrus bite with

raspberry

and pineapple undertones, mixed with guarana bean (a flavor found in some energy drinks). This combination of ingredients sounds as mysterious as its name, but the flavor won't leave you disappointed...or wearing cement shoes!
| | |
| --- | --- |
| | Potion 9 - We can't guarantee that smoking this flavor will make you fall in love, but at least your taste buds will be tinglingly twitterpated. Potion 9 is a mixture of cherry, fresh melon, raspberry, and pineapple that tug on the heartstrings of your palate. |
| | |
| --- | --- |
| The Edge - It's hip, it's edgy, it's pineapple-y! The taste of The Edge is as sharp as it sounds – pineapple, passion fruit, citrus, and cherry all blend together to make this tasty smoke. Don't stand too close! | |
| | |
| --- | --- |
| | Tiger's Blood - While the name sounds savage, this flavor is actually based on the popular snow cone syrup flavor of the same name. Smoke this and you'll be reminded of that first flavored shaved ice delight you got at the county fair. Tiger's Blood is a mix of 4 different fruits (blueberry, strawberry, raspberry, and cherry) that rivals the best of berry-flavored shishas! |
Categories
Recent Post
Month Lists