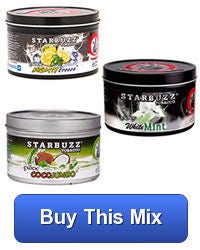 Spring Shisha Mixes (Tangiers, Starbuzz, Fumari, & Haze)
By
danny
/ March 28, 2015
Spring is finally here! The snow is melting, the temperatures are creeping up, and we're itching to smoke some awesome Spring shisha mixes! We've asked our resident shisha mix guru Shaunn to come up with some of his favorite go-to Spring mixes for you to try out. Check out the mixes below, and click the links to purchase the flavors used in Shaunn's mixes and save 15% off of the normal price. Enjoy!
Mix #1: Mighty Coco Mint
Starbuzz CocoJumbo - 40%

Starbuzz Bold White Mint - 20%

Starbuzz Bold Mighty Freeze - 40%

For the spring what's a better smoke than a lovely coconut and lemon-lime blend, with a cool minty exhale. You can load this side by side, but the optimal flavor is achieved by mixing it all together before loading.
Mix #2: The Shaddok Mint
Tangiers Noir Melon Blend - 40%

Tangiers Noir Yunnan Shaddok - 40%

Tangiers Noir Cane Mint - 20%

The Yunnan shaddok is a new flavor for tangiers this season and it offers a nice citrus taste, with a sweet orange and lemon. For this mix we added the sweet melons of Melon Blend and the cooling effect of Cane mint, making this mix something you'll want to load over and over.
Mix #3: Mandarin Citrus Chill
Fumari Lemon Mint - 30%

Fumari Mandarin Zest - 40%

Fumari Citrus Mint - 30%

This is a mix for the taste buds! This mix offers the best of both worlds from Orange, the Mandarin is very prominent on the inhale and the Citrus mint brings in some lovely sour notes. The lemon mint mellows out some of the sour notes from the citrus, but adds a new flavor of lemon to your mix.
Mix #4: Le' 5 Cents It Up
Haze 5 Cents a Cup - 50%

Haze Lime It Up - 25%

Haze Le Mint - 25%

Haze 5 Cents a cup is a remarkable flavor by itself, but in this mix we took it to a whole new level with the help of lime and lemon. The pink lemonade infused with a candy lime flavor is fantastic on the inhale, followed up by a sweet cooling exhale. When it comes down to loading we try to keep the Le mint on the top towards the spire, and mix the others flavors beneath it.
Categories
Recent Post
Month Lists