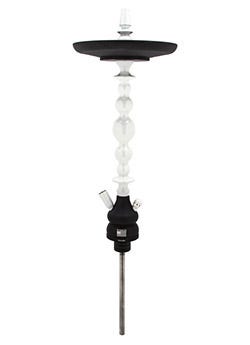 Starbuzz Atlantis Stem Review
By
Gordon
/ August 13, 2014
We'll never know if Atlantis existed or not but without a doubt the Starbuzz Atlantis hookah stem has arrived, and while it may not be mythical it is sure to become legendary. Of course, Starbuzz shafts are actually named after NASA's Space Shuttle program, and the Starbuzz Atlantis shaft delivers the same quality of American ingenuity and engineering. That's right, Starbuzz USA Hookah Stems are made in America, and for anyone who is tired of Chinese manufacturers who cut corners you're going to love the Starbuzz Atlantis hookah shaft.
Starbuzz Atlantis Hookah Shaft Specifications
What Starbuzz has done with their All-American made hookah shafts is address every problem area that hookahs from the 20th century had: ghosting, rust, scratching (and general deterioration of finish). The Starbuzz Atlantis is made from the highest quality metals, featuring an aluminum shaft and a surgical-grade stainless steel down-stem. Aluminum is light weight yet incredibly strong, and the aluminum parts of the Atlantis hookah stem are anodized instead of painted, so they are very scratch resistant, and aluminum doesn't rust.
No More Ghosting - Quality Construction
If you are like most hookah smokers, you are going to smoke more than one flavor with the Starbuzz stem. The high quality stainless steel down-stem is completely impervious to ghosting, requiring a simple water rinse to clean it out; no scrubbing needed.
| | |
| --- | --- |
| Like the shaft, the hookah tray of the Atlantis shaft is also anodized and is impervious to scarring from coals; just put your hot coals right on it, no need for a separate accessory to handle them. | |
| | |
| --- | --- |
| | The high-tech hub of the Starbuzz Atlantis stem shares no common ports, making it virtually impossible to blow out your purge BB. And the threading for both the hose port and the purge port is ultra-high quality: no need to worry about cross-threading. |
How good is the Starbuzz Atlantis USA hookah shaft? So good they come with a 5-year warranty against defects. Does your current hookah stem offer that?
Categories
Recent Post
Month Lists