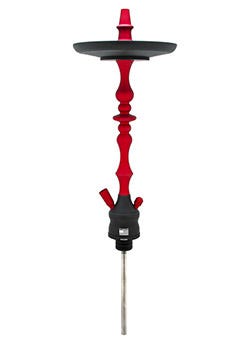 Starbuzz Discovery Stem Review
By
Gordon
/ August 13, 2014
Evoking the spirit of NASA's pioneering Space Shuttle Program, Starbuzz USA Hookah Stems are blazing a path of hookah innovation into the 21st Century. Like it's moniker, the Starbuzz Discovery hookah shaft is made from space-age materials, featuring exterior construction from high-grade aluminum and a down-stem made from surgical-grade stainless steel which won't ghost. When you are ready to change flavors, just rinse it out with water, no scrub brushes needed. Even strong flavors (like mint) are washed away, leaving the Starbuzz USA shaft ready for the next round of smoking, with no lingering flavors left from the previous bowl.
Top to bottom, Starbuzz All-American made hookah stems feature the highest quality, sturdiest construction, and best overall performance and looks of any hookah stem out there. Let's take a look inside.
Inside The Starbuzz Discovery Hookah Shaft
| | |
| --- | --- |
| | Starting with the exterior, the Starbuzz Discovery hookah shaft is made from lightweight, super-stong anodized aluminum. This hookah shaft is very durable, being scratch resistant, dent resistant, and virtually rust proof. |
| Like the shaft, the hookah tray of the Atlantis shaft is also anodized and is impervious to scarring from coals; just put your hot coals right on it, no need for a separate accessory to handle them. | |
| | The high-tech hub of the Starbuzz Atlantis stem shares no common ports, making it virtually impossible to blow out your purge BB. And the threading for both the hose port and the purge port is ultra-high quality: no need to worry about cross-threading. |
The botttom line? Starbuzz USA hookah shafts are the go to hookah stem for the hookah smoker that needs the best: no ghosting, no rust, and highly durable. Let's get to smoking!
Categories
Recent Post
Month Lists