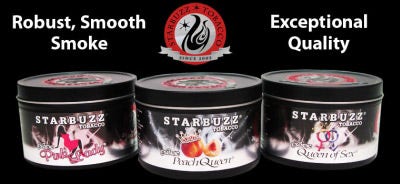 Starbuzz Hookah Tobacco releases 3 New "BOLD" flavors!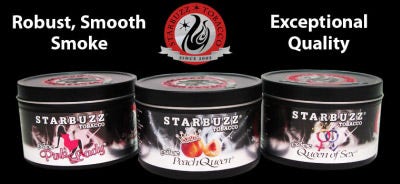 As if Starbuzz Hookah Tobacco's product line wasn't vast enough, Starbuzz has released a new "
BOLD
" line of hookah tobacco, including three new flavors - Peach Queen, Pink Lady, and Queen of Sex
.
It seems Starbuzz isn't wasting any time considering they just launched their ACID line of hookah tobacco flavors in February. I like a company that is always on the move to bring customers new and exciting products! So what makes
Starbuzz Bold Hookah Tobacco
different from the other Starbuzz brands? Aside from the new black tin and embossed logo on the lid, we're not exactly sure. After trying each of the 3 new Bold flavors recently, the flavor tends to be pretty consistent to Starbuzz's reputation - thick, flavorful smoke. I didn't notice a change in buzz factor or shisha quality. Two things could be happening here. Either they are using a higher quality tobacco or they're using more flavor in their recipe. That's my guess anyways. The one thing I noticed about Starbuzz Bold is that I didn't need my typical 3
Coco Nara
set up. Two coals were enough. Maybe you can help us figure out what makes Starbuzz Bold "BOLD". Regardless of its ingredients, what really matters is the taste. Starbuzz Bold Peach Queen is a straight shooter. It reminded me of a sweet white peach which has always been one of my personal favorite hookah flavors. Pink Lady is one of those mystery flavors that will probably get the most diverse feedback. I personally thought it tasted like a minty, sweet energy drink cocktail. Last but not least, Queen of Sex gave me a pink lemonade vibe. The smell of this stuff is unreal! Give Starbuzz Bold hookah tobacco a try and let us know what you think about it by posting on our
Facebook page
. We want to know what you find "BOLD" about these 3 new flavors - Peach Queen, Pink Lady, and Queen of Sex. Help us end the debate! Keep those hookahs lit! Happy Smoking friends!
Categories
Recent Post
Month Lists