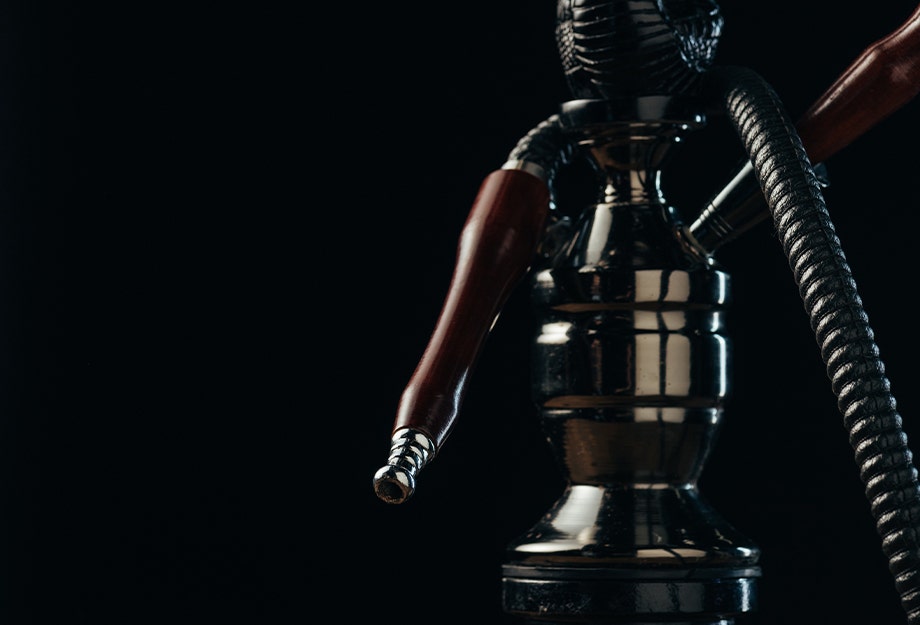 Starbuzz Hookah USA Stems - What Bases and Hookah Accessories Are Compatible?
By
Hookah Genie
/ May 16, 2014
If you're looking for a decent hookah shaft to bring into orbit look no further. The new Starbuzz USA Hookah Stems are made from space-grade aluminum, and they're built to last with a included 5 year warranty. The use of the this high grade material prevents any rust or color fading from affecting your stem, and that's only the beginning. The Starbuzz Made In America series contains several hookah models to choose from, which allow for multiple color combinations. The interior of these high class stems utilize a surgical-grade stainless steel downstem, but the curves and lines are all for you to decide on. Once you've made a decision you'll reap the benefits of a hookah stem that features minimal ghosting attributes, as you explore the world of hookah flavors. This Starbuzz collection of hookahs is currently sold as a stem only with an included coal tray, but you will require a hookah base and hose to have your setup fully functional. I bet you're wondering how to create the best hookah combo and our tip to you would be to scroll down. We cover everything.......everything.
Hookah Bases Compatible With Starbuzz Hookah Stems
Due to their size (the stems measure at about 28" in total, the downstems are approximately 8") - these long downstems limit the type of hookah base that the Starbuzz Hookah All-American Stems can fit in. These shafts were certainly made with Egyptian hookahs in mind, and are essentially compatible with any of the LARGE Egyptian bases. The downstem is too long to fit any of the shorter bases we carry, such as the Mya hookah bases. We have tested their comparability, and can guarantee that they will fit Khalil Mamoon bases as well as these bases (and any others like them):
Starbuzz Premium Hookah Bases Khalil Mamoon Glass Hookah Base High Quality Khalil Mamoon Glass Bases Bohemian Glass Hookah Bases Sahara Smoke Glass Hookah Bases Hookah Hoses Compatible With Starbuzz Hookahs
The Starbuzz USA stems feature a vertical hose port with a slight tilt, and the open gauge allows for the use of many hookah hose style. While it's safe to say that almost every hookah hose we carry works with this hookah collection, we'll go ahead and list some of our favorites. If you're looking for a little restriction within your session, pair these stems with a hookah hose that contains a smaller gauge. We prefer a wide gauge hose when we smoke from our Starbuzz stems, and if you want that same experience check these washable hoses out!
Starbuzz Maximus Hookah Hose D-hose Hookah Hose Collection Nammor Hookah Hose Collection Mya Silicone Hookah Hose The Options Are Endless!! Compatible Hookah Bowls For Starbuzz Hookahs Remember we're going to cover everything today, now moving onto the bowl options available to you and your beautiful new hookah. Guess what lucky duck? Starbuzz graced these stems with a very traditional bowl port that allows almost every popular hookah bowl on the market to be used in combination with this shaft. That means you won't have to get rid of your favorite egyptian, alien, or Alpaca bowls, plus anything else that may be in your hookah stash. But in this scenario we'll say since you're picking up a new hookah that you would like a new bowl to arrive with it, and here are our suggestions:
Starbuzz Silicone Bowl Collection -Paradigm & Phunnel Kaloud Vitria Bowl Alpaca Hookah Bowl Collection Harmony & 80 Feet Bowl Collection Shika Oblivion & Sandstorm Hookah Bowls Alien Hookah Bowl
What To Do With Your Starbuzz Hookah
SMOKE IT!
Categories
Recent Post
Month Lists