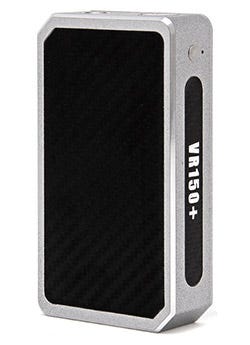 Sub Ohm Vaping With A Box Mod, APV, Or A Mech Mod
If you're into vaping, you've probably noticed some vapers exhaling some huge clouds. If you've asked yourself, "How do they do that?", this article is for you. Cloud chasing has always been an activity pursued by vape afficianados but until recently you had to have a physics degree and a decent skill set to produce these clouds.
Purists will still swear that the best way to do this is to hand-wrap your own coils, pick the perfect battery and mod... They're probably right, but there are a lot of new products on the market that make plug n' play cloud production a piece of cake. The following article is going to highlight the best products for cloud chasers, and some tips on how to turn yourself into a vape dragon.
Picking The Right Mod
Your mod holds your batteries, and is the heart of your vapor production. There are mechanical mods, electronic mods, and box mods. Whichever path you choose to go down, you'll need a good clearomizer to attach to your mod, and unless you're using a mod with a built-in battery, you'll need to pick up some batteries and a charger.
Mechanical Mods are a tube specifically designed to get maximum energy transmission from a battery. Mech mods are designed with a specific battery size in mind, and are fitted with highly conductive materials to maximize energy transfer. There is usually no electronic circuitry in a mech mod. Power flow is determined by the battery and the atomizer. Mech mods are the perfect choice for the vaper who wants to set it and forget it.
Electronic Mods contain a built-in battery and contain varying levels of electronic circuitry. Most e-mods allow adjustment of wattage and voltage, enabling the user to easily dial in the perfect vape, regardless of atomizer resistance or e-liquid configuration. Translated into English: an electronic mod gives you a lot of control over your vape, provided you are willing to scroll through some menus and adjust your settings. Fancier electronic mods also include features like puff count and ohm rating recognition. The best feature of an electronic mod (from a safety standpoint) is circuit protection. This ensures that you won't blow up your battery if you overload it.
Box Mods combine the best of both worlds, and not surprisingly are the hottest, most popoular products currently available to vapers. A box mod contains circuitry that allows you to adjust voltage, wattage, etc. It is also powered by external batteries (not a built-in battery). This allows you to pick the battery of your choice (like with a mech mod) but also fine tune your settings, dependent on what atomizer tank you have chosen to vape with.
When you're ready for some true vape power, it's time to move up to the Pioneer4You IPV3 150W Box Mod. This vape cloud machine has power to spare, and is able to accommodate coil heads with ratings down to 0.1 Ohms, if you're ready to get crazy.

Powered by two high-drain 18650 batteries (not included), the Pioneer 4 You serves up voltage from 1.0V - 7.0V, and has variable wattage from 7W all the way up to an incredible 150 watts of power. This monster box mod can literally generate clouds big enough to explode your head. We don't reccomend this, but... Serving up to 40 Amps of power flow!
Aspire is synonymous with clouds, and the Aspire CF Sub Ohm Vape Battery is the perfect hardware choice for cloud chasers looking for the feel and convenience of a mechanical mod, but with added features like a built-in battery, USB charging, LED power display, and circuit protection.

The Aspire CF has 4.2V of steady output power, is compatible with atomizers rated from 0.3 - 1.0 Ohms, has power flow up to 40 amps, and a large charge capacity of 2000mAh. Unlike mechanical mods, it also has an electronic on/off switch, and the LED display that surrounds the firing button lets you know when you're running at full power, and when it's time for a charge. It also features a carbon fiber wrap that looks awesome and keeps the weight down. The perfect tank clearomizer to attach to the Aspire CF is the Aspire Atlantis 2 Sub-Ohm RDA.
For those of you who don't want to spend hundreds of dollars on "the real thing" this perfectly made "clone" is both attractive and efficient.

Featuring a beautiful brushed steel finish and a laser-etched image, this mechanical mod has three threaded tubes so that it can fit an 18650, 18500, or 18350 sized battery, allowing you to custom size your mod based on how many hours you want it to last.

Fit it with an 18350 and you've got a pocket sized cloud machine. Install an 18650 and you'll be vaping for hours before your next charge is needed. The Turtleship mechanical mod features a traditional bottom firing button with lock ring.
Categories
Recent Post
Month Lists