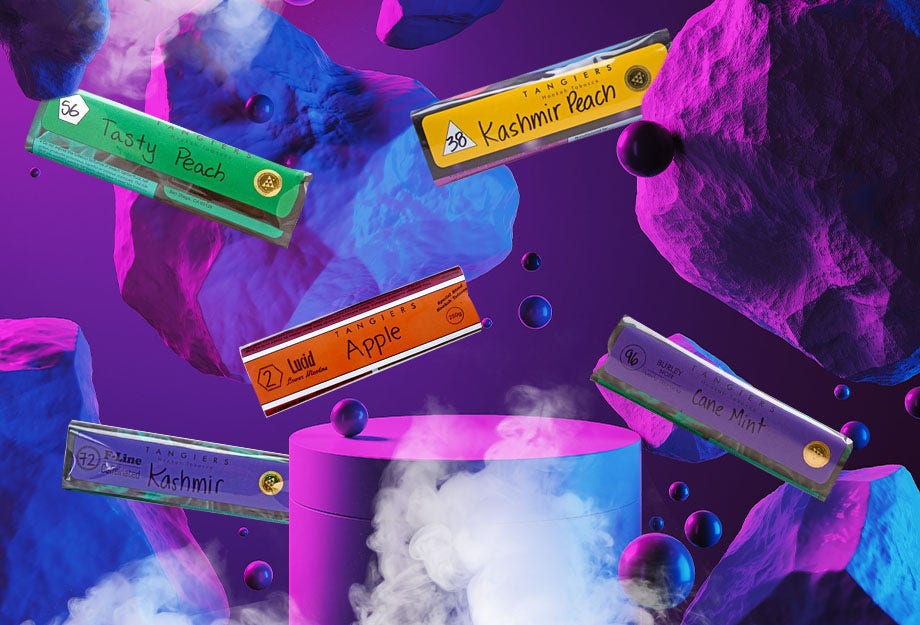 Tangiers Shisha Guide - 5 Different Lines Explained
By
Danny
/ April 29, 2014
This post was updated on 2/13/2020
Tangiers Shisha Tobacco is the go-to brand for hookah enthusiasts around the world. Known for their meticulous attention to detail, Tangiers produces all batches by hand using the world's best tobacco as well as the finest natural flavorings. This leads to a rich and vibrant smoking experience for the true hookah aficionado. Getting into smoking Tangiers shisha can be a bit intimidating for a new smoker. Check out our Tangiers how-to guide for lots of tips on how to acclimate, load, and smoke Tangiers. In this post we are going to be breaking down the 5 different shisha lines that Tangiers produces currently, or has produced in the past - Noir, Birquq, Burley, Lucid, and F-Line - and go over the differences between them.
Tangiers Noir or Tangiers Black, is the original line of shisha produced by Tangiers and features dozens of great flavors. All Tangiers Noir flavors use unwashed tobacco and, as such, have a higher nicotine level than most shisha brands which use washed tobacco. Expect a nice heady buzz when smoking Tangiers Noir. Remember to properly acclimate your shisha before smoking and always keep it stored in an air-tight container. The most popular Tangiers Noir flavors are Cane Mint, Horchata, and Blue Gumball.
Tangiers Burley is the newest line from Tangiers and is even stronger than Tangiers Noir! This shisha line features a more earthy tobacco flavor and more nicotine than the other Tangiers lines. Expect deep, rich, complicated flavors and a sizable head buzz when smoking Tangiers Burley. Favorite Tangiers Burley flavors include Cane Mint, Kashmir Peach, and Tropical Revenge.
Tangiers Birquq is another relatively new addition to the world of Tangiers hookah tobacco. Birquq was designed to be much easier to smoke than the other Tangiers lines and also requires less heat when smoking. With Tangiers Birquq you do not need to spend time acclimating your shisha, and as such it is a great place for someone new to Tangiers to start out. Popular Birquq shisha flavors include Cane Mint, It's Like That Other Breakfast Cereal, and Foreplay on the Peach.
Tangiers Lucid Shisha (Discontinued)
The Tangiers Lucid line is no longer in production and was the precursor to the Birquq line. Lucid was designed to have a lower nicotine level than the other Tangiers lines. When Tangiers Birquq was introduced, the Lucid line was discontinued.
Tangiers F-Line is another discontinued line in the Tangiers family. F-Line was one of the few brands of shisha tobacco which featured caffeine mixed with shisha. To say that smoking F-Line was a wild ride would be an understatement. Definitely one of the more unique offerings from the world of shisha. This line was discontinued in 2009, due to popular demand, production has resumed on select flavors.
Categories
Recent Post
Month Lists