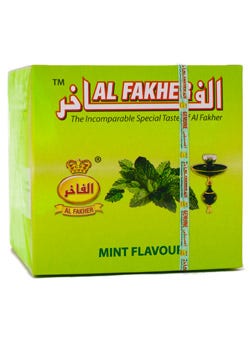 The Best Al Fakher Shisha Tobacco Flavors
We asked our customers, employees, Facebook friends and people on the street about the best Al Fakher shisha flavors. We drew up this list with the top 10 best selling Al Fakher tobacco, plus a few employee picks and cult classics. Let us know if we left your flavor in the comments section and will make sure to update the suggestion list from our Hookah Love community.
Top 10 (and more) Al Fakher Flavors
| | |
| --- | --- |
| Al Fakher Mint - The best mint shisha flavor in the world! Almost everyone loves the clean fresh mint flavor that Al Fakher is famous for. Try Al Fakher Mint on its own, or add it to any other shisha you have give your shisha an extra blast of cool mint. Al Fakher Two Apples - Two Apples, also known as Double Apple Al Fakher, has a sweet apple flavor that is combined with a alluring licorice extract. The resulting flavor is the quintessential hookah tobacco flavor found in every hookah cafe around the world. If you have not tried this traditional blend, its time to experience a true shisha classic! | |
| | |
| --- | --- |
| | Al Fakher Watermelon and Watermelon Mint - Al Fakher Watermelon is one of the sweetest shisha blends from Al Fakher, and it quickly worked its way to the top of the list. Imagine watemelon hard candies that produce the the thickest and smoothest clouds ever! Then Al Fakher created a Watermelon Mint flavor....We can't smoke this flavor enough. Al Fakher Grape and Grape with Mint - Another of the classics. You can find hookah afficionados smoking AF Grape shisha all over the world. Al Fakher Grape, also known as White Grape is sweet, tart and tangy. The clouds are very smooth, puffy and thick. When Al Fakher released Grape with Mint, we no longer had to mix our own. They made the perfect balance! |
| | |
| --- | --- |
| Al Fakher Peach - This bold and assertive peach flavor hits the nail right on the head. If you enjoy a full flavor, rich fruity tones, and a long lasting hookah bowl, then Al Fakher Peach is a great choice. Shisha flavors like this don't just go on trees!....well, maybe the flavors grow on trees, but you know what I mean. Al Fakher Vanilla - Smooth, easy and always welcome at my hookah party, just like Author Fonzarelli! This an excellent flavor to smoke when you are just fruit-ed out. When you want a break from all the sweetness and would like to enjoy a deliciously smooth vanilla flavor. Great on its own, but don't be shy, use Vanilla when mixing other shisha flavors. | |
| | |
| --- | --- |
| | Al Fakher Fresh...! - This is the newest flavor to make the top 1o list. "Fresh...!" is a tasty, light and refreshing blueberry mint flavor. This flavor is familiar if you have tried other "misty" flavors, but the Al Fakher signature on the flavor profile is unmistakable. Give Fresh...! a try and you won't regret it. Al Fakher Orange and Orange Mint - Orange Al Fakher Shisha has a refreshing orange citrus flavor right out of the gate. The more you smoke Orange Al Fakher, the flavor evolves into a sweety, tangy blend that is perfect for an afternoon smoke on the patio. Orange with Mint came out and cut my prep time in half...its like they were reading my mind. |
| | |
| --- | --- |
| Al Fakher Strawberry - This is a milder strawberry flavor that is true to the fruit without going overboard on the sweetness. Instead of bashing you upside the head with candy strawberry flavor, the subtle nuances of Al Fakher strawberry build over time, leaving you with a delicious bowl that smokes like a dream. Al Fakher Lemon Mint - Smooth, and undeniably a reliable all-star on the Al Fakher flavor list. The tart and sour lemon blends so beautifully with the fresh and cool mint. This is a match made in Paradise! We have enjoyed Lemon with Mint for years and will continue to recommend it for years to come. | |
More Flavors from Al Fakher You Should Try:
| | |
| --- | --- |
| | Al Fakher Grapefruit and Grapefruit with Mint - These flavors have only been around for a week and we are already getting great reviews. Tart, slightly bitter, but citrus-y, and sweet...is that possible? It is now! Plus the Grapefruit with Mint adds such a nice fresh finish we keep coming back for more. Al Fakher Gum Cinnamon - Remember that gum that helps you stay close a little longer? Imagine a smooth and sweet spearmint gum mixed with a mild cinnamon flavor for a clean, fresh and invigorating blend. Al Fakher Golden Grape - One of the favorites of the hookah connoisseur. Golden Grape Al Fakher is the Pinot Noir to Al Fakher Grape's Chardonnay. If you want deeper, richer grape flavors, more fitting a fine wine cellar than a fruit stand, then try Al Fakher Golden Grapes Shisha. |
Recommendations of Flavors and Mixes from our Hookah Love Community:
Coming soon from Al Fakher lovers like you...
Categories
Recent Post
Month Lists