The Best Hookahs for Beginners Under $150
By
Clay
/ January 21, 2016
This post was updated on 07/25/22
Starting out in the hookah world and trying to decide which hookah you want for your first is difficult. Which one is right for you? With so many things to consider, such as the brand, the price, the size, and the materials used, this can be a tough decision. To make things easier for you we've come up with a list of hookahs, in order of least expensive to most expensive, that will be a perfect choice to start your collection. These hookahs won't break the bank, they look nice, and you can expect great smoking quality from each one. Find the right one for you, and get started on your own hookah journey!
---
Khalil Mamoon Mini Classic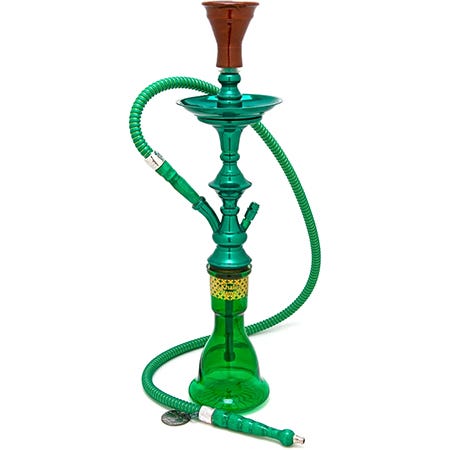 The first hookah on our list comes from the Egyptian hookah manufacturers, Khalil Mamoon, who make all their hookahs by hand and are widely respected for putting out high quality products. The Khalil Mamoon Mini Classic stands 17" tall and is made of stainless-steel that will keep it from ever rusting or corroding; if treated well, this hookah should last you a very long time. You can expect a great smoke session from this piece! Khalil Mamoon uses stainless-steel on the downstem of this hookah (the pipe that channels the smoke from the bowl to the glass base) and is designed to give you a traditional smoking experience similar to what you might experience at a hookah lounge in Cairo, Egypt. This hookah will come included with an Egyptian hookah bowl, a coal tray, the glass base, an Egyptian hookah hose (non-washable), a tin foil pack, hookah charcoals, coal tongs, and some shisha tobacco.
MYA QT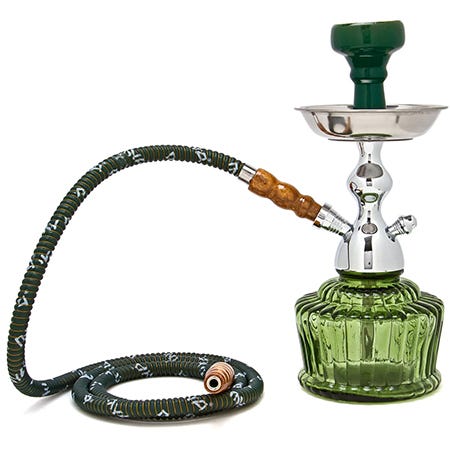 Easily one of the longest running crowd favorite hookahs due to it's easy to use design and cloud production, the MYA QT is an excellent choice for a first hookah or for a compact addition to any hookah pro's collection. Standing at 10" in height the QT is a fantastic table top hookah using a stainless steel stem and a beautiful yet sturdy cut glass base available in a variety of colors. This hookah also comes in a unique metal wire cage making it very easy to pack up for storage or for taking with you on the go!
Amira/BYO Orion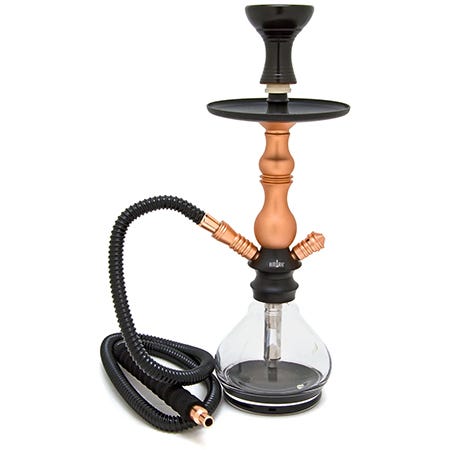 Coming in at 17 1/2" tall the Amira Orion comes ready to rumble with several very cool features including a wide gauge downstem to give this hookah a surprisingly easy pull, a built in diffuser on the lower end of downstem to minimize the rumble, a washable Amira hose matching the color of the hookah, and a twist-to-lock stem to base connection meaning you won't need to worry about using or replacing base grommets.
MYA Bambino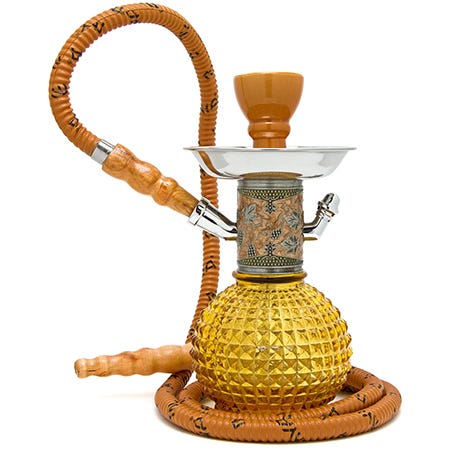 So much detail and smoking quality in such a small hookah! The MYA Bambino stands just 12" tall, but do not let its size fool you - this hookah can put out some clouds! Its size does make this hookah able to fit pretty much wherever you want, giving you the freedom to smoke anywhere! The Bambino is made of stainless-steel, making it durable and with a long lifespan, and the shaft is packed with as much fine detailing as possible, decorated in the ancient Cloisonne technique, that you can enjoy with every smoke session. The circular "grenade" style base is extremely stable, so you won't have to worry about the Bambino wobbling or moving as you smoke. It will come with a hardshell carrying case to make carrying the Bambino quick and easy. It will also come with shisha tobacco, hookah charcoals, a tin foil pack, coal tongs, the MYA ceramic hookah bowl, a coal tray, and a 60 inch Mya Saray hookah hose (non-washable).
Pharaoh's Horus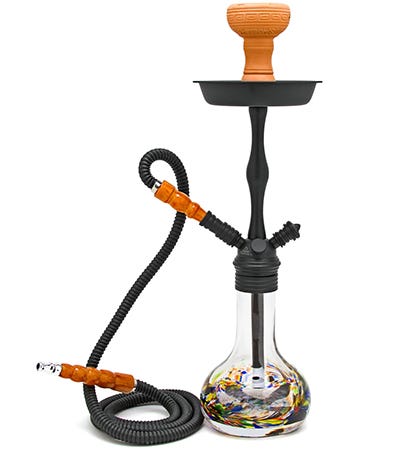 The Pharaoh's Horus is a solid option for a 1 or 2 hose set up without breaking the bank. Featuring a unique color swirl glass base to bring the crowds and a wide gauge downstem to bring the clouds this 21" hookah comes ready to rock as a single hose option but can easily be converted to a 2-hose hookah with the addition of an extra Pharaoh's Autoseal Hose Adapter.
Amira/BYO Adonis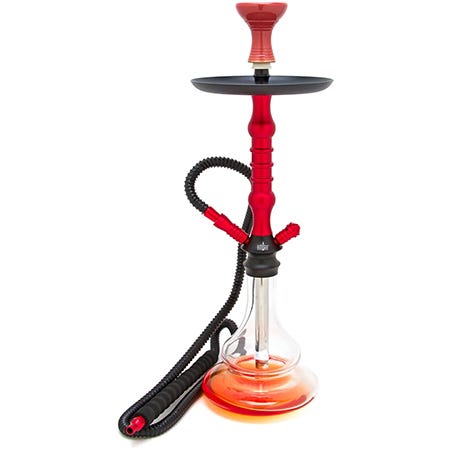 The Amira/BYO Adonis hookah comes in a 23" tall height with an aluminum and stainless steel build and a traditional style design. With a twist-to-lock style stem and a built-in diffuser you can get the look and feel of a traditional style hookah with the features of a modern hookah. You have several color options for the Adonis and the glass base is enough to shine on its own! Another plus of Amira/BYO hookahs is that they come with a washable hose!
---
Once you've decided which hookah you want to make your own, make sure you read up on all the other little details to help you get going. Read through some of our helpful "Hookah Education" blogs, with tips on how to set up your hookah, how to clean it, and much more! Check out our Ultimate Shisha Brand Breakdown to help you figure out which shisha tobacco to pick up for your first smoke session! Once you get the hang of things, check out ways to trick out your hookah set-up: new bowls, hoses, wind covers, and more!
Categories
Recent Post
Month Lists