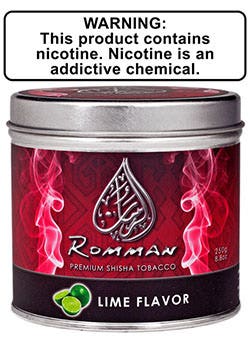 The Best Lime Shisha Flavor Ever
By
Adam
/ December 9, 2013
Howdy hookah friends! There is something that we have been wanting to share for years. The best lime hookah flavor is finally back in stock! Romman Lime is unlike any other lime shisha you have ever tried. After falling in love with this sweet, yet tangy citrus flavor, I was outraged when I realized we "Sold Out" before I could secure my own supply.
So it began that I tried a series of failed lime attempts. Every other Lime shisha I tried tasted like a commercial grade bathroom cleaner or a lime flavor so artificial it was a cross between a green Push PoP and spray paint! Trust me on this.
Who reigns supreme as the King of Lime? Romman! Romman Lime shisha has such a pleasant aroma as soon as you open the package, it takes self control not to eat the stuff. The flavor is a dead ringer for Lime, and not "Lime Flavor"...I mean actual, delicious lime. Try Romman Lime today!
You don't have to take my word for it. Here are some reviews of Romman Lime.
Jacob A. writes: "Lime: strong flavor, totally the bomb, tastes like a key lime pie"
Travis M. writes: "Lime Flavor Romman shisha was my first Romman Flavor I have ever tried and I gotta say it was Delicious - Other then mint Flavor shisha I have never had a Shisha with this kind of a power house Flavor - It defiantly taste like the product name suggest and in my opinion I strongly encourage everyone to try it! Also I suggest grabbing a Sprite to go along with it as its a perfect complement to its Immense Flavor - -Dr - Hookah"
Romman Lime Shisha Video Reviews:
Here are a couple of review videos. Check out the guy in Japan...we don't know what he's saying, but it looks good and that bottle of Tanqueray(1:00) sounds like a great idea!
If you have smoked Romman Lime Shisha, leave us your review. We always love to hear about your experience with our products!
Categories
Recent Post
Month Lists