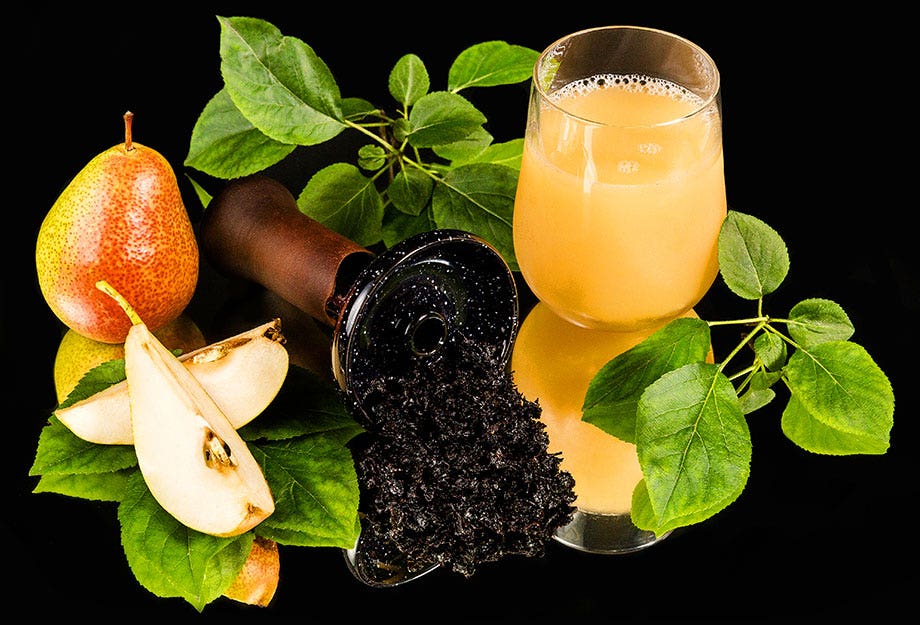 The Best New Hookah Flavors To Try In 2020 Pt. 1
By
SmokeOrPass
/ January 15, 2020
The numbers have been counted, bowls have been smoked, and we're fully prepared to present to you our list of New Flavors to try in 2020. All of the flavors below were new releases in 2019 and each excelled in the areas of customer feedback, sales, and enjoyment amongst our crew.
This top 6 list is in no particular order. We hope you get a chance to enjoy one of these blends and if you have already, please leave us some feedback in the comments below.
1) Cool Cucumber - Azure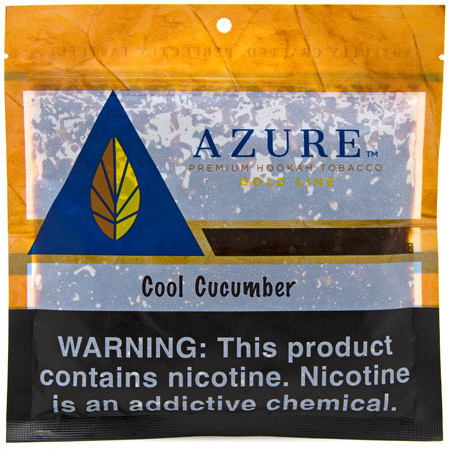 We're gonna kick things off with a toot of our horn! Azure had several new flavors drop last year like Rio Mint, Royal Raspberry, Cola, and their most recent, Apple Cider. We teamed up with the Azure Tobacco crew and crafted a delicious new flavor called "Cool Cucumber" in both gold and dark leaf variations. They never took their foot off the gas for the shisha fans and we were happy to be included in the creation process for one of the flavors.

In the great state of Texas, we battle heat often and there's nothing that hits the spot like the cooling effects of ice cold shisha. Through a delicious and vigorous amount of testing, we can attest that this blend definitely hits the spot and more.
The sweetness of Cucumber can almost be detected before you even crack open the pouch. It's about the equivalent of sprinkling some sugar over freshly sliced cucumbers on a bed of ice. Cucumber taste profiles within shisha tobacco often come across light or end up being the first flavor to disappear from your session. Cool Cucumber, on the hand, is built to last deep into your session and that's one of the reasons why it has been one of the most popular flavor releases for the series.


2) Crafted #8 - AF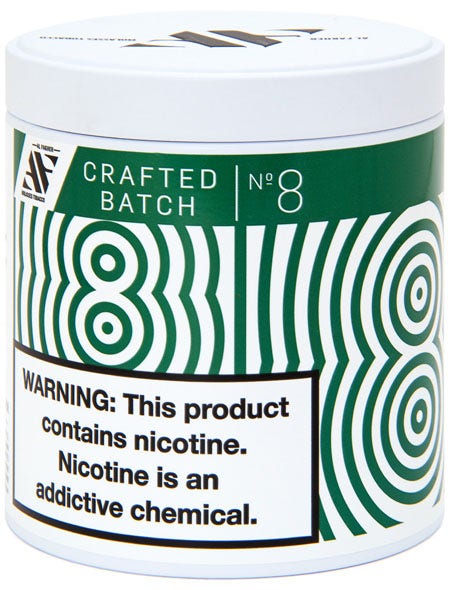 Al Fakher is back in a whole new way with their latest collection of specially crafted blends simply titled Crafted Batch. Every blend includes flavors that you can't find within the standard Al Fakher range and they arrive perfectly blended for your next session. The collection started off with just 3 flavors and each blend name is just a numerical digit that indicates it's mix number. Al Fakher kicked things off by introducing batch numbers 4, 7, & 8.
Each blend provides a wildly different smoke experience, but one of them stole the hearts of us here and hookah fans around the world; OCHO! Number 8 lasted about 5 minutes in the warehouse before being fired up in our bowl. It's just that good.

The formula for this blend consists of lemon and lime, which is a pretty standard mix in the hookah world, but then comes the Al Fakher magic. Let us introduce you to Al Fakher green tea; it's the first time we've experienced this taste profile from the brand and it was love at first taste.
You can easily pick up the sweet lemon aroma once the can opens up. The lemon comes across as a much brighter and candied version of the fruit in comparison to the one found in their standard lineup. This green tea component doesn't deliver a strong leafy taste, but instead plays out as a delicious sweet brew. The lime is also a new taste from AF and adds a little more depth of flavor to that green tea.

The final component gave us a full head turn; a sweet cool mint on the exhale. You can kind-of catch a whiff of cooling if you get close to it with a nostril, but it came across as a surprise that everyone was excited about! Since the release of this blend Al Fakher has gone on to introduce 3 more that we have available right now. I've got a feeling you'll see one of those blends on our Part 2 list.


3) Zomo - Açaí Cream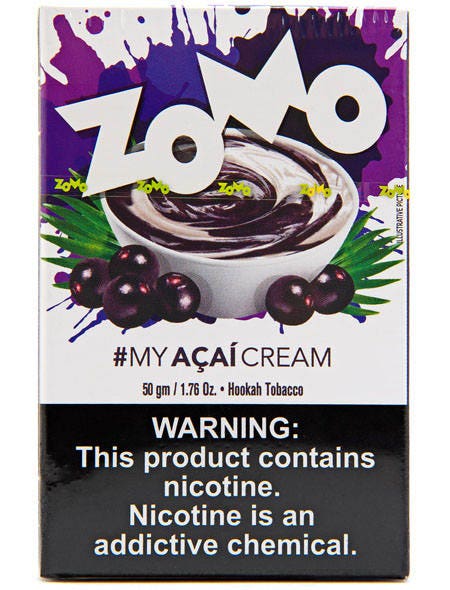 Zomo is back baby! This Latin brand first appeared on our site with a hard to read logo and a handful of blends we hadn't experienced. Then they disappeared and re-emerge last year with a bold new design, plus super fresh blends.
They've continued to build their flavor listings after the relaunch and we're expecting even more blends this year. The blend that caught the most attention goes to their Açaí Cream concoction.
Açaí is that berry you hear about in fancy smoothies, fat cleanses, cooking shows, etc. On the shisha market, it's pretty much a ghost town when it comes to the representation of this godly fruit. It's more complex than coming up with a blueberry blend as this berry plays a balancing game between raspberries and blackberries.
Zomo went out there for the gold and they got it with their Açaí flavor profile. It delivers a sweetened version of that dark berry taste with some fuzzy redness. Then you get that delicious introduction to a new cream taste that adds a light texture to your smoking experience with a hint of sweetness.

If you had Zomo in the past, you might've already experienced those surprise cooling mint flavor pop-ups in most of their formulas. I was surprised myself on the first smoke session with Açaí Berry that I was getting a nice cooling sensation on the end of my exhale. It's one of the reasons I came back for this blend. I'm not sure what everyone else's reason is but we welcome you all to try this flavor.

4) Concord Grape - Trifecta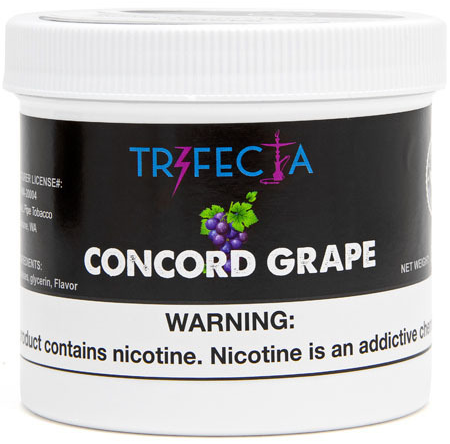 Trifecta! This brand has popped up on several of our lists in the past and they didn't miss out on this one. They delivered several new blends last year including a spiced banana (Bonafide) flavor and a limited edition dark leaf edition of the fan favorite Peppermint Shake.

Those blends were cool and all, but have you ever had a shisha bowl of GRAPE JUICE? Your chance is here now and it's a wild ride from start to finish. Concord Grape is a blend found within their dark leaf collection, so expect a stronger buzz and flavor. That strong flavor attached to your clouds matches the scent of the shisha perfectly and expect your neighbors to catch a smell once this bowl starts.
We would equate this grape taste to grabbing the darkest grapes you can find, then mashing them together with a little sugar and smokey burley tobacco leaves. You'll get some tobacco notes but that deep grape taste overpowers all and leaves you with a memorable experience.

If you wanna make an easy mix with this, just grab some Durty Mint for a ice cold finish or Hipster Mint for a calm and more natural mint taste. Just for fun, here's a three part mix in my arsenal: 60% Concord Grape, 20% Durty, 20% Lime.

5) Sour Cherry - Fumari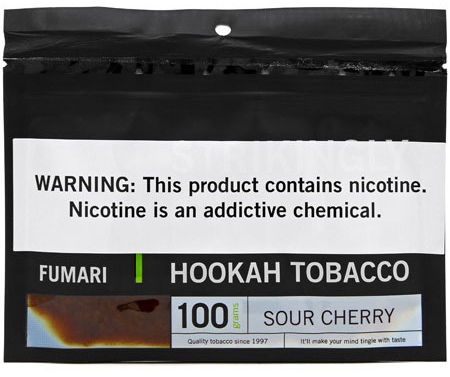 Fumari has a great streak of dropping new heat on a yearly basis. This is the team that released fan favorite formulas like Lemoncello, Sweet Mint, and Mojo Mojito. The San Diego based team developed two new flavors and released them at the same time; Purple Grape and Sour Cherry. We checked the numbers and so far one of these flavor profiles is beating the other in a head to head popularity contest.

It's sour. It's cherry. It's Sour Cherry! The name alone delivers something that you don't see on shisha labels nowadays, SOUR. See the word "lemon" would make you think sour but in most cases the shisha is super sweet. This stuff on the other hand delivers that lip puckering sourness that we don't get everyday.
We've had cherries in the past that produce a dark maraschino flavor profile, but this one is on the lighter and sweeter side. This move might've been made to allow the sour to shine, but either way it's a win in our eyes as well as many other fans.


6) Cherry Limeade - Tangiers

What in the world is going on at Tangiers? These mad scientists have dropped back to back flavor releases of more than 6 blends at a time. Tangiers has been around since the mid 2000's so these mass flavor drops feel like Christmas to the long-time Tangiers fans.

Not too long ago they dropped 9 blends with one of them being a revival for a discontinued flavor, Lemon Tea. We got some off-the-wall flavor names this time 'round like French Jelly, Summer Resort, and Chocolate Iced Cream. I thought French Jelly was going to be the most popular because of the unique name, but the real winner here is Cherry Limeade.
Cherry flavor profiles are going out there and winning battles. Flavor makers, take note!
The lime in this mix is phenomenal and if you enjoyed their New Lime get ready to kick you feet up. There's a fantastic kind of cherry syrup taste drizzled between the lime and tobacco that had us clapping. I know it's popular to toss Cane Mint in everything but leave this one alone; try it by itself and enjoy!

If you've never had Tangiers before get ready for a BUZZZZZ and some very robust tobacco notes. If you prepare this tobacco properly (dense pack in a phunnel bowl), you can expect for 2 ½ to 3 ½ hours of smoking.

The End Of Part 1!

That's a wrap party people! We're only in the beginning of 2020 and we already know that there's more heat on the way to a bowl nearby. What flavors are you most excited to try this year? Drop us a line of what flavor you're excited to try this year. We'll pick 3 random comments to receive a $25 store credit on February 4th.

Categories
Recent Post
Month Lists