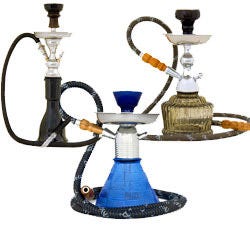 The Best Values In Hookah: Cheap Hookahs, Shisha, Hookah Pens, & Accessories
Welcome to the Hookah-Shisha.com guide to the best values in hookah. This post is for the hookah lovers out there on a budget. Compared to a night out on the town, setting up your hookah and smoking with your friends can be a great way to save some bucks and still have a fantastic time. Before we go any further, we want to spend a moment talking about the word cheap. In this post you will see lots of mentions of cheap hookahs, cheap shisha, etc. When we say cheap, we mean inexpensive. Some people hear cheap and run the other way. With the products listed below you are getting great, high quality hookah products at an unbeatable price. Nothing to fear here. Enjoy!
Cheap Hookahs
| | |
| --- | --- |
| Hookahs can get pretty expensive, but if you are looking for a dirt cheap hookah that doesn't suck, we've got you covered. Our recomendations for the best cheap hookahs include the Mya Petite Hookah ($28.99), the Egyptian Furat Hookah ($34.99), and the Mya QT Hookah ($52.99). You can get each of these hookahs for less than you'd expect and all three have over 90% positive reviews from our customers. | |
Cheap Hookah Pens
| | |
| --- | --- |
| Hookah pens are so much fun to smoke but sometimes they can be a little expensive for something you just throw away when it's done. If you are looking for a cheap e hookah, here are our picks. The Smooth hookah pen is one of our best sellers, and at just $10.99 it's one of the cheapest out there. If you are looking to get maximum puffs for your buck, try out the Beamer E-Hookah which gets you 1200 puffs for just $14.99! | |
Cheap Shisha
| | |
| --- | --- |
| When it comes to cheap hookah tobacco, the old saying "You get what you pay for" is often true. However, there are still some high quality shisha brands out there that keep their prices low. In the world of cheap shisha, here are our favorites. Al Fakher is one of the world's most popular brands and at just $12.99 for a 250g, it's a great value too. If traditional flavors are your favorite, we highly recommend Nakhla. Just $10.99 for a 250g box. Try Nakhla's Mizo flavors if you prefer a juicier, more modern cut. Finally, our very own Al Tawareg is one of the kings of value shishas. $10.99 gets you your choice of 40 different flavors. Al Tawareg isn't the longest lasting brand out there but we love it for mixes and solo bowls. | |
Cheap Hookah Coals
| | |
| --- | --- |
| A regular supply of high-quality cheap hookah charcoal is a must for a regular smoker. Coals aren't sexy, but they are oh-so-important and we've got some great picks for value coal brands. First up, take a look at Gaia Coals. 100% natural and made from recycled coconut husks, these coals stack up favorably against Coco Nara and come in at just $11.49 for an 84 piece box. Another great option is Black Diamond Hookah Coals. These guys are one of the only people putting out 2 kg boxes of natural hookah coals, and at just $16.99 for double the amount of coals than the competitors are offering, this is one of the best values in hookah. | |
Cheap Hookah Supplies
| | |
| --- | --- |
| Finally, we come to hookah supplies. If you are looking for a great cheap hookah hose, we have a few excellent recommendations. First up, one of our best sellers, the NuHose. This simple, washable plastic hose is just $5.99 and available in a range of colors. Nothing fancy here, but these get the job done as well or better than more expensive hoses. Another option for cheap hookah hoses would be Tonic Washable hoses. Just $9.99 a piece, these offer all of the same features of the NuHose, with a bit more durability. If cheap hookah bowls are what you are after, we recommend a classic, the Egyptian Clay Bowl. $3.99 a piece, these bowls are handmade so there may be some inconsistencies, but at a price this low, why not just buy 2! | |
Finally, don't forget about our clearance section which is regularly updated with great scratch-and-dent and overstocked hookahs, shisha, and supplies. Happy smoking!
Categories
Recent Post
Month Lists