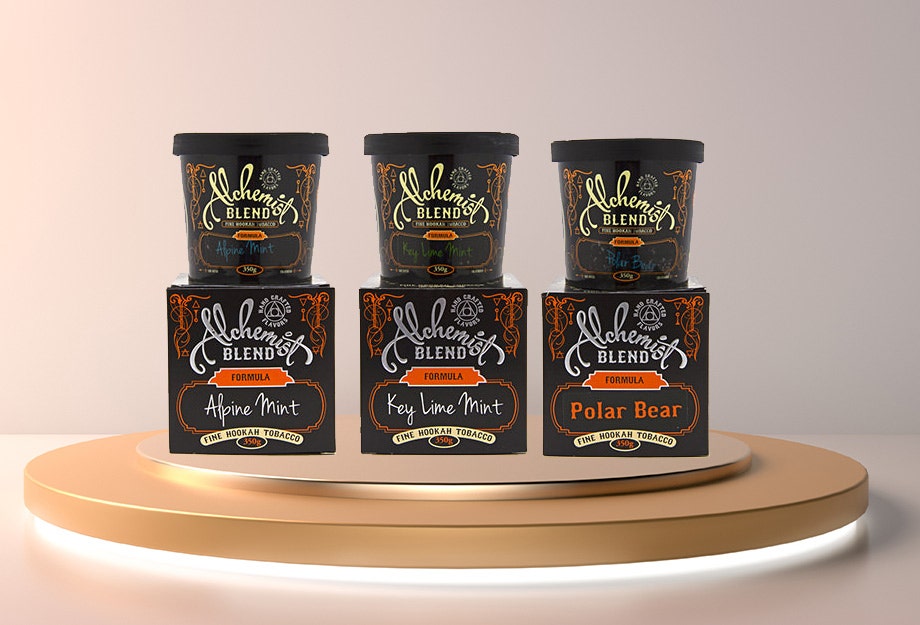 The Best Alchemist Shisha Tobacco Flavors
By
Joe Perin
/ February 23, 2016
Breaking Down the Boutique Flavors of Alchemist Tobacco
Alchemist Tobacco is one of the newest brands of shisha tobacco to hit the market, filling a niche nobody even know existed and peaking the interest of all who search for new and interesting hookah experiences. They have a number of amazing flavors from their Original Formula blend and their Stout Formula line, but first let us break down the differences in their two lines. The Original Formula is made from premium quality French grown tobacco leaves that are finely cut and aged in oak bourbon barrels to give them an incredible depth of flavor. The Stout Formula uses premium cigar tobacco, known as "Sun Grown Dark Leaf Ligero Tobacco," that has undergone an extra fermentation process to give it a high nicotine concentration and a dark, rich flavor.
Both lines of Alchemist shisha tobacco feature amazing new takes on classic flavors, and delicious mixes the likes of which you've never seen! Read on to see a description of each flavor, and determine which you'll chose for your first bowl of Alchemist!
Alchemist Original Formula A blast of flavor as cold as a mountain breeze and as fresh as cut mint leaves, the Alpine Mint flavor of shisha tobacco from Alchemist's Original Formula is an cool blend of spearmint and peppermint that packs a punch of minty goodness. Each inhale and exhale will leave your mouth feeling chilled, your taste buds tingling, and a wonderful taste of herbal mint lingering on your pallet. Quite like a large slice of actual key lime pie, the Key Lime Mint shisha tobacco adds cool little sprigs of mint flavor to the mouth-filling taste of creamy sweet lime. The hints of mint play in perfectly, providing a unique twist on the classic key lime pie; the citrus notes are distinctly lime, as well as some tangy herbal lemongrass, and the cream is light but makes an excellent addition to the overall sweet dessert flavor of this shisha!
To the well organized mind, this shisha is but your next great adventure! This crazy gum flavor combines two vastly different kinds of chewing gum into one incredible flavor of shisha tobacco. Putting fresh spearmint gum and fruity pink bubble gum together may not seem like the best way to get gum flavors in a hookah session, but boy is it an amazing combo! They come together very pleasantly, with the pink bubblegum being present largely on the inhale and the spearmint making itself known on the exhale, leaving a great cooling effect in your mouth. It may not make you a brilliant scientist or inventor, but smoking this flavor of Alchemist will make your brain light up with it's tart, sweet lemonade flavor. Perfect for a warm summer day, Lemonardo Da Vinci is an excellent lemonade flavor through and through. Simple tart, tangy, zesty lemon that is fresh and natural. It doesn't need to be winter for you to fully enjoy this incredible coffee-mint flavor of shisha tobacco, but we like to imagine smoking it in front of a roaring fire while snow falls gently outside. This flavor from Alchemist is a solid mocha/java flavor of dark roasted coffee that features a cool peppermint finish, as well as subtle notes of creamy vanilla and rich cocoa. After being aged in Alchemist's bourbon barrels, the Peppermint Mocha flavor also features that slight oaky taste that gives it incredible depth! An explosion of sweet flavors and tangy aromas, Polar Bear is a fruity mix that will fill your mouth with incredible tastes and massive clouds. Featuring passion fruit, tart acai berries, fresh raspberries, and dark currant, this shisha tobacco mix includes the standard Alchemist note of oak that gives this brand incredible depth. One of our favorites from the Alchemist Original Line, Bourbon Barrel Berry is an incredible medley of berry flavors that include grape, hibiscus, blueberry, rich pomegranate, black currant, and sweet raspberry. The aging process in bourbon barrels makes this berry shisha mix unlike any berry mix you've smoked before; it gives this mix that rich oaky flavoring, that incredible depth that sets Alchemist apart from the rest! Legends tell about how crazy the blood moon can make people, and we know folks will go nuts for this incredible Blood Moon Savage flavor from the Alchemist line. Featuring a complex combination of sweet tastes, the shisha tobacco contains notes of dragon fruit, guava, mango, strawberry, nectarine, and of course blood orange. Heavy notes of citrus, sweet and vibrant herbal flavors, and tropical fragrances, all combined with the oaky finish of Alchemist's products. This cocktail inspired shisha tobacco mix is a delightfully zesty mix of fresh raspberries and tart lime, it also includes notes of sweet ginger spice to balance the tartness of the lemon. All these flavors are excellently accented by the bourbon/oak notes from Alchemist's aging process, producing an incredible mixed flavor hookah enthusiasts are sure to love. While you may not be able to sink your teeth into this treat, the Alchemist's Apple Dulce flavor of shisha tobacco is an excellent nod to the classic circus/fair delight - caramel apples! Featuring tart, sweet green apple along with rich and creamy caramel, Apple Dulce is an excellent candy flavor to enjoy anytime, anywhere. Invigorate your spirit and light up your taste buds with the heavenly sweetness of Alchemist's Nectar of the Gods. This shisha tobacco mix packs a floral punch of juicy peach and nectarine, a succulent flavor that will brighten any day and any mood! A subtly sweet symphony of magnificent melon flavors, Alchemist's Majestic Melon shisha tobacco mixes sugar melon, watermelon, honeydew, and cantaloupe together for a truly wonderful smoking experience. This mix also features a slight cooling effect on the exhale the perfectly compliments the light sweetness inherent with melons. Enjoy this candy orange and cream wonder without fear of it melting and making a mess! Alchemist's Orange County Cream flavor of shisha tobacco is an excellent nod to orange-creamcicles you might get from an ice cream truck. A solid and delightful mix of orange and vanilla shisha flavors that feature a subtle oak finish from the bourbon barrel aging process. Mixing citrus and mint is the most surefire way to get a tasty smoke session, and Alchemist has done a fantastic job with their mix. Combining true citrus flavors, herbal flavors like lemon verbena and lemongrass, and fresh herbal mint sprigs, this Citrus Mint shisha tobacco is a crowd pleaser. The inclusion of the oak/bourbon notes from the tobacco's aging process makes this citrus-mint shisha mix unlike anything you've smoked before.
Alchemist Stout Formula Chill your mouth to the bone with this mixture of minty flavors. The use of cigar tobacco in Alchemist's Stout Stone Mint shisha tobacco gives it a powerful tobacco taste that is complimented by strong notes of mint that will linger in your mouth long after exhaling. The classic combination of lemon and mint goes well with the strong tobacco notes of Alchemist's Stout Formula. It gives the smoker that classic tobacco taste as well as notes of sweet lemon and fresh mint, and includes some herbal lemon flavoring such as lemon verbena and lemongrass. Pulling the strings of the gum-flavored shisha tobacco world are the ever-plotting Guminati. Through Alchemist's Stout Formula line they have created a crazy gum flavor that combines mint gum and bubblegum, with the sweet bubblegum present on inhale and the cool mint gum on the exhale. Alchemist Stout Formula's Double Apple shisha tobacco is an awesome nod to the classic double apple shisha flavors of the middle-eastern that are strong with the use of licorice root. This Double Apple flavor features natural sweetness and rich anise seed flavoring that combines well with the strong tobacco notes of the Stout Formula line. Alchemist's Black Moon Melon combines its rich tobacco notes with a variety of sweet melon tastes. It includes honeydew, watermelon, and cantaloupe, all together with the deep, rich taste of tobacco. This flavor is billed as a melon sorbet flavor with added depth. Sweet orange and tangerine meet tart acai berries and currant, add in some floral hibiscus and rose petals and a strong note of tobacco, and you have a shisha flavor you'll never forget! This wild shisha tobacco mix from Alchemist combines a wide variety of flavors, mixes them with the powerful tobacco notes from the cigar tobacco used in the Stout Formula line, and creates one heck of a flavor!
Categories
Recent Post
Month Lists