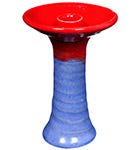 The Incredi-bowls: Hookah Bowl Styles and Shapes
By
Christophanes
/ January 2, 2009
If your hookah were a ship, the hookah bowl would be the bridge from which the captain delivers commands (big billowy commands of smoke) to the rest of the hookah ship. Or, if your hookah were a computer, the bowl would be the keyboard...well, while extended metaphors may not be our strength, hookah smoking certainly is. Point being, the oft-overlooked bowl is the center of the action on your hookah. By managing the heat and choosing the tobacco, you control how well your hookah smokes. All other hookah components - the hose, base, and even shaft - only transport the bowl's work to your happy mouth.
Despite the wide variety of shapes, sizes, and construction materials seen in hookah bowls, they all serve the same essential function. A bowl holds the tobacco for the coal to warm it, creating smoke that passes down the shaft to be filtered by the water before traveling through the hose. The arrangement and quality of tobacco in the bowl, in addition to the type and manipulation of the coal, determines how much or how little smoke is created. Bowls are made from a variety of materials - from traditional clay to ceramic, glass, pyrex, and even metal. Generally, thicker, more insulating materials (such as clay) are preferred as they retain heat better than metal, keeping the shisha warmer for more even heating.
Alien Mini Phunnel Hookah Bowl: These are smaller than the regular Phunnel Hookah Bowls in that they only hold about 10-20 grams of hookah tobacco, depending on the brand and how you pack it. This allows for a nice 30-40 minute-long hookah session without any wasted shisha. Alien Mini Phunnel hookah bowls measure about 4 inches in height and are about 2.5 inches in diameter at the top. These hand-made bowls are currently available in a number of unique colors. These are ideal for smoking Tangiers Shisha Tobacco.
Goliath Vortex Bowl: This bowl is a giant version of the Vortex Bowl. The Goliath features a raised spire in the center with holes around the sides which makes this bowl perfect for smoking more moist shisha brands. In addition to this, the new Goliath Bowl features a pattern of raised bumps on the bottom of the bowl to allow for greater airflow beneath and through the shisha to make heat transfer more efficient. This bowl can accommodate around 50 grams of shisha at a time, and can keep on puffing for around 4 hours! Here's a video review that we made just for you!

Nargilem Side Storm Hookah Bowl: What makes this bowl unique is the 8 holes that are placed along the inside walls of the bowl, allowing for tobacco and shisha liquids to sit at the bottom and not have them drip down the bottom of your hookah stem. This large high-quality bowl has a glossy finish and is currently available in blue and black colors. It measures about 4 inches in height, 2.3 inches in diameter at the top, and can hold up to 40 grams of hookah tobacco, but can also hold as little as 5 grams and still smoke well due to its design.

Pyrex Vortex Hookah Bowl: This awesome hookah bowl has all the same dimensions and functionality of the original Vortex Hookah Bowl but is made of sturdy heat resistant Pyrex (a low thermal expansion borosilicate glass). Smoke longer with these durable hookah bowls that keep the shisha flavor strong throughout the entire session! Choose from either a blue or black colored bowl that will hold 25-30 grams of hookah tobacco.

Power Hookah Bowl: This is a high quality glossy clay hookah bowl that measures 3.5 inches in diameter at the top and is 4 inches tall. The center is raised slightly, allowing for shisha juice to simmer and is great for wet shisha tobaccos like Tangiers or Fantasia. This powerful bowl can hold up to 30 grams of hookah tobacco and will fit on any medium to large hookah!

Egyptian Clay Hookah Bowl: These bowls are made by hand in the Middle East using tried-and-true traditional production methods. Because of the rustic methods employed to craft these bowls, there will be slight variations in size and shape, though the volume of each bowl will remain constant. Don't be alarmed if your Egyptian bowl has deep scores in the clay beneath the glaze on the inside, this is a normal result of firing this type of clay in a kiln, and it won't impact the bowl's function in any way. These bowls feature some of the thickest, sturdiest construction around, ensuring a very strong bowl that will maintain its heat nicely.

Mod Hookah Bowl: Made of a different type of clay than the Egyptian bowls, the Mod bowl features a wide top and comparatively shallow bowl. With a wider surface area, there is more room for the heat to spread out to heat more tobacco more gently. Additionally, as with a shallower bowl, the shisha at the bottom of the bowl is more accessible to the heat for even and complete smoking of the entire bowl's worth of shisha. Note that with the flanged mouth of the bowl (where the bowl grommet goes), the airtight seal is often achieved slightly up in the neck of the bowl rather than directly at the mouth (as with most other bowls). With the seal created in the neck of the bowl, it is common for Mod bowls to slide all the way down to the tray. As long as the seal is airtight, you're good to go!

Mya Ceramic Hookah Bowl: These bowls don't just bear the Mya name, they're made with the same precision craftsmanship as all Mya hookahs. These shallower, deeper bowls feature thick ceramic around the bowl for added strength and insulation. As these bowls tend to be a little more narrow across the top, the heat may be more concentrated on the top of the bowl, and one might take care to heat the tobacco more gently (by using slightly less coal, and rotating a little more often). These bowls tend to have narrower necks, too, so you may find these bowls sit higher up on the bowl stem than other bowls. If your Mya bowl seems to be wobbly, make sure that it is fit as far down on the grommet and bowl stem as possible, and a good twist while wedging it down will go a long way.

Mya Jumbo Ceramic Hookah Bowl: This is a great party hookah bowl. Mya took their original bowl design to a new level with this supersized bowl that easily holds 50g of tobacco. Smoke for hours on one load! Try layering two or three flavors in this bowl for a smoke that gently transitions between flavors throughout the session.

Phunnel Hookah Bowl: These bowls are designed specifically for extremely dripping-wet tobacco (such as Tangiers Shisha Tobacco), but can handle tobacco of regular consistencies just fine. When excess shisha juice drips down the shaft of a hookah, it can impart an unwanted flavor to the smoke, and can build up inside the shaft if not cleaned regularly. The Phunnel bowl design eliminates this problem by featuring a 'trough' that holds the juice while the smoke passes up and over the raised 'lip' in the center.

Vortex Hookah Bowl: Utilizing the same raised center technique as the Phunnel Bowl, the Vortex hookah bowl moved the air intake from the top lip of the center spire to the sides. This allows for the same "stewing" of the shisha juice without it dripping down into the hookah stem, as well as avoiding possible airflow restrictions from the hookah foil - a common issue of an improperly packed phunnel bowl.

Metal Hookah Bowl: Perfect for camping, or any other time when you're carrying your hookah around, the metal hookah bowl will survive knocks and drops that would shatter a regular bowl. Pair with an acrylic hookah and never worry about your hookah bouncing around in your luggage as you travel!

Ultimate Combo Hookah Bowl: These Mod bowls have a built-in windcover that snaps securely in place. While regular wind covers may rattle around or dislodge the coal if knocked, the clasping lid of the Ultimate Combo Bowl guarantees the coal will remain on top of the bowl. Do be careful though, the metal lid and clasp will become quite hot while you're smoking!

Hookah Flip Inverted Hookah Bowl: is an innovative hookah accessory that provides an alternative way to smoke your shisha. Instead of the hookah charcoals resting on the hookah bowl, with the Hookah Flip your shisha tobacco (or herbal molasses) is suspended above the coals which rest on an adjustable tray! Also available in Cobra and Dragon designs.

Multi-Head Hookah Bowls Featuring thick ceramic construction and anywhere from 2 to 4 heads, you can mix and match flavors with ease in their own bowls, at the same time! These bowls will hold a net 25 to 30g of tobacco.

Glossy Silver or Gold Hookah Bowl Looking to add a bit of shine to your hookah? Pimp it up with a shiny silver or gold bowl. Unlike the metal bowls, these are ceramic bowls with an outer metallic coating. Each holds the standard 20-25g of shisha tobacco.

Inside-Fitting Hookah Bowl: Inside fitting bowls only fit a rare few hookahs in the West. While traditionally known as "Syrian bowls", Syrian and Egyptian hookahs have been standardized to the more common "outside fitting" (or "male") bowls.

Glass Hookah Bowl: We now carry gorgeous glass bowls if you prefer a more ornate adornment to crown your pipe. Not too deep, not too shallow, these well-rounded bowls hold the standard 20 or so grams of shisha, and are great additions to a hookah with a beautiful base.

Goblet Hookah Bowl: For a longer smoke, and a heavier-duty bowl, heft one of our new Goblet bowls for up to 45g of shisha!
It may be useful to keep in mind one basic principal while rotating your coals: heat should be balanced across the top of the bowl. Balance is achieved by rotating coal from a too-warm area (so it can cool) to a too-cool area (so it will warm up). As always, if you have any questions concerning the best bowl for you, or about proper coal rotation, we're live and online seven days a week to answer them!
Categories
Recent Post
Month Lists