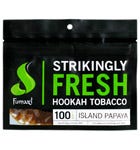 The Ultimate Fumari Flavor Guide
By
Hookah Genie
/ May 28, 2014
Fumari Shisha Tobacco is one of the greatest untapped brands of shisha that we carry. With delicious flavors, quirky names and a wide variety of unique flavors -- Fumari closely rivals world-renown shisha powerhouses like Starbuzz Shisha and Fantasia Shisha. Similar to other popular shisha brands, Fumari also has some ambiguous flavor names that need to be translated for those who are new to the wonderful work of Fumari Shisha.
Fumari Breakdown - What Is That Shisha Flavor??
Ambrosia - If you like sweet flavors, and melon, then you have to pick up some Ambrosia with your next shisha purchase.
Blueberry Muffin - This is a rich a buttery Blueberry Muffin flavor that will remind you of your grandmother's baked goods.
Citrus Mint - Enjoy this sweet citrus blend, complemented with the perfect proportions of mint.
Citrus Tea - This a strong and smooth blend of citrus fruits mixed with black tea.
Fakhfakhina - Difficult to pronounce, easy to define. This is a classic red apple.
Fumari - The self-titled Fumari flavor is a custom blend of several apple flavors. This is excellent when mixed with mint or vanilla.
Granny Smith - Not a fan of regular red apple? No worries! Granny Smith is the sour apple flavor you have been looking for.
Island Papaya - Producing a sweet, thick, delicious smoke; Island Papaya is a dream vacation in a hookah bowl.
Jasmine - If you have never smelled or tasted actual jasmine, try Fumari Jasmine. It's a flowery blend, with a lemon aftertaste that will blow your mind.
Mandarin Zest - This is not your grandfather's orange. This is a tart and very strong orange blend that makes for a great smoke session, every time.
Mimosa - This classic breakfast drink has been turned into a delicious tobacco flavor! A little hint of OJ, a little hint of champagne, a big splash of awesome.
Mint Chocolate Chill - This is the most popular Fumari flavor in existence. Your taste buds will thank you for choosing this mint chocolate chip ice cream flavor.
Orange Cream - With summer always right around the corner, sometimes you have to beat the heat with a delicious creamsicle. There's no other flavor like it!
Prickly Pear - This flavor is replicated from the prickly pear cactus, which surprisingly produces a mouth-watering and fruity flavor.
Red Gummi Bear - One of the most popular and sought-after Fumari flavors, Red Gummi Bear is a simply combination of cherry and hints of raspberry.
Spiced Chai - A super flavor! Spiced chai is a succulent blend of vanilla, cinnamon, nutmeg and cardamom.
Tropical Punch - Taste the nostalgia. If this flavor doesn't take you back to the days of sipping on Hawaiian Punch in a juice box, nothing will!
Tutti Fruitti - This tastes like a sweet, fruity bubble gum flavor.
White Gummi Bear - A delicious and citrusy pineapple flavor, Fumari has done its best to replicate the flavor of an actual White Gummi Bear - and they have succeeded.
Categories
Recent Post
Month Lists