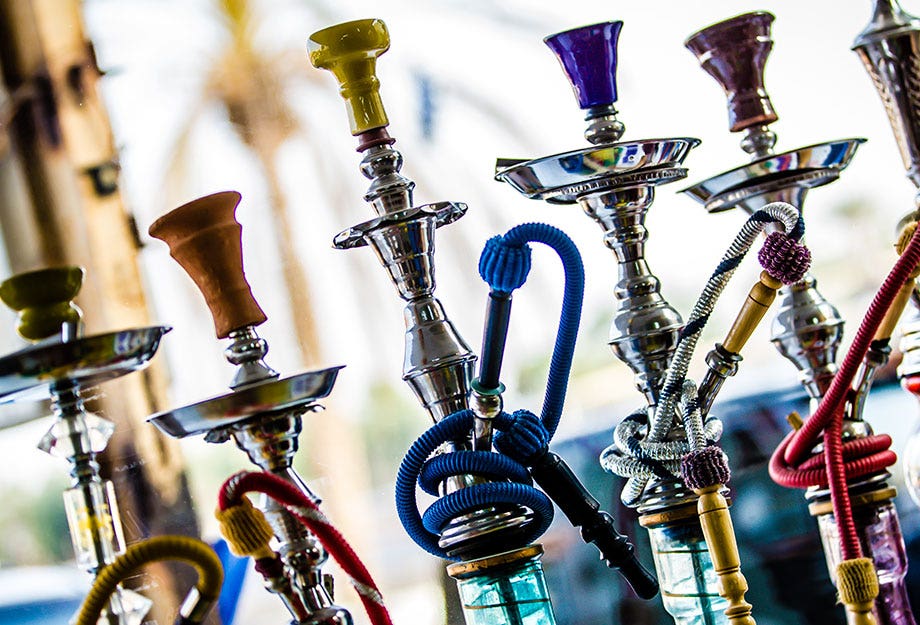 Top 10 Hookahs To Buy In 2016 - Employee Picks
By
SmokeOrPass
/ January 18, 2016
Click here for our updated list of the Top 10 Hookahs of 2018.
Recently we presented our staff picks for our favorite shisha flavors of 2015, and now we're talking about the best hookah to pick up in 2016. Our selection of hookahs range in price from $14.99 to $799.99, and they all use various materials in order to create each complete setup. We often hear the same type of question, "What's the best hookah?" and that question can be a little hard to answer because of everyone's personal preference. There are some collectors that prefer unique one-of-a-kind models, while others may only look for small travelling set-ups. Instead of answering that difficult question, we're going to give you 10 of the best hookahs to choose from and let you decide. We have a feeling some of these models are already in your cabinet, or at the top of your wish list, because they're all pretty amazing.
Shika Avatar Hookah
Towards the end of 2015, Shika Hookahs released their V4 collection of hookahs and accessories. We got a chance to see some updates to previous models, and at the same time we were introduced to a new range of beautiful brass stems. Shika decided to go heavy this time around and provided us with some stems that carry a massive weight, and a superior wide gauge downstem, along with a new Typhoon washable hose. As we went through the collection of new stems, one model definitely caught our attention because of its unique midsection and highly detailed design. The Shika Avatar is the first hookah to combine a high quality solid brass metal exterior with a natural wood shaft center. We like this model because each stem looks different from the real wood section, as well as the deep engravings around the central hub, and the weighted coal tray. Shika is known for equipping their solid brass models with a fairly large downstem, and there is nothing we like more than a classic rumble with thunder clouds. You can find all of the Shika hookahs and accessories right here.
Regal Prince Hookah
Regal hookahs will always have a place in our hearts with their unique wood grain options, and wide gauge downstems. The Regal team only uses wood from trees that have already fallen, and they will carry on with that ideology as long as they're in business. In the past Regal has provided us with two different models that are still available, the Queen and Melech hookah stem. Both of these models are around 29? tall which happens to be the average traditional size, but our eyes lit up when they made the Regal Prince hookah stem. The newest team member stands at 20? tall without a base, and this young prince can provide the same cloud filling experience as its siblings. Each of the Regal stems receive multiple finishing coats to prevent any deterioration of the wood, and the use of anodized aluminum for the metal components prevents corrosion. Regal hookahs do not use any threaded sections throughout the stem, but the small height makes it an easy piece to toss into a bag. We highly recommend using a carrying bag with padding, or wrapping the wood to prevent any scratches or dents during transportation. You can create your own custom Regal Prince right here, or you can go with one of our custom creations that includes a Bohemian glass base, silicone hose, and more.
Khalil Mamoon Messi Hookah
We don't believe that there was to be any connection between this hookah and the famous soccer/football player, but we will say that it's a champion amongst Khalil Mamoon hookahs. The Messi model was a recent arrival to our warehouse along with the KM Horse, Sadaf, Bazary and more. Khalil Mamoon hookahs have been around since the rise of the hobby, and users have come to enjoy the traditional designs with the accompanied smoking experience. Unlike some of the KM hookahs, the Messi model is forged from a heavy duty stainless steel without any hollow chambers in the shaft. The weighted stem added value to our decision with this hookah because we like our Egyptian hookahs to double as a weapon against any zombie invasion. The handmade design features deep engravings, a new flared out hose port, and the opportunity to choose from two different stem colors. Both color variations include a dark oxidized finish, and that bold coloring is applied to the downstem as well. You can find the Khalil Mamoon Messi, and all of his friends right here.
At the end of 2015 we received a breathtaking collection of hookah models from our friends in Poland, and you can catch our review right here . These foreign hookahs are crafted with the use of European and exotic natural hardwoods, combined with a superior quality stainless steel. The ultra modern design goes by the name Wookah, and since we've received them in the warehouse it's all that we can talk about here. Approaching each stem with the intention of having them last a lifetime, the Wookah team uses a cnc lathe machine for precision cuts and smooth threads throughout the body. They also create each hardwood stem individually by hand, and provide you with 8 hand-cut crystal glass base options. Wookah hookahs feature a removeable wide gauge downstem similar to the size of a Regal, but the metal material is slightly thicker. You won't find two Wookahs that look the same, and they're built for a lifetime so this was an easy choice for us. You can find the Oak Wookah, along with the Walnut and Merbau wood grains right here.
Starbuzz Made In America Hookah Stems
Wait where's the base, hose, bowl, and all the other fun stuff? Starbuzz Tobacco created a stem a few years back unlike any hookah pipe on the market, and to this day it's one of the greatest creations on the market. Machined and built here in the US, these shafts are available in many different designs and colors. They didn't require any help from NASA in the crafting stages of these shafts, but they were still able to use a heavy duty space grade aluminum metal. We love these pipes because they will never fade in color, and you will never face any problems with rust, corrosion, or flavor ghosting. The smooth downstem is more inline with a traditional medium restricted pipe, but somehow each inhale is almost effortless and very comfortable. What happens if any problem arise with the craftsmanship of this stem? As long you've registered you stem online with Starbuzz, you'll be covered under their limited 5 year warranty. This is the first hookah to feature a warranty program, and you really can't beat that offer. This stem is sold as a single piece that includes a coal tray, but you can become as creative as you want with base and hose options. We love seeing all the unique setups that everyone has come up with over the years, and you can start today right here.
Dschinni Hexagon Gold Hookah
Hailing from Germany, we have the Dschinni Gold Hexagon hookah that has proved to be a serious contender on the multi hose hookah market. The Dschinni team uses a high quality machined process in order to create each hookah, and during this process a superior stainless steel metal component is used with a heavy crystal glass. This results in a serious hookah that could be added to any collection and standout, but you will need to get used to the baller lifestyle that comes along with this golden trophy. We know you may not always have 4 people smoking with you, and that's why the Hexagon model features a single hose port that can be converted to a single hose session configuration. All you need to do is remove the auto seal adapter when you want a solo session, and start smoking without the worry of any air leaks. This is the hookah that you bring out when you want to impress the whole room, and the barrel sized downstem provides a nice rumble that can be silenced with the included diffuser. If you're ready to add a piece from Germany to your collection, you can find more details right here.
Zahrah Z70 Glass Hookah
Have you ever experienced an effortless inhale? You don't even realize that you're about to exhale clouds comparable to the ones in the sky, and you can't even hear the rumble. Welcome to the honeycomb diffuser experience, a feeling so incredible we have yet to find an inhale to use for comparison except for breathing. This beast of a glass hookah is hand blown here in the U.S., with the use of a thick 7mm glass and a high level of skill. The Z70 features a solid foundation that comes from the wide base plate, and it also includes an impressive glass bowl with a new age vortex design. Every connection point on this hookah is a glass on glass fitting, and it can be taken apart easily if you choose to travel with a glass hookah. The Z70 stands at 23? tall and if you were looking for something smaller, check out the Z41 for a mini version of this hookah with the same diffuser. Are you ready to turn yourself into a cloud machine? If so, you can check out all the details right here.
Oduman N2 Glass Hookah
Since the release of the Art Hookah, we've seen a rise in the creativity of what goes inside the base of the hookah. This extra step can result in a new flavor profile to pair with your shisha flavor, or it can just be a nice visual for everyone to enjoy. There were some similar models to the Art Hookah that were released, but none of them compared until the Oduman team presented the N1 & N2 glass hookahs. Designed and manufactured in Turkey, Oduman combines a high grade of glass with a flawless stainless steel to create one very unique hookah. Unlike most glass hookahs, the N2 features a stainless steel downstem with a built-in diffuser and precision cut purge valve. The N2 has a removeable coal tray that allows access to spacious glass interior, and it gives you a chance to get creative with what goes inside the base. Of course Oduman wants you to be flashy with the new glass setup, so you'll receive an LED base light with a remote control. The N2 will arrive with a threaded washable silicone hose that screws right into the glass base, but you will need to make the call on a bowl. Find out more detail about the Oduman N2 right here.
Sahara Smoke Large Kiss Inferno
Do you have 5 friends that want to have a smoke session? You could pack 3 or 4 bowls for everyone with different hookahs, or make one stellar bowl and toss it on this Sahara Smoke Kiss Inferno hookah. The Kiss Inferno features a 6 hose central hub for your large group sessions, and it includes an auto seal adapter on every hose port, now no one has to plug the hose with there thumb. We love the Sahara Smoke hookahs because each stem has it's own unique glass base, and they always provide a nice modern design with the rumble of a traditional pipe. When it comes time to take this hookah on the road, you can easily save some space because this stem can broken down into smaller parts for ease of travel and storing. One great add-on for the large Sahara Smoke stems that we've come to enjoy is the Sonic diffuser, it's guaranteed to give you a smooth whisper quiet inhale without the rumble. You can find this stem and the other base options, along with the rest of the Sahara Smoke hookahs right here.
Q Mod 24 Glass Hookah
Once this rocket ship of a hookah crashed landed into our warehouse it had our full attention, and it only took a couple of session for it to make it on this list. The Q Mod 24 is the one of two glass hookahs that we carry from the Q Mod team, including the dual downstem Mod 7. The fusion between a thick quality glass and anodized aluminum, makes this design standout amongst other glass hookahs and the built in stand adds a warming sense of stability. Each draw provides an awesome visual because of the clear glass design, and the built-in downstem attached to the medium sized downstem provides an ease in creating fluffy white clouds. If you want to get creative with the Q Mod 24, you can fill the top glass portion with fruit, ice, or anything that fits your visual requirement. The Q Mod 24 is available in 3 colors that will never fade, and you find them all right here.
Categories
Recent Post
Month Lists