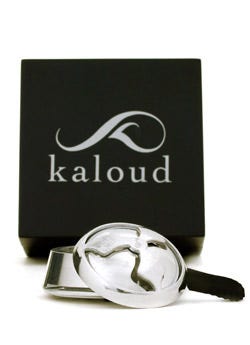 Top 5 New Hookah Products from 2013 (so far)
Howdy Hookah Friends, 2013 is drawing to a close and we thought we would take a moment to reflect on the best new hookah products that have graced our shelves this year. The hookah industry is going strong and each month we receive great and innovative new hookah accessories, hookah tobacco brands and flavors, and amazing new hookah pipes and e hookahs for your smoking delight. We do our best to carry all of the hottest new hookah products that you want. If we ever miss something, please send us an email or hit us up on Facebook or Twitter to let us know. Without further ado, I present the best new hookah products of 2013!
1. Kaloud Lotus Hookah Bowl Screen (

93%

positive reviews) - This innovative new hookah accessory just might take the cake for the best new hookah product of this decade. The Kalou Lotus nearly removes the concept of heat management from the hookah equation. No longer do you need to rotate coals constantly to keep the bowl from charring and the smoke from getting harsh. Just plop some coals into the lotus, put it on top of your bowl, wait a few minutes for it to heat up, and enjoy the smoothest hookah smoke of your life. Dare I say it, the Kaloud Lotus is an indispensible hookah accessory. Must buy for sure.
2. Starbuzz E-Hose (

91%

positive reviews) - Much like the Kaloud Lotus, the Starbuzz E-Hose has taken the industry by storm. Starbuzz started with the idea that smoking an e-hookah should feel as much like smoking a real hookah as possible. The two biggest challenges were the look of the product, as well as the amount of smoke/vapor produced. By modelling their E-Hose after a real hookah hose and allowing for the use of two flavor cartridges as once, they accomplished both tasks. Nothing in the world of electronic hookahs can touch it, the Starbuzz E-Hose really is the king of e-hookahs.
3. Fantasia E Hookah (

92%

positive reviews) - Fantasia is known for their unbelievable selection of some of the best shisha flavors in the hookah world. They have just started producing the new Fantasia Diamond E Hookahs recently and they are already a huge hit. E Hookahs feature your favorite shisha flavors in a handy pocket sized form that requires zero set up, no coals, and no mess. We love how smooth they are and the great flavor and huge clouds which come along with them. Fantasia E Hookahs also last up to 800 puffs which is considerably longer than most other brands.
| | |
| --- | --- |
| | 4. ROI Glass Hookahs (Reviews Needed) - All Glass hookahs have been around for years, but their designs and functionality were always a bit lacking. Over the last few years we have seen a surge in high end, well made blown glass hookahs. We've tried many different brands and ROI is our favorite. Their unique designs are both incredibly beautiful and perform exceptionally well when smoking. If you are in the market for a great smoking all glass hookah pipe, we recommend taking a look at ROI glass hookahs. |
5. Nirvana Super Shisha (

75%

positive reviews) - Nirvana Super Shisha is for hookah smokers who like some BUZZ with their hookah. Nirvana is shisha tobacco blended with Dokha, which is a high-nicotine traditional Arabic pipe tobacco, to give smokers an extra-potent buzz. If you are looking to get stuck to the couch for a little bit, Nirvana Super Shisha is something you've got to try.
6. Starbuzz E-Juice (

80%

positive reviews) - Starbuzz first ventured into the world of e-hookahs with the introduction of their line of hookah pens. They followed that up with the revolutionary Starbuzz E-Hose. The next logical step was to release their flavors in an e-juice (or e-liquid) form. This year they did just that. As with all things Starbuzz though, they couldn't just do what everyone else was doing, they had to make it even better. Starbuzz's E-Juice line comes in 3 different nicotine levels (including nicotine free), 10 great flavors, and it all comes in a high quality 30 ml glass bottle with included dropper for easy filling. If you are looking for some hookah flavor in your refillable e-hookah, Starbuzz is your best bet.
7. Smooth Hookah Pens (

94%

positive reviews) - Smooth was the first brand of electronic hookah which we carried here at Hookah-Shisha and it has proven to also be our most popular. Featuring an amazing array of nicotine free flavors, these e hookah pens are just what the name suggests - smooth. No harshness in the throat, no coughing, just pure flavor and big clouds. For those e-hookah smokers who are looking for great flavor without the nicotine buzz, Smooth hookah pens should be your first choice.
Categories
Recent Post
Month Lists