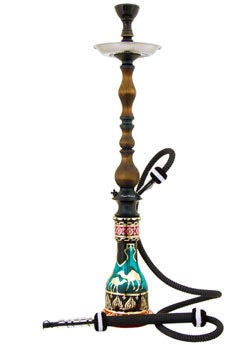 Top 6 New Hookah Products of 2012
Hookahs are becoming more and more popular every day and 2012 was truly a banner year for new hookah products. In this post we will showcase what we consider the best new hookah accessories, hookah pipes, and shisha tobacco brands which were added to our store in 2012.
Regal Hookahs (

100%

Positive reviews) - Featuring hookah stems made from 100% reclaimed wood and manufactured in Colorado, U.S.A., Regal Hookahs are the cream of the crop. These hookah pipes are designed for maximum performance and with proper care should last a lifetime. 100% positive reviews tells you these wood hookah pipes are real winners.
Tangiers Birquq Line (

100%

Positive reviews) - Tangiers Hookah Tobacco is an ultra premium brand of shisha tobacco that won't break the bank. 2012 saw Tangiers introduce it's newest line of shisha tobacco - Tangiers Birquq. A new manufacturing method used in the production of Birquq means less acclimation time for your shisha. Birquq also smokes great with just 3/4th the amount of coal you'd use with any other shisha brand. Grab some Birquq today and experience their brighter, fruitier, fluffier flavors.
Alien Mini Phunnel Bowls (

91%

Positive reviews) - Perfect for a short hookah session, the Alien Mini Phunnel Bowl holds 10-20 grams of your favorite juicy hookah tobacco and allows it to stew in it's own juices for maximum flavor. Made right here in the USA, these hookah bowls are very well constructed with durability that you simply won't find in other bowls. Pick one up today and see what all the hype is about.
Dragon and Cobra Hookah Flip Bowls (

90%

Positive reviews) - In 2011 the hookah flip bowl took the world of hookah by storm. Starting with the simple realization that heat rises, Hookah Flip inverted the bowl to trap all of the residual heat you would lose with a normal bowl. In 2012 they expanded their line with the fantastic looking Cobra and Dragon Flip hookah bowls. If you are looking to add a little bit of flair to your hookah, we think a Cobra or Dragon Hookah Flip Bowl are perfect additions.
Lavoo Hookahs - (

100%

Positive Reviews) - If you are a fan of progressive, modern hookah design then the Lavoo line of glass hookahs should appeal to you. Made from 100% laboratory grade glass and featuring advanced features like diffuser downstems, double water filtration chambers, bubble percolators, and glass on glass connections, Lavoo hookahs are a perfect marriage of performance and art.
Soguk Cooling Hookah Hose Attachment (

82%

Positive reviews) - If you like your hookah smoke cold, and I mean Ice Cold, then look no further than the Soguk. Simply place the heavy duty cooling attachment in your freezer for a few hours, then attach it to the mouthpiece of your favorite hookah hose and get to smoking. You'll be tasting cool, clean shisha flavor in a matter of moments. For the coldest smoke of your life, try a Soguk smoke.
Categories
Recent Post
Month Lists