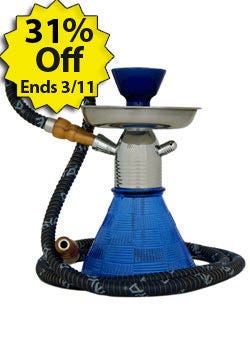 Week-Long Hookah Sale - Mya Petite & Mya Econo Gelato Hookahs for Cheap
By
Grabertrain
/ March 5, 2013
Edit: This sale has come to a Close. Check back soon for more hookah & shisha savings!

Who wants an inexpensive yet superior quality hookah? No need to form an orderly queue, you just need a few minutes on our website and a few days to wait for delivery to be the owner of one of the most popular hookahs sold in our store. For one week only (ending March 11th at Midnight) , 2 of our best-selling mini hookahs are on sale. Hooray!
| | |
| --- | --- |
| | "The best ever," "amazingly good," "perfect." This is just a small sample of praise from our customers for the Mya Petite Hookah. How can a hookah this small be so awesome? As if the 99 (and counting) people that have left positive reviews aren't convincing enough, how about you have it for only 20 simoleons? The Petite Hookah, now $19.99 until March 11th. You're welcome. |
| | |
| --- | --- |
| Why is this hookah called the Gelato? Because when you steal it from someone they can call it "grand theft gelato." Nah, actually because it's designed to look like stacked ice cream scoops. The Mya Econo Gelato has been a personal companion to hookah fans for years, and it can be yours for $29.99 until March 11. Want to smoke with a friend? The 2 hose version is also on sale. Bam! | |
| | |
| --- | --- |
| | The Mya Colossus, perhaps the pinnacle of hookah design, can be had for only $199! What makes the Mya Colossus so colossal? Well its 40 inches of smoking glory combined with the most exquisite design in the Hookahverse. That may be hyperbole, but the fact that this hookah's size is only matched by its overwhelming savings can be documented in the annals of great hookah achievements. We have upgraded the Black Mya Colossus hookah with a vortex bowl and discounted the price 20% for a few days. When greatness comes knocking, make sure you have the hookah to match! |
Happy Smoking!
Categories
Recent Post
Month Lists