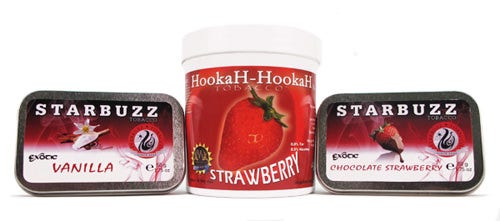 Weird Wednesday Contest - Best Shisha Recipe
By
Katie
/ September 12, 2012
It's been a few years since we did a shisha recipe contest! Post your favorite combination of shishas to our Facebook page by Monday, September 17 at Midnight CST - the top three with the most amount of 'Likes' will make it to the final round!
The Hookah-Shisha employees will try the top three recipes and will reveal their reviews and the winner in a YouTube video posted by the end of the week.
UPDATE
Our three finalist with the most votes on Facebook have been chosen! Additionally, we are throwing a wildcard finalist into the mix - this entry didn't post their recipe on Facebook, but because we received so many blog comment submissions, we decided to chose one from there!
Finalists
Blaine Zackrie Morgan - 1/2 Al Fakher Vanilla + 1/2 Al Faker Premium Rose (called "Fruity Pebbles")
London Atil - 1/2 Nakhla Sweet Melon + Mizo Mint
Kyle Chan - 1/2 Fumari Mint + 1/4 Fumario Ambrosia + 1/4 Fumari Mandarin Zest
John - 1/3 Romman Cinnamon + 1/3 Fantasia Pumpkin Pie + 1/3 Starbuzz Christmas Mix
What will you win?
FIRST PLACE will receive a hookah and starter accessories
SECOND PLACE will receive $25 in Hookah-Shisha.com store credit
THIRD PLACE will receive $15 in Hookah-Shisha.com store credit
| | |
| --- | --- |
| Our previous shisha recipe winner was a delectable combination of chocolate, vanilla, and strawberry - making a taste bud explosion of Neapolitan smoke in your mouth! Think you can top that? | |
Categories
Recent Post
Month Lists