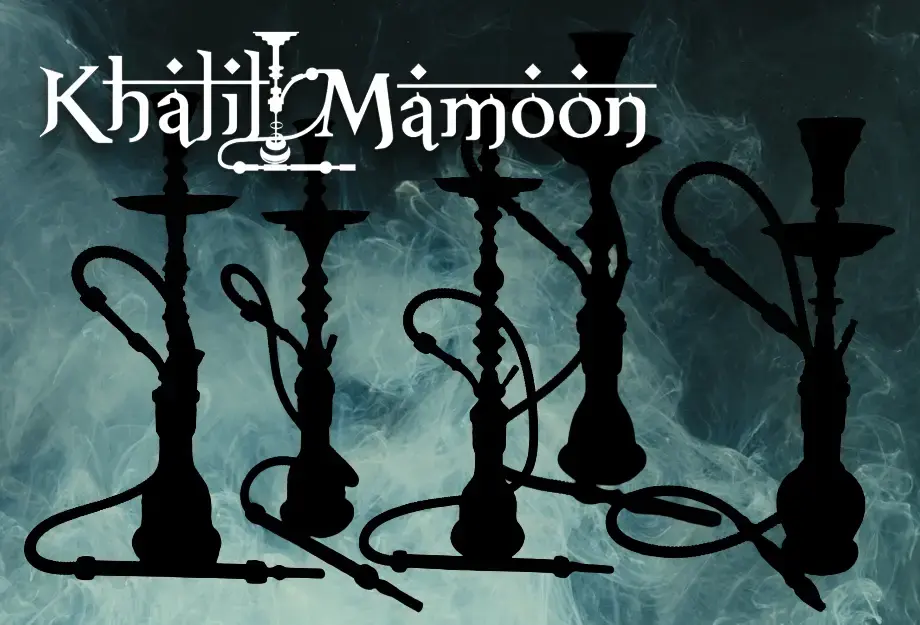 What are the Best Khalil Mamoon Hookahs?
By
double allen
/ May 9, 2023
The Khalil Mamoon brand is a no-brainer when it comes to seeking a traditional style hookah. You can expect high quality, stainless steel stems paired with some of the best handmade glass bases. KM is one of the tip-top leaders for traditional hookahs and has been for well over 100 years.

On a personal note, one of my first hookahs was made by Khalil Mamoon and I still have it 18 years later. My favorite hookah that I've ever owned is on this list. Their craftsmanship speaks for itself. There's a reason this list of hookahs are heavy-hitting favorites.

We've chosen a handful to feature but worry not, any KM hookah is worth every dollar.
---
Khalil Mamoon Mini Classic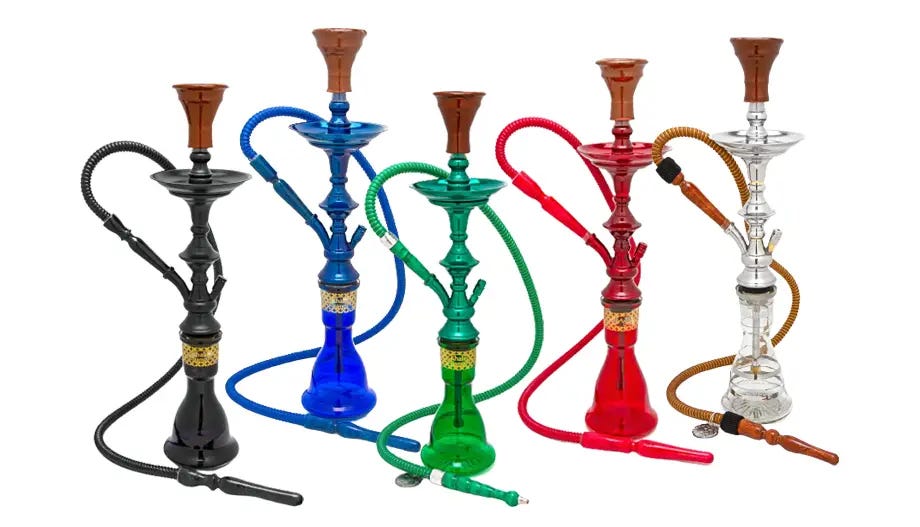 Easily one of the most iconic and favorited Khalil Mamoon hookahs, the Mini Classic came out with a bang in its various color options. At 17" in height it is a favorable size. Classic styling in stainless steel means easy cleaning and long life along with portability. A KM Mini Classic hookah makes for a great everyday smoker, one to travel with on the weekends or a hookah that doesn't take up much space in your domain.
Khalil Mamoon Shareef (and Shareef Short)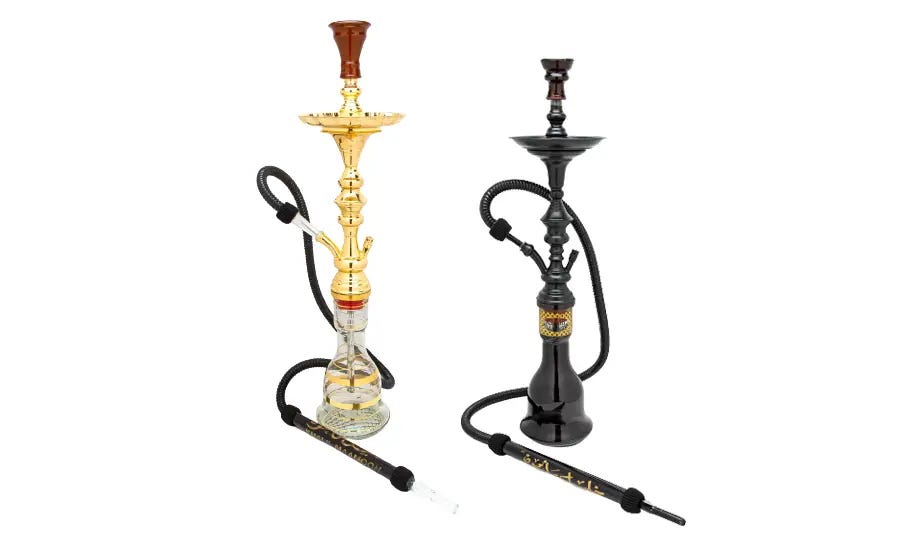 The KM Shareef has been around for a long while, and its short version followed up a long-time loved styling in a slightly more compact version with more color options. Today you can get both sizes in various colors. They're not too far apart in size but each version has its own flair. At 30" the KM Shareef Short is right on point for the average sized hookah, easy to use on a table or the floor next to a coffee table. Its shorter stature makes it a little easier to clean in a sink, but it still uses the same size base as its big brother.

Slightly taller at 33", the 'regular' KM Shareef stem has a little more room for some additional, intricate details. When Khalil Mamoon began introducing their stems with color options the Shareef took the lead with their black version. The 33" KM Shareef is still within that commonly desired hookah size and has definitely been a favorite of ours here!
Khalil Mamoon Mini Beast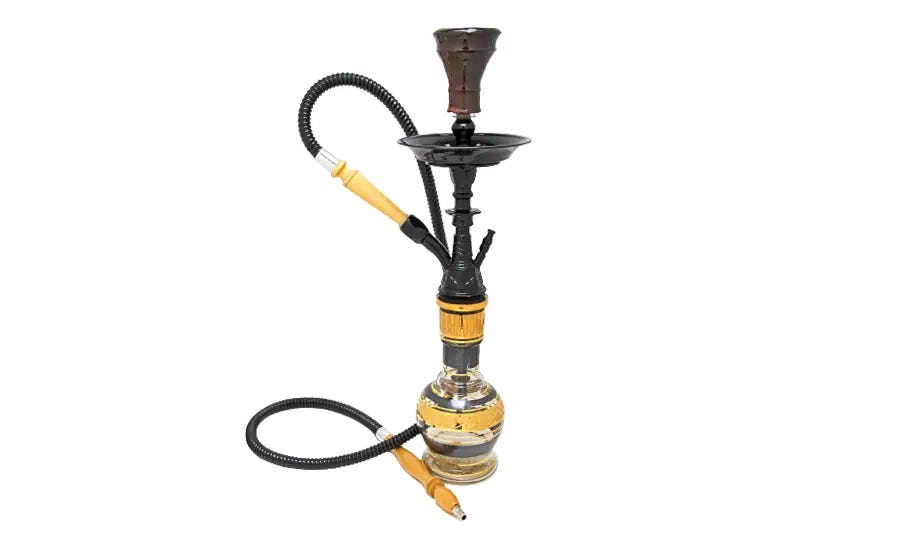 It's in the name. BEAST. Don't let the "mini" steer you otherwise. Sure it's on the smaller hookah spectrum at 23", but the KM Mini Beast has a heavy duty, stainless steel stem with a simplified, clean design paired with one of the most sought after base designs. The Mini Beast is one of our favorite hookah options for a first-time hookah owner due to its perfect size and classic style. The shape and size of the base makes it more difficult to tip which allows it to be a favorable tabletop hookah.
Khalil Mamoon Mini Shamadan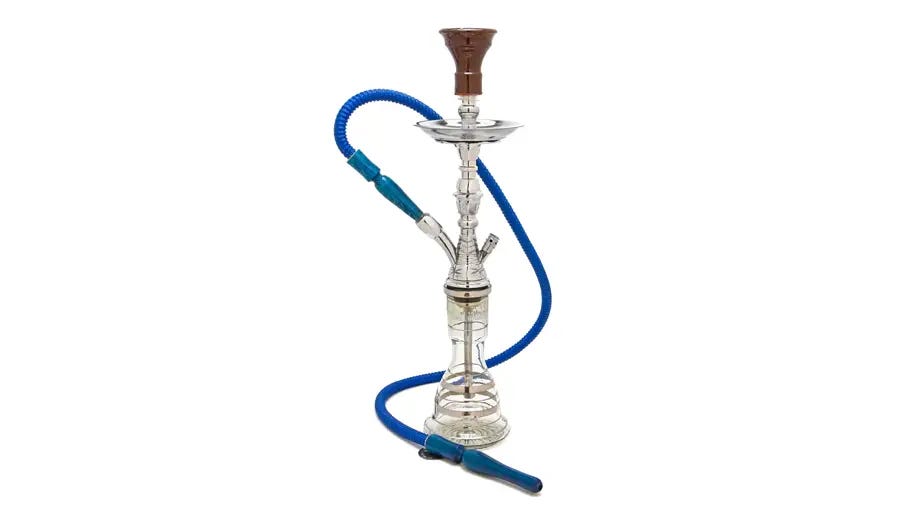 Remember when I mentioned one of my favorite hookahs was on this list? This is the one. I've been lucky enough to own both versions, the 'Regular' and the 'Mini' KM Shamadan. The Shamadan stems are beefy, and the metalwork on them has a very modern design feel for a traditional style hookah. The Mini KM Shamadan is 22" in height, uses a large base, and has everything you need for a first-time hookah or a tenth hookah for your collection. I couldn't recommend a better hookah to anyone.
---
Is there a Khalil Mamoon hookah you favorite that should be on this list? If so, let us know in the comments! This list comes from our experiences as well as your own and as well as years of feedback.
Categories
Month List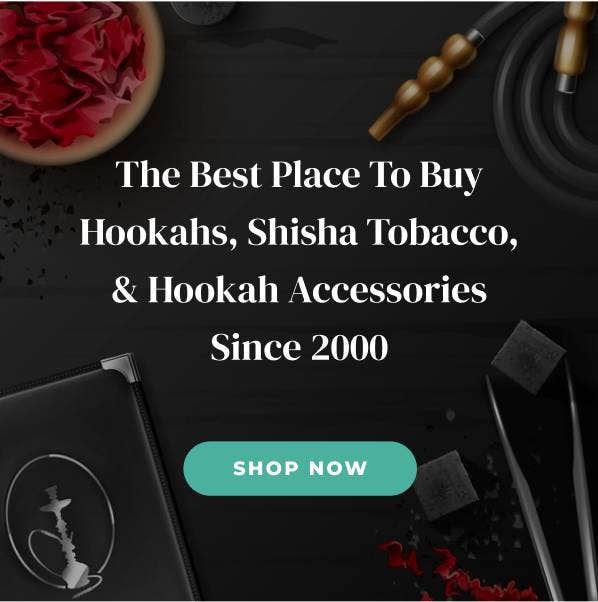 Shop All Hookahs, Shisha Tobacco, Charcoal, Bowls