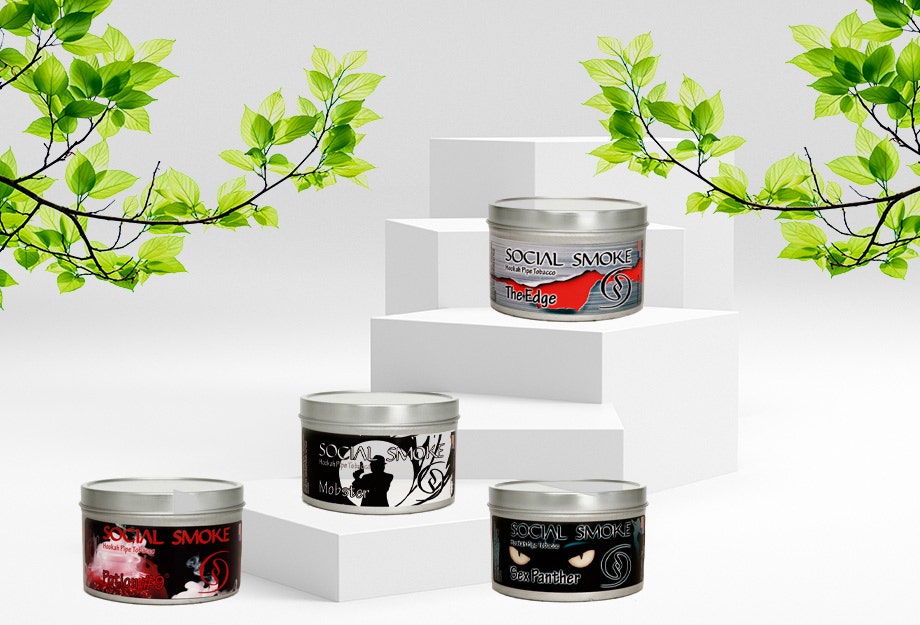 The Definitive List of Mysterious Social Smoke Flavors
By
Joe Perin
/ January 5, 2016
What in the World are those Social Smoke Shisha Flavors?
Social Smoke Shisha Tobacco is widely known for great quality, big clouds, and some flavor titles that make you think "what could that possibly be?" We are highlighting the some of the flavors that keep us up at night pondering what flavors they'll have and filling you in on exactly what they taste like. From Mobster to Japanese Yuzu, and Tiger's Blood to Horchata Cajeta, we're going to get to the bottom of these flavors so you can know which flavors to pick up and try for the first time! So grab a pen and paper, and prepare to take notes!
#1 Mobster Social Smoke Mobster? With a cover that suggests Britain's most dangerous spy and a flavor title that's making an offer you can't refuse, Mobster Social Smoke shisha draws a gun-to-the-head, cliffhanger, giant question mark. The best overall way to describe this flavor is that it's similar to a tart energy drink. Social Smoke describes it as "A lightning bolt of exotic guarana beans mixed with fresh citrus, raspberry, and pineapple." This goes well with the energy drink theme, as guarana beans are often used in the most popular energy drinks. So fans of the popular energy drinks out there will definitely want to give this shisha tobacco a try.
#2 The Edge Social Smoke The edge of what? The name gives us absolutely no indication of the taste, and the cover of the tin looks like some wild animal tore up some metal. This could be anything! Social Smoke describes The Edge as a "tropical fantasy of fresh pineapple, exotic passion fruit, juicy citrus, and candied cherry," with the cherry being the main flavor coming through in the smell. This seems like a flavor that would...keep you on the edge, one that would be a bit intense. But when smoking, this shisha comes of as a lighter cherry flavor, with some other fruity notes coming through, and a definite note of light spice. There are a lot of aspects to this flavor to figure out, so we highly recommend picking up some and letting us know what you think!
#3 Sex Panther Social Smoke Does it only taste good 60 percent of the time, every time? Does it sting the nostrils? There are just so many questions surrounding Sex Panther Social Smoke shisha tobacco! In Social Smoke's words this is "an extraordinary cocktail of delicious peach, tangy cranberry, and sweet orange." They also note that it's NOT made with bits of real panther, just in case you were wondering. When smoking this shisha the peach and orange flavors come through strongest, with the peach coming off as more of an overall sweetness. The cranberry is noted as a sweet, tangy, pleasant metallic taste. This shisha will certainly both taste and smell better than the infamous Sex Panther cologne. Its sweet and tangy taste will give you a far chance of making a good first impression than wearing a cologne that smells like pure gasoline.
#4 Potion No. 9 Social Smoke There will be no foolish wand-waving or silly incantations when smoking this shisha tobacco. Potion No. 9 Social Smoke shisha tobacco doesn't give us many clues. The potion and font on the tin are all red, so perhaps some red berry flavor? Social Smoke tells us that this flavor is a "mix of fresh melon, tart cherries, ripe raspberries, and juicy pineapple," but pineapple seems to be the main flavor here. There are definitely detectable notes of berry and cherry in this flavor, but you will mainly get a sweet, fresh pineapple taste. And we're not complaining! This is an incredibly tasty flavor...maybe it's a infatuation potion that has smokers coming back for more? We are yet to detect the listed notes of fresh melon, further experimentation may be needed!
#5 Voltage Social Smoke The first thought is that this is going to be a super sour shisha tobacco, but a great deal is still left up to the imagination here as to what kind of tangy sour taste you're going to get. In reality, it's not super tart. Social Smoke describes Voltage as "a delightful blend of watermelon and lemon with a hint of Amaretto's sweet almond flavoring. Now watermelon and lemon we're all (hopefully) familiar with, but what in the world is Amaretto? Answer: Amaretto is a sweet almond flavored Italian liquor that is widely used in cooking, in mixed alcoholic drinks, and in coffee. This sweet-almond flavor accents this shisha perfectly; the watermelon and lemon are balanced out nicely, and the Amaretto comes in pleasantly on the side.
#6 Japanese Yuzu Social Smoke
Yes, we can tell it's some kind of fruit, but that's no lemon! Or is it? What is Japanese Yuzu Social Smoke shisha tobacco!? The yuzu is a citrus fruit originating in East Asia that resembles a smaller grapefruit, and Social Smoke describes this hookah tobacco as a mix between grapefruit and lime. We find it to be a solid sweet lemon taste, a light zest and incredibly fresh, also with a slight hint of tea leaves as well. It's possible that we're just missing the grapefruit and lime notes, so I guess we'll just have to try it again! This is a wonderful citrus flavor of shisha tobacco that we highly recommend for a very relaxed smoke session.
#7 Hong Kong Milk Tea Social Smoke This one may not be as much of a mystery as some of the others, but why Hong Kong? What's so special about Hong Kong? Also, Hong Kong Milk Tea Social Smoke is just such an amazing flavor we can't pass up an opportunity to talk about it! Hong Kong Milk Tea is a very popular style of tea in Hong Kong, and around the world. Made using black tea leaves and creamy milk, you know it's a good cup of Hong Kong Milk Tea if there's a creamy-milky residue left in the cup when you're finished. Social Smoke's take on this classic is an excellent tribute, with delicious black tea leaf tastes as well as excellent notes of sweet and creamy milk. For those looking for an absolutely delicious, oriental style smoking experience, this shisha is for you!
#8 Tiger's Blood Social Smoke If you actually know what tiger's blood tastes like, you either have a problem or - probably - you have an interesting story as to how that happened. What is Tiger's Blood Social Smoke? Does it taste like iron? What's going on here? This flavor, according to the Social Smoke folks, is a "sensual mix of ripe blueberries, raspberries, strawberries, and cherries." This shisha is a wonderful fruit medley, where you get a great wave of the cherry and blueberry taste, with the raspberries and strawberries acting as a very subtle addition to this mix. "Awaken your wild side," perhaps. This is a sweet concoction of sweet fruit flavors that will give you an excellent smoking experience anytime, anywhere.
#9 Horchata Cajeta Social Smoke Judging from the container this appears to be some sort of cinnamon spice drink flavored shisha tobacco, which isn't exactly far off the mark. But unless you're familiar with what horchata and cajeta, you might be a little puzzled by what Horchata Cajeta Social Smoke shisah tobacco is. Horchata is a sweet and refreshing rice milk drink, also made using some nuts and cinnamon, that originated in Spain and is popular far and wide as a nice cool drink to enjoy on hot days. Cajeta is a caramel confection, a sauce of sorts, made originally using caramelized goat's milk. Together they produce a hookah tobacco quite unlike anything else around; a sweet, creamy, cinnamon spice that is enjoyable on a cold winter's day, or a sunny day in summer.
#10 Arabian Nights Social Smoke What kind of old story book flavor of shisha tobacco could this be? First thing that came to mind was a giant blue genie and a flying carpet - I mean they have a magic lamp on the tin! But no musical numbers here folks, just a killer coffee flavor of Social Smoke hookah tobacco. Arabian Nights Social Smoke shisha tobacco offers of a rich and creamy coffee taste, with an excellent nutty finish, that will put you right in a Middle Eastern coffee shop, sipping on a hot cup of java and smoking an old school hookah. Coffee flavored shisha fans, this one's for you!
Now that you have a better idea of these confusing flavors of Social Smoke Shisha, be sure to peruse the their entire selection on our website. Let us know if there are any other flavors that leave you scratching your head with a confused look on your face. We don't want to leave you looking like that!
Categories
Recent Post
Month Lists