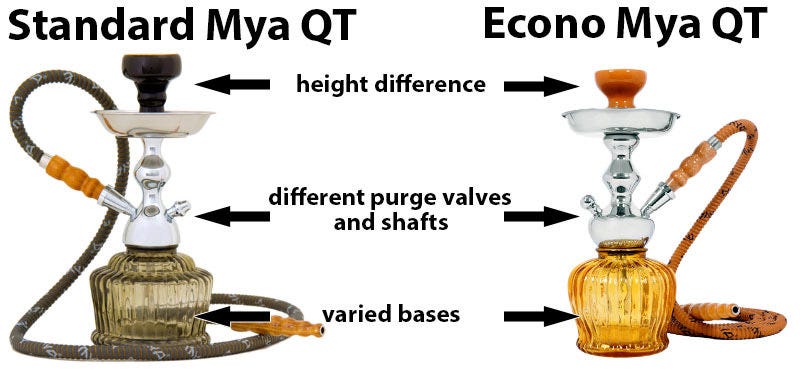 What's the difference between Econo Mya & Standard Mya Hookahs?
By
Hookah Genie
/ May 15, 2014
Deciding on whether to purchase an Econo Mya Hookah or a Standard Mya comes down to what you are purchasing it for, and how often you smoke. Standard Myas are make of high quality materials that are built to last. These small Myas and large Myas are great for a regular hookah smoker who is looking for longevity in their hookah pipe.
Econo Myas look very similar to standard Myas (except they are slightly shorter), and they smoke just as well! However, they cost less because they are made from "economy" materials which cause a slightly shorter life span of the Econos when used heavily. These are great for new or casual hookah smokers, or if you're looking for a more affordable hookah that you feel comfortable traveling with - especially the Econo Mya QT since it comes with a great cage to use for safe travel. Econo hookahs are also ideal if you want to leave a hookah on an outdoor patio or use for parties, since these hookahs are slightly less durable and cost less, there is less of a loss if any damage occurs.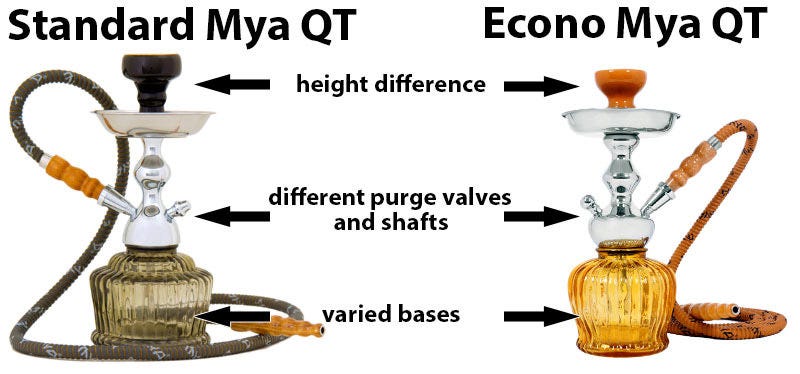 The quality difference between Econo and Standard is particularly found in the materials used to make the shaft. Additionally, the Econos and the standard Myas use different hose adapters, and the Econo Mya hose adapters are less likely to be in stock. With a standard Mya, it is easier to replace old hose adapters as well as converting 1-hose hookahs into multi-hose hookahs.
Categories
Recent Post
Month Lists