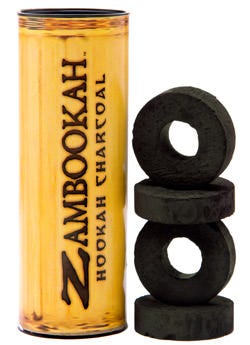 Zambookah Hookah Charcoal - New Natural Bamboo Hookah Coals
By
Admin
/ February 4, 2013
If you like your hookah bowl then you should put a ring on it. One of these rings to be precise:
This is a Zambookah Hookah Coal, which is a natural hookah coal that's made from bamboo. Why Bamboo? Well, besides being the definitive food staple of pandas, it turns out that it's also an ideal heat source for shisha due to its long-burning nature.

Similar to the Ring Coals, Zambookah coals have a hole in the center, making them ideal for use on hookah bowls that have a raised center, including Vortex Hookah Bowls and Phunnel Hookah Bowls. Plus, they measure 2 inches in diameter (with an inner diameter of the opening hole being about half an inch) which makes them last longer than smaller coals. Be careful when handling these coals and don't break them, they really only work when they're intact!
| | |
| --- | --- |
| | Here it is in action, being smoked on a Nargilem Side Storm Bowl. It was recommended to us by the manufacturer to leave them on the coal burner until they are about 3/4 of the way lit and then place it on the bowl. This would keep the coal burning longer and extending the smoking session. We tried it.. and it worked! |
Pick up a roll of 10 discs or a box of 100 discs and give these new coals a try! As always, Happy Smoking!
Categories
Recent Post
Month Lists