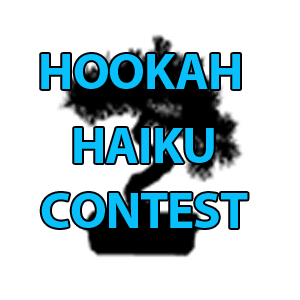 Hookah Haiku Contest
By
Admin
/ December 26, 2012
EDIT (1/23): We've announced the winner! Watch the video at the bottom of the page to see who we've crowned the Hookah Haiku King/Queen!
| | |
| --- | --- |
| We're getting back to our roots with a good old fashion Hookah Haiku Contest! This was the first contest that we ever hosted, and it's time to bring it full circle. We want you to write us a haiku about hookah life, post it in the comment section of this blog, and you'll be eligible to win a free, one of a kind hookah! | |
RULES:
1)
Submission must be a haiku!

What is a haiku? It's a Japanese poem of seventeen syllables, in three lines of five, seven, and five. It would look something like this:
I smoke the shisha
The shisha doesn't smoke me
Now I need a nap
2) You can submit as many as you would like.
3) You must
submit

your haiku in the

comment section of this blog

.
4) All submissions must be
received by January 16, 2013

. We will choose the top ten poems, and the winner will be randomly selected from those 10 by way of a drawing.
Want a sneak peek at the prize? It's a Regal Queen Hookah, which is not even in production any longer! The unique wooden shaft is highly coveted among hookah lovers - and it can be yours with some simple wordsmithery!

Good luck to all! Please feel free to email us at hookahlove@hookah-shisha.com if you have any questions.
TOP 10 FINALISTS
| | |
| --- | --- |
| Eric The hose hasn't moved Hookah hoarded by one man Must not strike my friends | Gina I am a dragon Of spirals metal and glass Fire sweet molasses |
| | |
| --- | --- |
| Melissa ornament stature pull. bury me in the haze of thick divine breaths | Matt Wise, white, whipping clouds Witness my thoughts, plans, hopes, dreams Wish me well and pass |
| | |
| --- | --- |
| Brennan Atop a toad stool He turned his thorax my way Said he, "whO, aRe, yoU?" | Suz Hookah my true love For what is three thousand years between friends like us? |
| | |
| --- | --- |
| Greg Epicurean… Epistemological? Indescribable. | Jenna Oh such wonderful Tendrils of soft seeking smoke Clarification |
| | |
| --- | --- |
| Casey Traveling across A scent tickles my senses Shisha in the wind | Kari Oh billowing smoke Ascend to the firmament Hookah, my delight |
And the winner is...
Categories
Recent Post
Month Lists