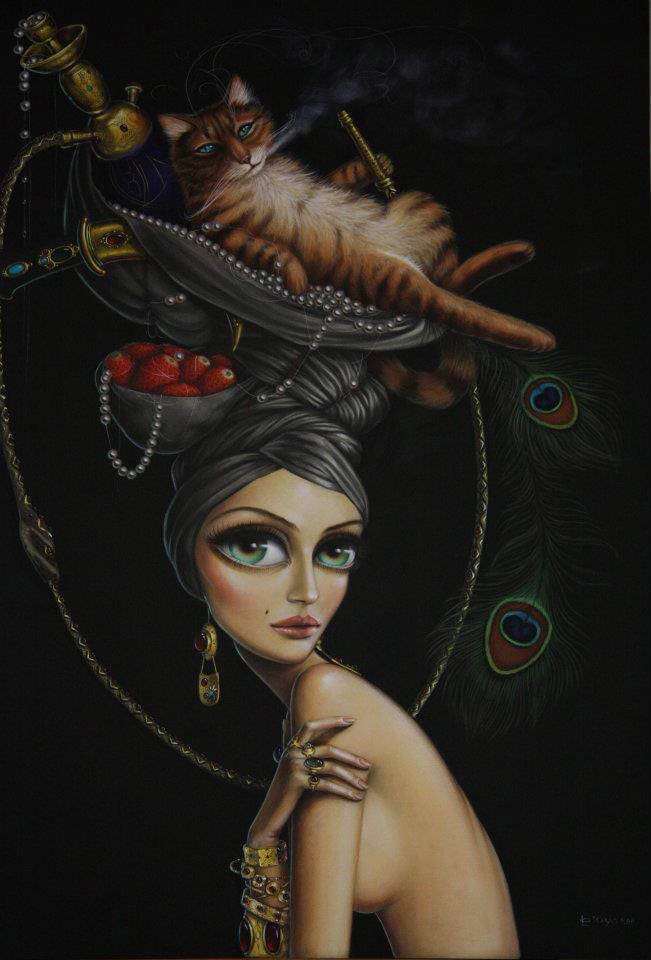 Hookah Life Imitating Art - Masterpieces of the Hookah Culture
The hookah world has been blessed by some of the most talented artists in history. Here are just a few works that were inspired by the unique and mysterious culture of hookah. From the classic to the surreal, hookah culture has been an inspiration to artists for centuries.
| | |
| --- | --- |
| | Modern surrealist painter Leila Ataya was born in Russia in 1979. Known for highly feminized subject matter, Leila often juxtaposes her models in a world of fantasy, giving them a mysterious and magical appearance. In 2011 she painted "Pearls of Innocence" featuring a woman with a hookah smoking cat in her hair. Is that a Mya Saray Gelato? |
| | |
| --- | --- |
| Louis-Léopold Boilly was a popular and celebrated artist in France in the late 18th century. He was nearly executed during the Reign of Terror during the French Revolution for the erotic undertones of his work. Luckily he was spared at the 11th hour when a patriotic painting was discovered in his home. Here we see a how life imitates art as an 18th century hookah smoker talks on his cell phone at a hookah cafe hundreds of years before it would come to pass. Dude, quit talking and pass the hose! | |
| | |
| --- | --- |
| | Jean-Léon Gérôme has is one of the most prolific western painters of Middle Eastern life, culture, and landscape. Having frequently traveled to Turkey, Egypt and North Africa, his enormous catalog on the subject stretches from desert scenes, to slave markets, to bath houses.To the left we see these women enjoying a nice smoke after a bath. Centuries ago, hookahs rose to popularity due mostly to women who preferred to smoke the smoother, sweeter flavors at home as well as while entertaining guests. |
| | |
| --- | --- |
| To the right we see another classic piece from Jean-Léon Gérôme. This Egyptian man is contemplating the harsh realities of hookah smoking. You can almost hear him thinking..."How could I have forgot to order from Hookah-Shisha.com? My hookah party is ruined!" | |
Would you like to see more great works? We have some amazing pieces by our fans. Check out these works of art from our fans who participated in our "Hookahs in Famous Paintings" contest in 2011.If you have talent with a brush and would like us to showcase your artwork, send us an email with your original art attached and we can add it to our gallery!
Categories
Recent Post
Month Lists