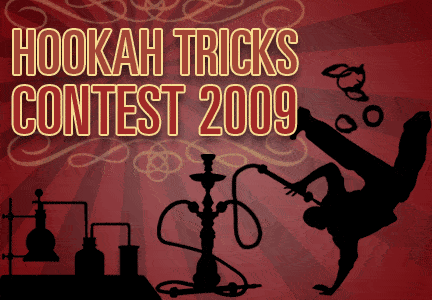 Hookah Tricks YouTube Contest!
By
Grabertrain
/ September 25, 2009
Howdy Hookah Friends! It's the start of the fall season here in beautiful Austin, TX, and we here at Hookah-Shisha.com are kicking things off with our 2nd Annual YouTube Contest! That's right, last year we did an
Olympics Themed YouTube contest
, and this year we're doing something similar - except this time around YOU'LL be the judge! We know we have a lot of talented and crafty customers and hookah connoisseur friends that are skilled in the art of hookah. We receive a lot of emails from customers with various suggestions on how to improve one's hookah experience. Here's your chance to showcase your skills while at the same time educating other hookah smokers from around the globe! You may even win some free hookah stuff!
What kind of hookah tricks?
The criteria is any novel hookah trick that enhances the hookah smoking experience. Something you may have figured out on your own, something you may have picked up from your local hookah lounge, or something that has been passed down to you from generation to generation of hookah smokers. The videos should be as informative as possible. Here are just a few ideas to get you started:
Hookah Modifications!
Created a "Frankenstein" hookah out of parts from different hookahs? Made a hookah bowl out of a cucumber? If you fancy yourself the Bob Villa of hookah smokers, here's your chance to shine!
Base Additives/Shisha Mixes!
Discovered a great combination of shisha flavor mix and/or base additive? Share your recipe!
Smoke Tricks!
Have a unique way to make smoke rings? Figured out a way to get more smoke using common household appliances? Don't keep it to yourself!
DIY Repairs!
Accidents happen, but sometimes a little quick-thinking ingenuity can have you up and smoking in no time without waiting for replacement parts. If you've ever been in a similar situation, show everyone your MacGyver hookah fix!
Basic Rules:
(please click here for a .pdf of the complete rules and regulations)
1.
Make a short video of your best hookah smoking trick. Videos should be no longer than 3 minutes. Be creative! The more entertaining the better.
2.
Upload your video to your YouTube account (click
here
if you're new to YouTube).
3.
Once uploaded, add your video to our "Hookah Tricks" YouTube group (
www.youtube.com/group/HookahTricks
).
4.
After the contest ends, the videos will be posted to our
hookah tricks
page for all to vote on the best one. Winners will be announced after the votes have been tallied.
FIRST PRIZE: $300 in store credit
SECOND PRIZE: $200 in store credit
THIRD PRIZE: $100 in store credit
The deadline for entries is Friday, October 9th. The judging will take place until Friday, October 16th. Good Luck to all that enter!
Categories
Recent Post
Month Lists