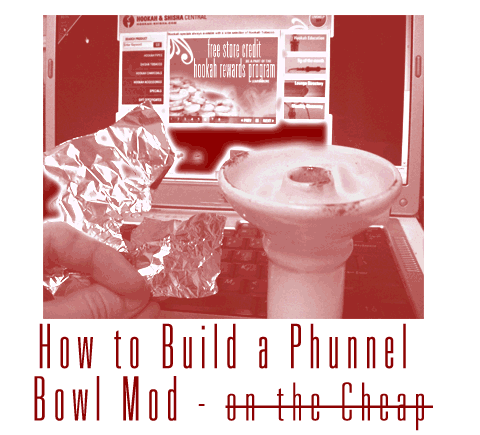 How to load your Phunnel Hookah Bowl w/ Scalli Mod -on the cheap!
By
Hqaman
/ March 14, 2008
The Phunnel (Funnel) hookah clay bowl is a very interesting and unique way to smoke shisha. Hookah smoking is all about trial and error and making your own modifications when the time arises (see my work/"Frankenstein hookah" at the bottom). With this method you can make your own minor Phunnel bowl mod to get this product smoking with its full potential. The trick is to get the heat from your hookah charcoal around the shisha and back up through the opening of the bowl, then down into the base. Below is an animated .gif I whipped up to help illustrate, as well as directions below.
Part One of How to Load a Phunnel Hookah Bowl with Scalli Mod: #1
Part One of How to Load a Phunnel Hookah Bowl with Scally Mod: #2
Instructions on how to make your own Scalli hookah mod of aluminum foil:
Tear a 2 inch by 2 inch square bit of aluminum foil. Loosely wrap this around the opening in your Phunnel Bowl, leaving a little room on the sides and bottom to let the air flow under this foil square.
Loosely fill your Phunnel Bowl with your choice in tasty shisha tobacco. Be sure not to push down too hard, for you can close off the air-paths that will draw the heat through your tobacco.
Test your bowl before finalizing the foil across the top, be sure that you still have optimal airflow. Sucking from the bottom of the bowl is a good and quick way to see if you need to make any adjustments before proceeding to the next steps.
Then tightly wrap your hookah aluminum foil square around the top of your bowl.
Keeping that foil tight with your fingers, then take a hookah foil hole puncher and swirl it around to make your holes for heat to travel through. If you don't have a foil puncher you can of course use a thumb tack or pin. Keep in mind it's best to keep the holes toward the outside of your shisha bowl.
Then once your holes are poked, place your charcoal toward the outside of the bowl, thus you will make that hot air filter through the shisha tobacco. Super-heating the shisha molasses blend to release the vapor and moisture locked in the hookah-shisha mix.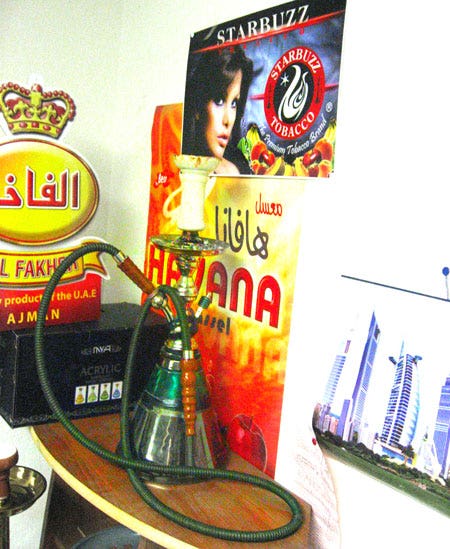 As hinted above sometimes you have to get creative, so here is a picture of our new shisha flavor testing hookah. In the background there are Havana Shisha,
Starbuzz Tobacco
,
Al Fakher Shisha
, and a
Mya Acrylic Hookah
carrying box. The Frankenstein hookah is made up of a
Phunnel Bow
l
, fixed atop a black melted-on the shaft rubber clay bowl grommet with ash from 3 different types of hookah charcoal ash in the tray, busted
Scarab Hookah
shaft, good and durable
Mya Wood Tipped Hose
, 1
small rubber hookah grommet
, stacked in 1
medium rubber glass base grommet
, and a lone oddball Gunmetal Black with green tinted acrylic Stratus style hookah base, and last but not least small Heba diffuser.
Categories
Recent Post
Month Lists