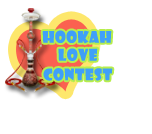 Show Us Your Hookah Love: Valentine's Day Hookah Contest
By
SmokeOrPass
/ January 30, 2013
| | |
| --- | --- |
| | It is almost time for American's favorite corporate holiday! Where companies ban together to make you feel guilty if you don't buy your sweetheart a crappy teddy bear. How about we give YOU something this year? |

We're having a Valentine's Day inspired photo contest and we want you to send us a picture of your real sweetheart...your hookah! We're looking for fun and funny pictures of your hookah; maybe it's disguised as Cupid, maybe you and your hookah are out to a romantic dinner, or a hookah wedding, perhaps? The winner will receive a brand-spanking-new hookah and three 200g jars of Fantasia Shisha Tobacco, second place will receive $25 in store credit and two 200g jars of Fantasia, and third place will receive $10 in store credit as well as one 200g jar of Fantasia!
| | |
| --- | --- |
| | Send your photo submission (two picture limit per contestant) to hookahlove@hookah-shisha.com. |
| | |
| --- | --- |
| | Ask your friends to 'Like' your photo on Facebook. We will have an esteemed panel of Hookah-Shisha.com judges determine the winner, however, photos with more 'Likes' will be given higher consideration. |
| | |
| --- | --- |
| | All photos must be submitted by February 11, 2013. The winners will be announced on the day of love itself: Valentine's Day! |
P.S. Here's the Prize:
| | | |
| --- | --- | --- |
| | AND | |
Edit: And the winners are...
Honorable Mention goes to Aden Malek Stepanians and Kevin Lo. They were Facebook favorites, and definitely submitted some awesome and funny photos. You can see all of the photo submission on our Facebook page.
3rd Place

Paul Nuget "Caught Cheating"
2nd Place

Christopher Busch
Categories
Recent Post
Month Lists