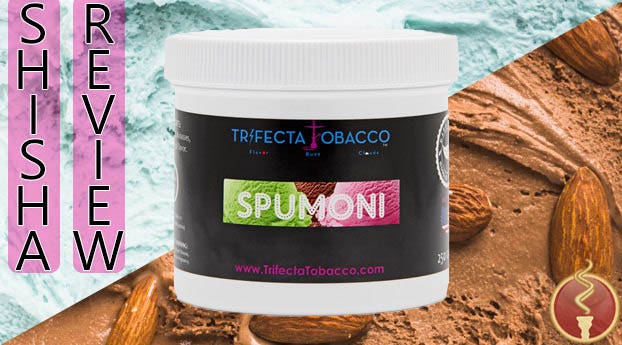 Gelato Flavored Shisha Tobacco - Trifecta Spumoni Review
By
SmokeOrPass
/ June 28, 2018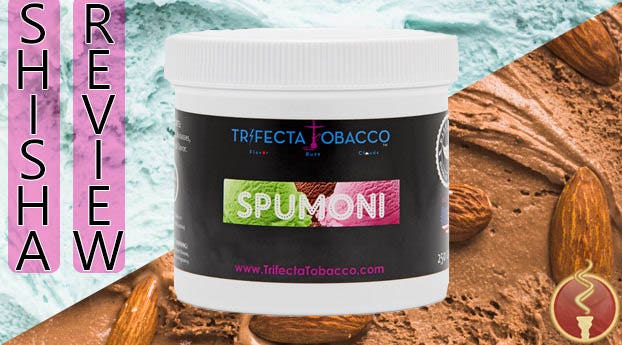 Trifecta Hookah Tobacco - Spumoni Review
What off the wall flavors haven't been made into a shisha tobacco flavor?
We've had blends made with real habanero extract and flavor profiles that mimic a glass of root beer, so the sky's the limit when it comes to formulating a new concoction.
Trifecta Tobacco has a growing collection of unique blends that have created their own following, without having an initial demand for certain blends like Lavender Mint and Enigma.
This time around they've put together a complex assortment of flavor profiles to create a dark leaf mix that you won't come across often if ever; they call Spumoni.
What's Spumoni?
Spumoni originates from Italy and it's a desert dish that resembles Neapolitan ice cream. Please don't get it twisted though as this is actually a gelato dish (the low fat stuff) and inside this treat you'll find layers of fruits and nuts between cold sweet cream.

People love this stuff so much, it even has it's own day of celebration; National Spumoni day which is held on the 21st of August here in the States and November 13th in Canada. We assume Italy celebrates it every day.
What's Spumoni Taste Like?
You've probably tasted or seen Neapolitan ice cream at some point in your life and, if it weren't for Spumoni, that moment in your life might not have happened.
To make the desert more enjoyable in the States, a minor tweak was made to the original Spumoni formula which introduced vanilla and strawberry flavors plus some extra fat. It was named Neapolitan after Naples, Italy.

A traditional Spumoni dish would have a sweetened pistachio blend in place of the vanilla and a rich cherry in place of the strawberry. You can find everything from walnuts, pecans, and pistachios inside your bowl with small bits of chopped up cherries and whatever other fruits you choose.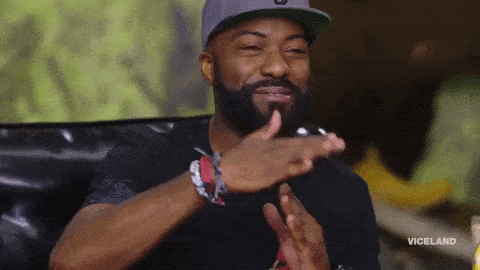 NO! What's The Shisha Taste Like?
Sorry, we were getting carried away in dessert world; back to shisha.
Once you crack open the jar, it's an immediate slap to the face with cherry and something that smells like amaretto.
After the cherry bomb aroma has settled, you'll begin to pick up on the creamier notes and of course the nutty pistachio swings in to grace your senses. The red cherry and cooling notes help to brighten the blend and the pistachio provides most of the flavor variation throughout your session.

Trifecta's burley leaf tobacco base will provide a buzz for the average hookah smokers but the veterans will just appreciate a darker depth of flavor.
Their dark leaf Trifecta formula is very versatile and can be used with foil and Kaloud Lotus setups.
I would recommend that you try this flavor on a traditional foil bowl to really pick up everything that's happening in this combination. A Kaloud Lotus set will get you smoking alright but it tends to provide more of the cherry notes instead of the full bodied pistachio experience. The cooling sensation is very prevalent on foil.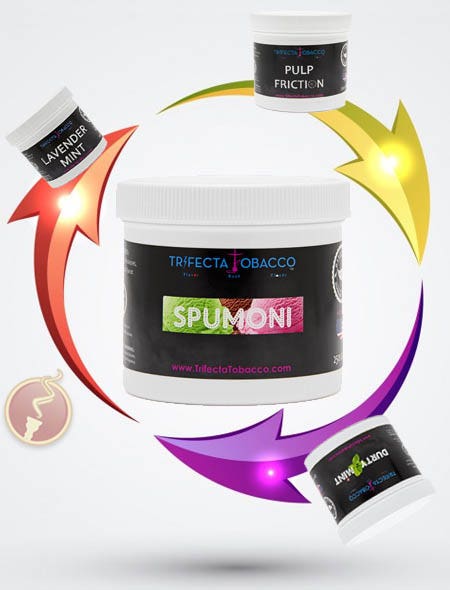 Where Is It In Your Rotation?
My taste pallet doesn't have me reaching for pistachio based flavors on a regular basis and the Spumoni blend doesn't change that decision. This is a great roller coaster of varying flavor profiles and it was really cool to see Trifecta pull off something as complicated as Spumoni.
I'm a fan of mint flavors and if you add a touch of this to Durty Mint it's incredible. Plus you can play around with percentages on back-to-back sessions without getting burned out.
Honestly it's not high in my rotation but there's a big caveat to that rating.
Almost EVERYDAY I come into the warehouse someone is smoking Spumoni; I can't escape this scent. I honestly wouldn't be surprised if some of your orders smelled like cherry and pistachio.
You may come in contact with Clay on our customer service side and I can guarantee he's probably smoking Spumoni with a little bit of Social Smoke Pistachio Breeze. I thought it would end when the can runs dry but they just pick up more, so hats off to the Trifecta team for another tasty blend.

What Do You Think?
Is this already in your rotation? How do you feel about Pistachio flavors? Can anyone validate the deliciousness of the actual Spumoni desert? I mean it has a nationally celebrated day!
Thanks for reading.
<3 SMOKEorPASS
Categories
Recent Post
Month Lists