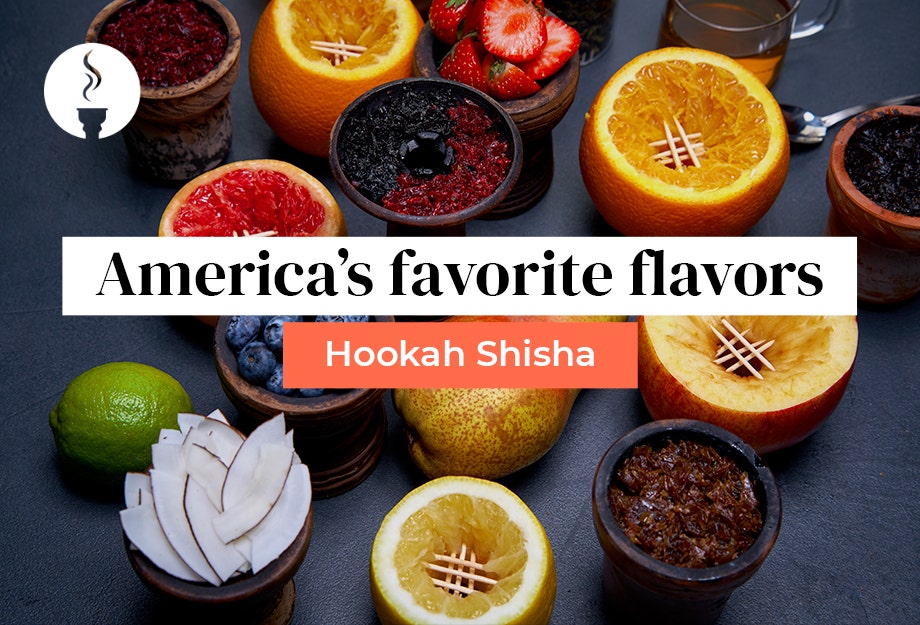 America's Favorite Flavors
By
two puff tony
/ June 1, 2022
Individually, we all have our favorite flavored sweets, our preferred flavor of ice cream, and yes, even our best-loved shisha flavors that electrify our tastebuds with every puff. But have you ever wondered what America's country-wide flavor favorites are? Spoiler alert: some of them may be controversial – ever heard of an apple-flavored milkshake?
By using data from the most popular search engines, we investigated which flavors people in the US search for the most and discovered the most sought-after flavors in the US for things like ice cream, milkshakes, candy, vape, and hookah flavors.
Ice Cream
We're rolling right into summer so what better way to start than with everyone's favorite summertime treat: ice cream! As it turns out, most of the US population is screaming for vanilla ice cream! This timeless classic is, perhaps unsurprisingly, the US's #1 favorite ice cream flavor, being searched for the most across the whole nation. Out of the top 20 flavors, vanilla made up over 16% of flavors searched with over 33,000 searches per month!
To take it even further, we broke favorite ice cream flavors down by state, and vanilla was the top flavor in 46 out of 50 states in the US! Only Alaska, Connecticut, Georgia, and Hawaii had differing results with banana or coconut being the most-searched-for flavor of ice cream.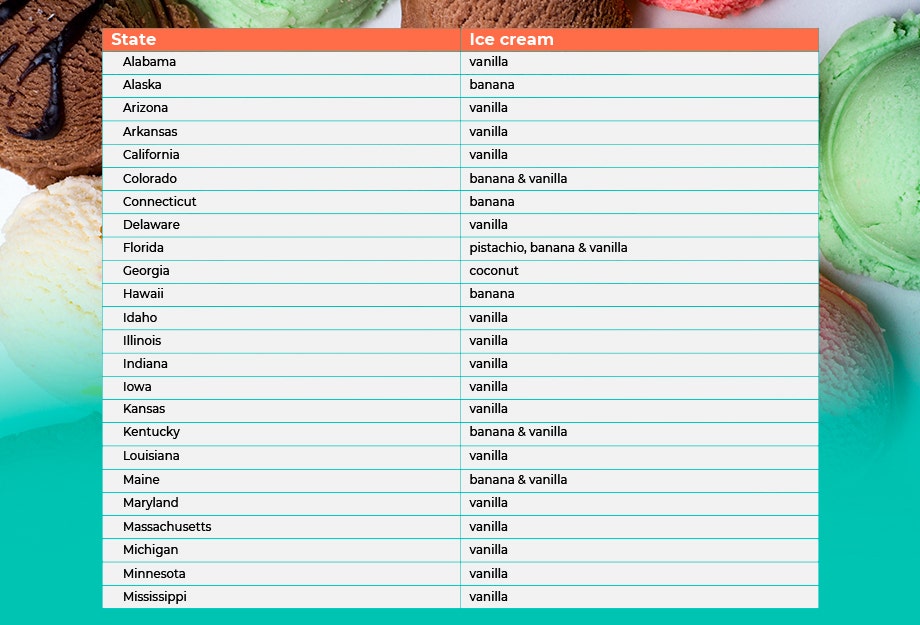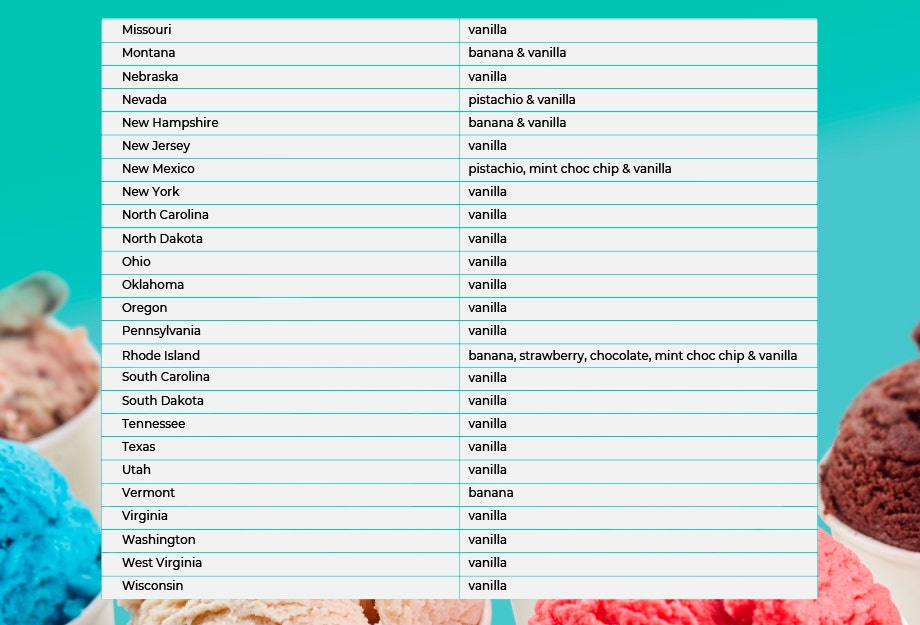 Coming in as the US's second favorite ice cream flavor is, surprisingly, a tie! Banana-flavored ice cream as well as the classic strawberry and chocolate flavors rank 2nd as America's most searched for ice cream flavors gaining on average over 22,000 monthly searches nationwide. Somewhat surprisingly, we saw the most searches for banana ice cream in Pennsylvania (880 monthly searches), New York (1,600 monthly searches), Illinois (880 monthly searches), Florida (1,900 monthly searches), and California (2,900 monthly searches).
Coming in 3rd as the nation's favorite ice cream flavors are pistachio and mint chocolate chip ice cream (my personal favorite). With over 18,000 monthly searches, these ice cream flavors have the potential to overtake the #2 spot if public interest starts to shift.
Want to see if your favorite ice cream flavor made the cut? Take a look at the nation's top 10 favorite ice cream flavors below: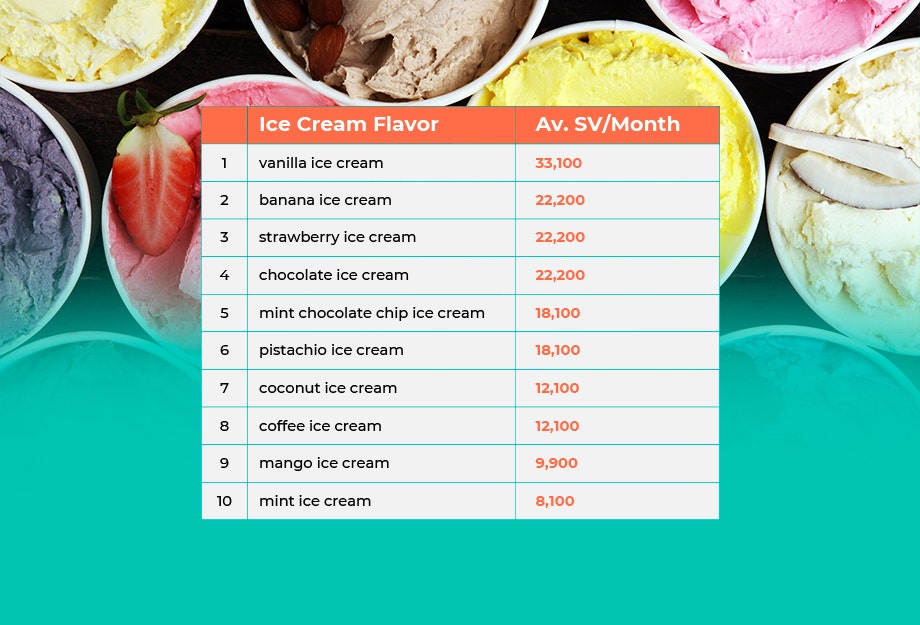 Pro-tip: Check out our vanilla or ice cream shisha flavors that pair perfectly with these icy desserts
Milkshakes
Nothing pairs better with a burger and fries than an ice-cold, creamy milkshake - but which flavor of milkshake reigns as the most popular? You may expect the answer to be close, but we're sorry to disappoint.
The most-searched-for flavor of milkshake in the US is strawberry, and it's a steep difference between it and the #2 spot. With an estimated average of over 22,000 searches a month, strawberry milkshakes are searched for over twice as much as the next favorite flavor. At the state level, all 50 states searched most for strawberry milkshakes out of the top 20 other flavors we investigated, beating out classic shake flavors like vanilla, chocolate, Oreo, and banana.
After strawberry, the next favorite milkshake flavor nationwide is Oreo (9,900 monthly searches), followed by chocolate (8,100 monthly searches), and vanilla (6,600 monthly searches). Banana milkshakes take the 5th most-searched-for spot with approximately 5,400 searches per month, which is somewhat surprising considering banana's #1 spot as the US's most-searched-for ice cream flavor.
Take a look at the list of the top flavors of milkshakes in the US and see if your favorite made the cut!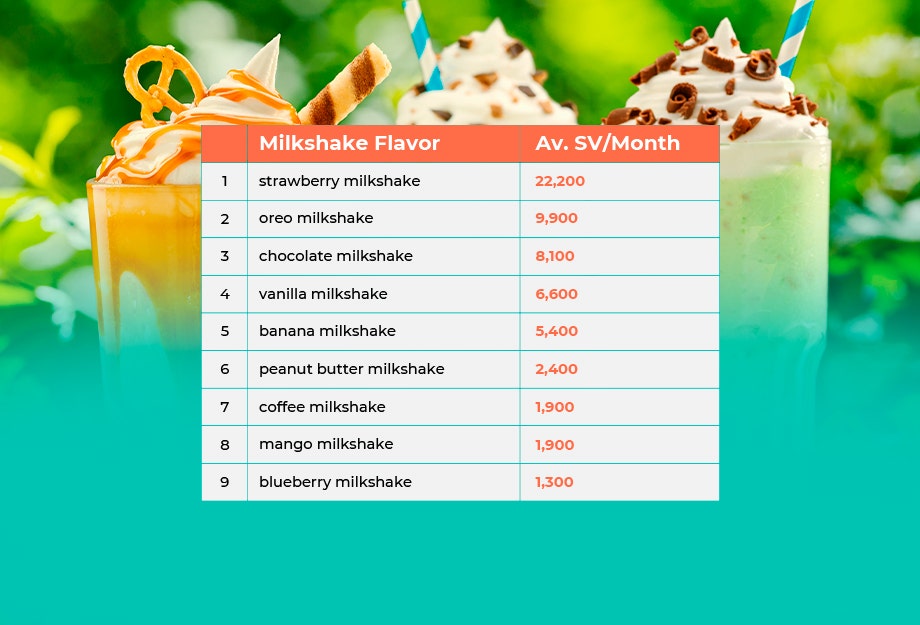 Pro-tip: Pair your strawberry milkshake with a strawberry and cream hookah flavor for a delectable combination
After we broke down the data by individual state, we discovered that there was very little variation across the most popular milkshake flavors, however, we did notice some interesting flavors getting notable search recognition per month! For example, the terms 'cherry milkshake' and 'pineapple milkshake' are being searched for on average over 700 times per month. That's the same as more traditional milkshake flavors like caramel and mint!
Grape and lemon-flavored milkshakes are, unsurprisingly, the least popular in the United States, with just over 200 searches per month.
Candy
With so many types of candy in the world, there exists a near-limitless flavor variety to choose from! But which flavors are most sought-after in the US? Based on the number of people searching the internet for different candy flavors every month, apple candy staggeringly received nearly 46% of the average monthly search volume across all the top flavors. With nearly 50,000 searches per month, apple candy is clearly a national favorite and takes the top spot when broken down by each individual state as well. Strawberry is the second favorite flavor of candy in the US (14,800 monthly searches) with a 4-way tie between lemon, mint, orange, and toffee for 3rd place.
Take a peek at our list of top flavors to see if you can find your favorite!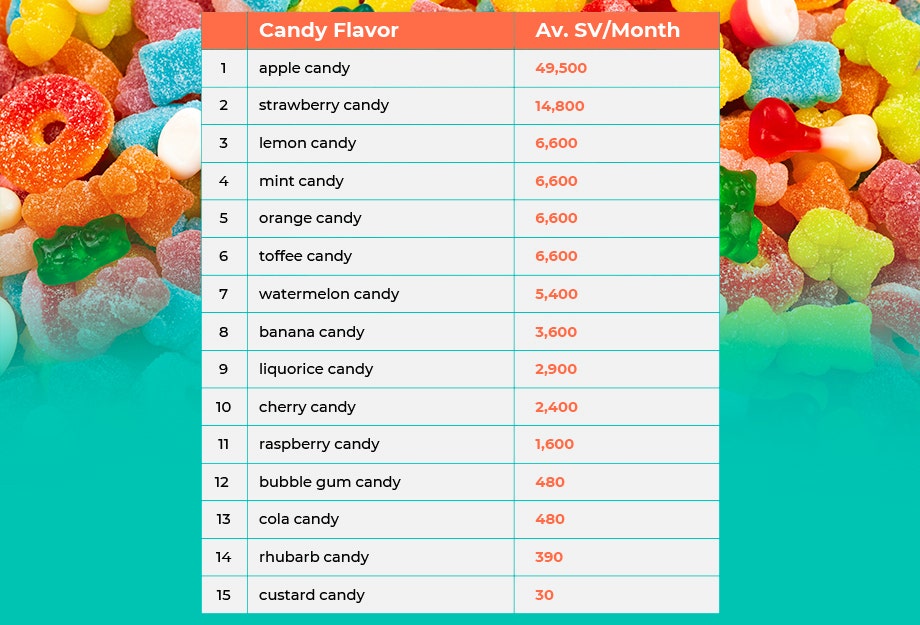 Pro-tip: Eating apple candy while smoking apple shisha helps intensify the deliciously sweet flavor
It's interesting to see just how much of a voice apple-flavored candy has in terms of monthly searches, highlighting the popularity of sweet, yet slightly sour, candy. Beyond this, however, is a large diversity of flavor profiles like the sweetness of strawberry, the bitterness of lemon, and the cool freshness of mint.
Vape
Over the past several years, there has been a surge in the number of people who vape worldwide, so we wanted to find out which vape and e-juice flavors are the most popular! If you're unfamiliar with the term, a "vape" (short for vaporizer) is a device used for inhaling vapor containing nicotine and flavoring – and there is a huuuuuge variety of flavors to choose from. They are often used as an alternative to traditional forms of nicotine like cigarettes or pipe tobacco.
When it comes to the most popular vape flavors, the #1 most searched-for flavors in the US are tobacco and menthol – both with around 900 monthly searches. This is perhaps unsurprising due to the fact that many people use vapes as an alternative to unflavored or menthol cigarettes or other forms of tobacco.
Up next is when the fun vape flavors come into play. The 2nd most searched for vape flavor is blueberry at around 800 monthly searches. Strawberry vape flavors take 3rd with around 700 monthly searches and grape vape comes in 4th at 600 average monthly searches.
Okay okay, that's all fine and makes sense, right? But what about the LEAST favorite vape flavors? Just for fun, we looked up the least searched for vape flavors as well! According to our data, lemon, raspberry, and custard come in at the very bottom of the list. You may be thinking… custard?! But there are still around 60 searches per month for custard vape flavors!
Take a look at the most popular flavors of vape below and see if your favorite made the list!
Pro-tip: Are you a fan of menthol vape flavors? You'll feel right at home smoking a bowl of Al Fakher Mint shisha tobacco
Shisha
Who would we be if we didn't talk about America's favorite shisha flavors? If you're unfamiliar with the term, a "shisha" – also called a "hookah" – is a specially made water pipe that is used to smoke flavored tobacco (also referred to as "shisha tobacco"). Want to learn more about shisha-related terms? Check out our full list of terms and definitions for all things hookah and shisha.
There is an ever-growing selection of shisha flavors – including tobacco and nicotine-free herbal shisha alternatives – that people are exploring and enjoying, from cool mint and fruity watermelon to dark coffee and nutty pistachio. We investigated the most searched for shisha flavors in the US to get an idea of which flavors the nation likes to smoke!
In the US, the highest search volume for a shisha flavor was mint, a cool and soothing flavor with a sweet aftertaste. Accounting for 29% of monthly search volume for shisha flavors, mint shisha is by far the leader with over double the searches as the next most popular flavor.
Next up after mint is blueberry shisha with approximately 14% of monthly searches for shisha flavors. In 3rd, there is a 3-way tie between strawberry, mango, and apple shisha flavors – each accounting for approximately 10% of searches.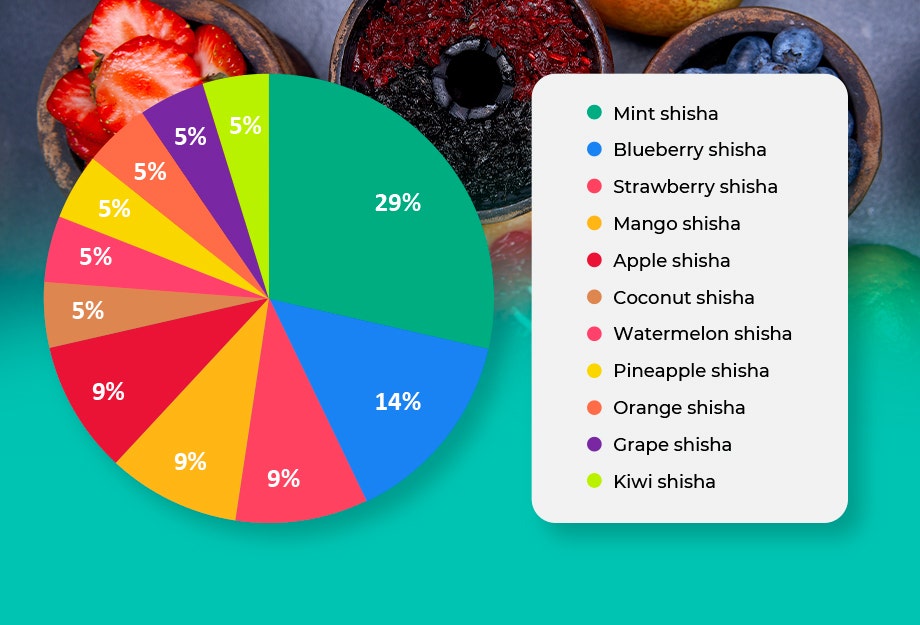 Beyond these flavors, the amount of searches starts to become negligible as coconut, watermelon, pineapple, orange, grape, and kiwi shisha flavors each account for only ~5% of overall searches per month.
So what have we learned?
We have learned that most individuals across the US have very similar flavor preferences within each category, with each state often sharing an interest in the same popular flavors. There were of course some differences, but it was surprising to see there were no extreme or dramatic variances across the country whether it be for ice cream, shisha flavors, or most other categories.
It's also clear to see that a ton of people are searching for fruity flavors or mint/menthol flavors, even if these flavors didn't come in the #1 spot. This is especially true within categories like vape and shisha, as more people are interested in fruity and minty flavors as opposed to more robust dessert flavors like coffee or chocolate.
Whether you are here to find hard data on America's favorite flavors or you're just looking to satisfy a certain level of curiosity about the things Americans like, we hope you learned something valuable today! There were A LOT of numbers thrown at you so we appreciate you immensely for sticking with us all the way to the end. We hope you enjoyed the read and stay tuned to our blog for articles just like this, and more!
Categories
Month List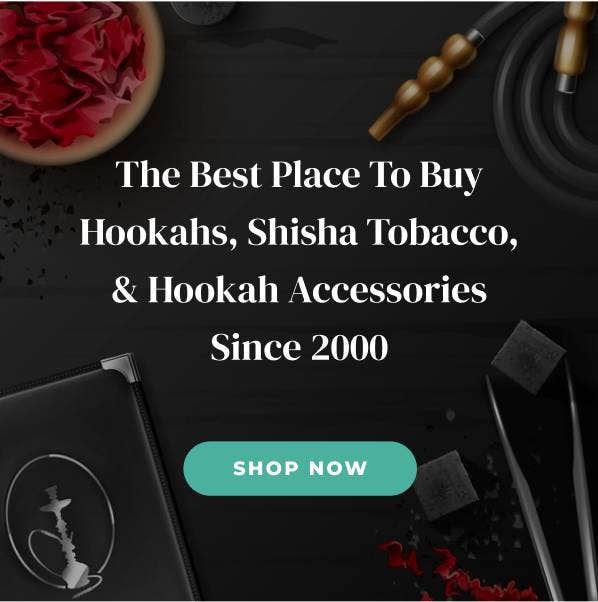 Shop All Hookahs, Shisha Tobacco, Charcoal, Bowls